5 reasons Jimmy Garoppolo's Week 1 performance wasn't a fluke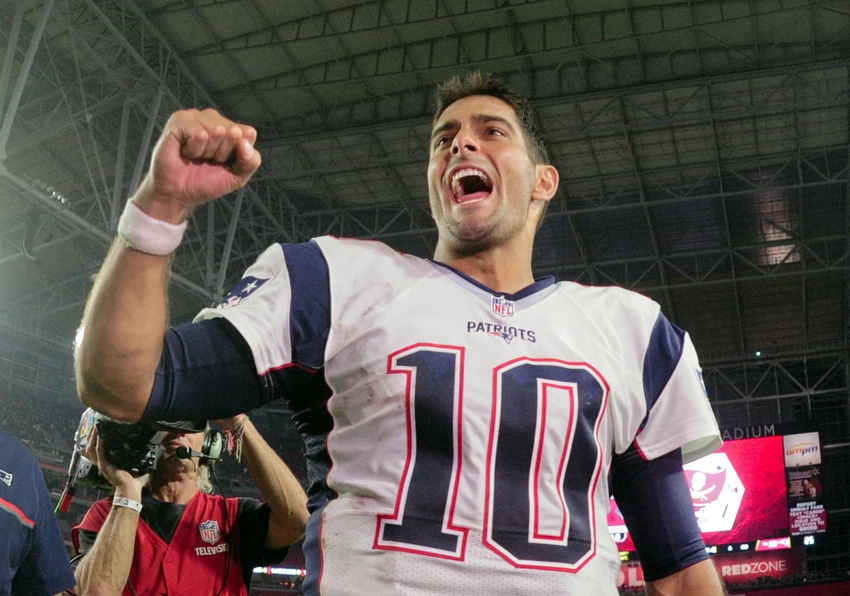 Jimmy Garoppolo went into Arizona and won his first NFL start. Here are five reasons why his performance Sunday Night was not a fluke.
The New England Patriots took a major blow in the offseason when they learned that Tom Brady would be suspended for the first four games of the season. They were forced to hand the ball over to Jimmy Garoppolo who went on the road against an Arizona Cardinals team that is expected to contend for a Super Bowl.
Garoppolo and Patriots shocked the football world by defeating the Cardinals 23-21. Garoppolo completed 24-of-33 passes for 264 yards and a touchdown. With one game down, Brady could return to a 4-0 team that hasn't missed a beat.
While it is only one game and he has three more to go, he looked great on Sunday night and people have a right to over react. Here are the five reasons why his performance wasn't a fluke.
5. He showed maturity and looked comfortable
If you watched the game on Sunday night, it was hard to tell if you were watching a guy starting his first game or a seasoned vet. The main reason is he did not force throws or turn the ball over in critical spots. He did lose a fumble but he didn't throw an interception. When a play needed to be made, he made one.
Every time the Cardinals scored, the Patriots made plays and took control. They took a 10-0 lead in the first quarter. The Cardinals scored to make it 10-7 then the Patriots responded back to go back up by 10.
In the fourth quarter, Larry Fitzgerald caught a touchdown pass to give the Cardinals their first lead at 21-20. Garoppolo was handed the ball with nine minutes left in the game down one. All he did was orchestrate a 13 play, 62-yard drive over six minutes to get them in Stephen Gostkowski field goal range. And that kick proved to be the winner.
Over the course of the game, he showed poise and maturity beyond his years and experience. The Patriots know that they have a player and that is why they drafted him to back up Tom Brady if he had to miss time for any reason.
Because of his poise, maturity and how comfortable he looked, Garoppolo's performance didn't seem to be a fluke but we will judge more over the next three games.
4. He defeated the best team in the NFC
It is no easy task to play your first NFL game but facing a team that has Super Bowl talent is even harder. Playing on the road is never easy either but playing in Arizona, which is one of the hardest places to play, seemed impossible. And just throw him on prime time Sunday Night Football while you're at it. So, safe to say, the odds were against Garoppolo.
He was not the only one to make his debut on Sunday. Carson Wentz went 22-37 for 278 yards and two touchdowns. He showed maybe the Eagles made the right call drafting him second overall. The only difference is, he defeated one of the worst teams in football, the Cleveland Browns. Cowboys Dak Prescott went 25-45 for 227 and no touchdowns or interceptions. The Cowboys lost the game to the Giants in Dallas 20-19.
As far as impressive, neither of those performances are more than Garoppolo's. It shows a lot to the world when you go and beat a top NFL team, especially in their stadium. And that is what Garoppolo did.
Now, if he goes out and loses to Miami or Cleveland then things will certainly change. But for now, he is 1-0 against one of the best teams in the NFL.
3. He did it without Gronk
The odds were already stacked against the Patriots going into the game. But news broke a couple of days before the game that all-pro tight end Rob Gronkowski would not be playing. That left Garoppolo with minimal options at receiver.
He certainly made it work. Garoppolo completed passes to six different receivers throughout the game with his lone TD pass going to Chris Hogan. He made guys like Hogan, James White, and Malcolm Mitchell relevant to the game. If Gronk were playing, he would have targeted him at least 15 times but without him, he had to spread the wealth.
His leading receiver was Julian Edelman who he hit seven times for 66 yards. They connected on all seven targets. Garoppolo also took matters into his own hands having one catch for three yards.
With Gronk set to return next week, expect him to be targeted a lot. And why not, he has proven to be the best tight end in the league for the past few years. That is why for Garoppolo to win this game without him is impressive and shows he has the will to win.
2. His coach is Bill Belichick
The Patriots are the best franchise in football. They have won the AFC East all but two years since Tom Brady was drafted and they contend for the Super Bowl every season. This is in large part because of the play of Tom Brady but the coaching of Bill Belichick.
Belichick gets criticized for not being this big media personality and giving bland answers in press conferences. It is unnecessary criticism. Belichick is all business all the time and that is why the Patriots are always winning. He has them playing under control and in sync. They never seem to be undisciplined.
The Patriots are a team where it seems like whoever they run out, they're going to succeed. Everyone remembers in 2008 when Tom Brady went down in week one with a knee injury. Backup QB at the time Matt Cassel had to step in and take over. They finished with a record of 11-5 that season.
If anyone is wondering where Matt Cassel is now, he is the backup QB for the Tennessee Titans. Since 2008, he has been a journeyman backup who has not had much success at all.
Bill Belichick is the best coach in football and possibly the best coach of all time. Because of this, the Patriots are always contenders and Garoppolo took advantage. Whether he stays in New England or goes to another team, he learned football the right way and it will stay with him throughout his career.
1. He learned from Tom Brady
Garoppolo was drafted in the second round of the 2014 draft out of Eastern Illinois. Many people think that being drafted on a team with Tom Brady is a bad thing because he will never play or if he does he will be old. Quite the opposite. Instead of them being wasted years, they are learning years for the future.
Many quarterbacks are drafted to bad teams where they are needed to play immediately. This does not give them time to develop and grow as a player. Garoppolo had that time and learning from one of the best of all time doesn't hurt either.
Aaron Rodgers is arguably the best quarterback in football and he sat behind Hall of Famer Brett Favre for three years before getting his chance. This proved to be very helpful as Rodgers won a Super Bowl and is one of the best.
Garoppolo has a chance to learn from Brady and it seems to be working. He should just be a sponge and absorb as much information as possible. Whether it is on the field or off, Brady is a great role model for a young quarterback. Because of Brady, Garoppolo has an edge over all quarterbacks and he will be successful because of it.
This article originally appeared on