5 Reasons DeSean Jackson to the Los Angeles Rams Makes Sense
Dan Parzych/FanSided via Ramblin' Fan

Fansided
With DeSean Jackson hitting free agency, could the wideout end up joining the Los Angeles Rams for the 2017 season?
After finishing last in the NFL by only averaging 14 points per game in 2016, the Los Angeles Rams will need to focus on the wide receiver position in the offseason if they're going to have any chance of improving on offense. The team has plenty of decisions to make when it comes to their current receiving corps, but the one name to keep an eye on once free agency gets underway could be DeSean Jackson.
The nine-year wideout just wrapped up his third season with the Washington Redskins, and while there's a good chance he could return, it also wouldn't be a surprise to see Jackson end up with a different team for the 2017 season. Jackson proved once again this past season he's still capable of being a dangerous deep threat in the passing game, but the Redskins could easily decide to spend their money on players like Pierre Garcon or Jamison Crowder instead.
If things don't work out in Washington, it won't be long for Jackson to find a new home when looking at all of the NFL teams in need of improvement at wide receiver, including the Rams. One of the main reasons behind Los Angeles finishing dead last in the league with points was due to having one of the weakest receiving corps, and even though he may not rank near the top of their wish list, the Rams could end up strongly considering the addition of Jackson.
From his ability to make an impact right away to reuniting with his former offensive coordinator in Sean McVay, here's a look at five reasons why Jackson joining Los Angeles once free agency begins actually makes sense.
Reunite With Sean McVay
Coincidentally, Sean McVay was promoted to offensive coordinator the same year (2014) DeSean Jackson joined the Washington Redskins following his release from the Philadelphia Eagles. While McVay has received plenty of praise for his ability to get the best out of Kirk Cousins running the offense over the last two seasons, it should also be noted what type of impact he's been able to get from Jackson as well.
Even after turning 30 in December, Jackson proved in 2016 there's still some gas left in the tank after crossing the 1,000-yard receiving mark for the third time in four seasons by catching 56 passes for 1,005 yards to go along with four touchdowns. Jackson could easily end up returning for his fourth season as a member of the Redskins, but when looking at the potential shown by some of the younger wide receivers in 2016, it wouldn't be a surprise to see the team part ways with the veteran.
The good news for Jackson is if things don't work out with Washington, there will be plenty of teams willing to bring him on board at the right price. As far as Los Angeles being one of those teams for a possible reunion with McVay, only time will tell for Jackson.
Jackson Would Make Immediate Impact
To say a team like the Rams needs help on offense in the passing game would be one of the biggest understatements of the year when seeing how poorly they performed throughout the 2016 season. After finishing with a 7-9 record in 2015, this past season was supposed to be the year in which Los Angeles took the next step on offense with an upgrade at the quarterback position after moving up in the draft to select Jared Goff.
Obviously, Goff was expected to experience the normal struggles of a rookie during his first year in the NFL, but nobody could have predicted it would end up the way it did. Instead of improving on offense, the Rams took a major step back, and could barely find the end zone after finishing the regular season by averaging just 14 points per game, ranking them dead last in the NFL.
For reasons that fans will never be able to understand, upper management thought it would be a wise move to make Tavon Austin one of the league's most overpaid players with a hefty contract extension last summer that he clearly didn't deserve. Austin has proven to be dangerous with the football numerous times throughout his career, but his inconsistency continues to prove he's incapable of handling the responsibilities of a No. 1 wide receiver.
As for DeSean Jackson, the wideout may have a similar structure to Austin when looking at his height and speed, but at least he's proven throughout his career he can handle the duties that come with being a top option in the passing game.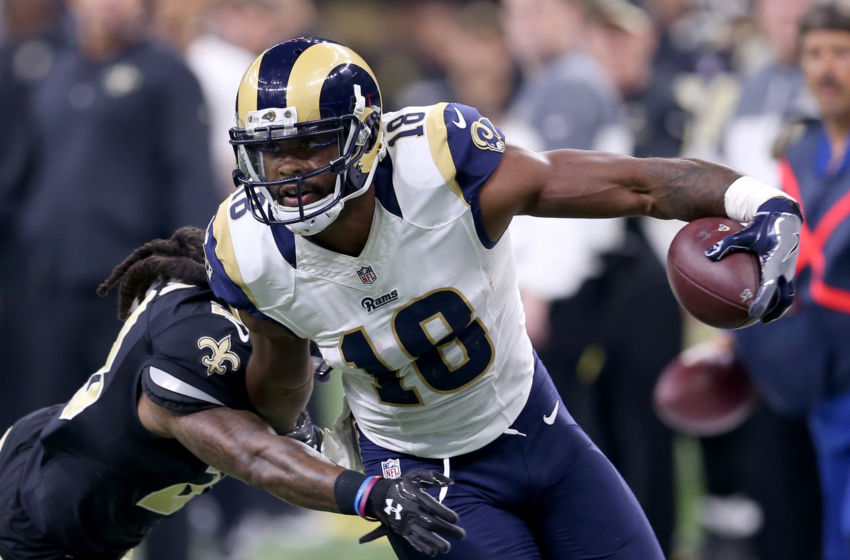 Kenny Britt Could Be Gone
How bad has the receiving corps of the Rams been over the last few seasons? Well, let's just say prior to 2016, the last time the team saw a wide receiver cross the 1,000-yard mark came during the 2007 season when Torry Holt caught 93 passes for 1,189 yards with seven touchdowns.
Somehow, it was Kenny Britt of all receivers to step up and end the drought for Los Angeles this past season after he caught 68 passes for 1,002 yards to go along with five touchdowns. Even though the team heavily invested in Tavon Austin, it was obvious he wasn't going to break the mark for the Rams when considering he never even recorded more than 500 receiving yards until this season.
Britt may have been one of the few highlights from Los Angeles on offense, but that doesn't mean he's set to return for the 2017 season. Depending on what happens in free agency, Britt could easily end up with a different squad, and leave the Rams with a gap to fill in the wide receiver department.
Could their answer be DeSean Jackson? Only time will tell, but it certainly can't hurt Los Angeles to at least think about it.
Potential With Jared Goff
Now that he's got some NFL experience under his belt, Jared Goff will hopefully live up to the hype during his sophomore season with the Rams, and finally help this offense reach a new level. Los Angeles didn't give up all of those draft picks to the Tennessee Titans just to watch their young quarterback struggle, and the last thing they want to see happen is hold Goff back from reaching his true potential.
Despite his disappointing numbers from the seven starts he made as a rookie, it would be unfair to place the entire blame on Goff when seeing what he had to work with on offense. Between a poor offensive line along with having one of the league's weakest receiving corps, seeing Goff struggle this year shouldn't have come as a surprise, but that doesn't mean he can't look at this as a learning experience.
Hopefully, the struggles from his rookie season will make Goff a better quarterback in the long run, as he should be able to learn from his early mistakes. It may sound crazy, but the potential surrounding Goff, especially with this new coaching staff, could make potential free agents even more interested in joining Los Angeles during the offseason.
DeSean Jackson has been fortunate enough to play alongside some great quarterbacks throughout his career. And when looking at what Goff could bring to the table, it would be hard for the current Washington Redskins receiver not to at least consider the possibility.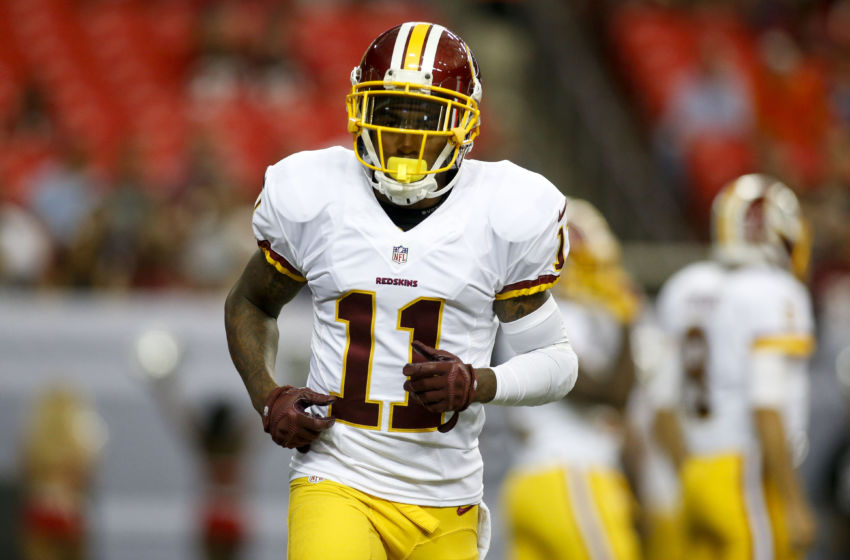 Chance For California Return
Believe it or not, the state of California has been a big part of DeSean Jackson's life, both on and off the field. Not only did Jackson spend his college days with the California Golden Bears (just like Jared Goff), but he was born in the wonderful city of Los Angeles and even attended Long Beach Polytechnic High School.
When taking all of this into consideration, there's no question Jackson would love the opportunity to return to California under the right circumstances, and joining a team like the Los Angeles Rams could make it happen. It can be tough for professional athletes to find opportunities to play in the state they grew up, but with Jackson hitting the free agency market, signing with the Rams would give the wideout a chance to make it happen.
Plus, Jackson would get the chance to share the Golden Bears connection with Goff, even if there's a large gap between the time each of them attended school. After hearing all of the rumors surrounding the drama of Goff and the wide receivers during his rookie season, it would be nice to see last year's No. 1 overall pick to possibly develop chemistry with someone new like Jackson.
This article originally appeared on