5 potential trade destinations for Tony Romo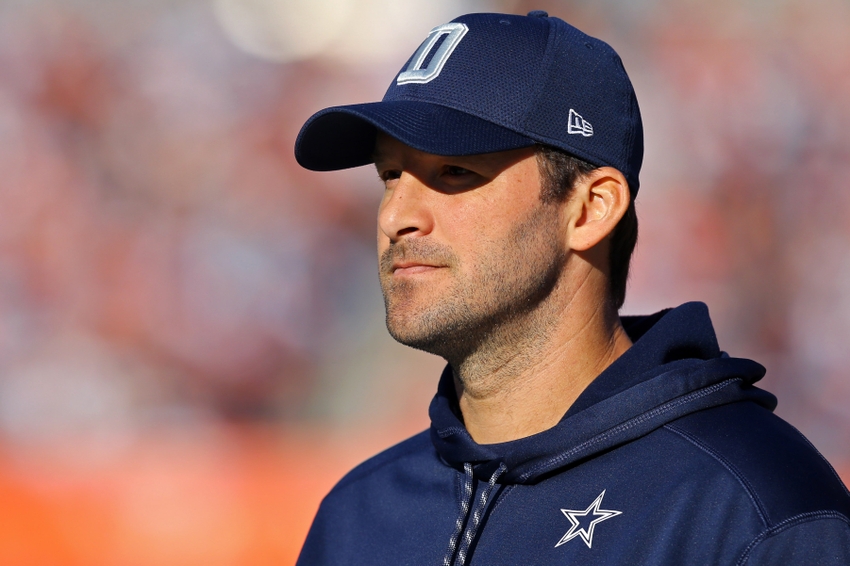 The Dallas Cowboys finally have a worthy successor for Tony Romo, so here are five teams who might be interested in trading for him.
After injuries to Tony Romo and Kellen Moore during training camp and the preseason, the door was open for rookie Dak Prescott to start under center for the Dallas Cowboys. A 7-1 record so far this season has established Prescott as the Cowboys' quarterback of the future for sure, but as Romo has gotten closer to a possible return to action the team has a looming quarterback quandary on their hands.
No matter which side of the Romo vs. Prescott debate you're on over the rest of this season, it's pretty clear there's no room on the Cowboys' roster for both guys looking toward next season. Romo is 36 years old with a substantial injury history and three more years left on his contract. Leaving aside that injury history, Romo would simply an expensive backup if Prescott continues to prove himself worthy of having the starting job.
The Cowboys will surely have to entertain trading Romo next offseason, barring something unforeseen. Here are five teams that may have some interest in making a deal with Dallas for their veteran quarterback.
5. Los Angeles Rams
With Jared Goff waiting in the wings after being taken No. 1 overall this year, the Rams would not seem to be in the market for a quarterback after the season. But Goff is being kept off the field in favor of Case Keenum right now, perhaps until a playoff spot is no longer possible this season, so his readiness to start Week 1 of the 2017 season might become a question very quickly.
There have been multiple reports saying Rams head coach Jeff Fisher has a contract extension coming without the results to make him deserving of it. Until there's closure there, his job security will be in doubt to some degree. Either under Fisher or a new head coach, the Rams will have to win more games next season to keep Los Angeles NFL fans interested beyond the pure novelty of having a team back in town.
With experience under the constant microscope that is being the Dallas Cowboys' starting quarterback, Romo would not wilt with the burden of any expectations in Los Angeles. If the Rams want to make real progress and add some spark to an offense that has been mediocre for too long, Romo would be a very interesting trade target.
4. Chicago Bears
With a 2-6 record right now, even coming  off a nice win over the Minnesota Vikings in Week 8 to go into their bye on a high note, the 2016 season will only yield a high pick in the 2017 NFL Draft for the Chicago Bears. Jay Cutler is now back healthy and starting under center, but the second half of this season feels like his extended audition for the other 31 teams.
The guaranteed money in Cutler's contract is done after this season, and the Bears can clear $14 million in salary cap space by releasing him before next season. From a report a couple of weeks ago suggesting Bears head coach John Fox told friends he was done with Cutler, to Cutler's acknowledgement Fox was stuck with him after Brian Hoyer suffered a broken arm, a parting of ways seems sure to happen.
The Bears don't seem close to making anything close to a playoff push, but another offseason of adding pieces in free agency and the draft should help fortify the roster. Romo is an Eastern Illinois alum, so the business side can't be ignored with the extra buzz adding  him would generate. General manager Ryan Pace needs to find a quarterback of the future, but trading for Romo would bring instant credibility to the Bears for the 2017 season.
3. Miami Dolphins
The Dolphins signed Ryan Tannehill to a six-year, $96 million contract in May of 2015, but his level of play hardly justifies salaries which will continue to climb over the next four seasons. The team does have the potential to cut ties after this season though, with the guaranteed money in the deal drying up and contract essentially becoming a year-to-year proposition.
First-year head coach Adam Gase was hired in part to help accelerate Tannehill's development curve, but to this point in the season that has not happened (eight touchdown passes, seven interceptions). Bringing in an upgrade, or at least some viable competition for the starting job, could be on the Dolphins' offseason radar.
Romo would stand out as one of the top available quarterbacks next offseason, regardless of his age or (especially) his recent injury history. If the Dolphins do seriously look to add a quarterback, one way or another, they could be in the mix to trade for Romo.
2. Denver Broncos
Last season, the Broncos proved they didn't need good quarterback play on their way to winning Super Bowl 50. Peyton Manning's retirement and a decision to not to give Brock Osweiler a big contract left them with two mediocre options (Mark Sanchez, Trevor Siemian) and a rookie (Paxton Lynch) as starting options under center, and Siemian won the job out of training camp.
Siemian started this season well enough, as Denver started 4-0, but since a shoulder injury cost him a game in Week 5, his level of play has fallen off. The defense has also shown chinks in its armor lately, due in part to injuries, so the Broncos' formula for success from a year ago is not being replicated especially well right now.
The Broncos drew a financial line in the sand with Osweiler, which in hindsight looks like a great decision by John Elway. Lynch may be ready to start next season, and Siemian should be back in some capacity no matter how he does over the rest of this season. But trading for Romo could become an intriguing idea for Elway looking toward the 2017 season, and the Broncos can give Romo a chance to win a Super Bowl before his career is over.
1. New York Jets
The Jets have a solid defense and some good offensive skill position talent. But Ryan Fitzpatrick's shortcomings under center have held them down dating back to an interception-laden 2015 regular season finale that kept them out of the playoffs.
Fitzpatrick's left knee injury last week could be a blessing for the Jets. Second-year man Bryce Petty would be in line to make his first NFL start on Sunday against the Los Angeles Rams, if Fitzpatrick can't go, and with a 3-6 record, the Jets need to get a look at their younger quarterbacks at some point this season.
Fitzpatrick will become a free agent again after the season. Even if he was playing well this year, and he's obviously not, it's hard to see the Jets going through contract drama in back-to-back offseasons while being left out of the mix for other available veteran quarterbacks.
The Jets' roster is, mostly, built to win immediately beyond the young quarterbacks that are currently behind Fitzpatrick. Romo, if he can stay healthy, is at least a proven option that can keep playoff possibilities alive and get the most of out players like Brandon Marshall, Eric Decker and Matt Forte.
This article originally appeared on