5 NFL trades that make (some) sense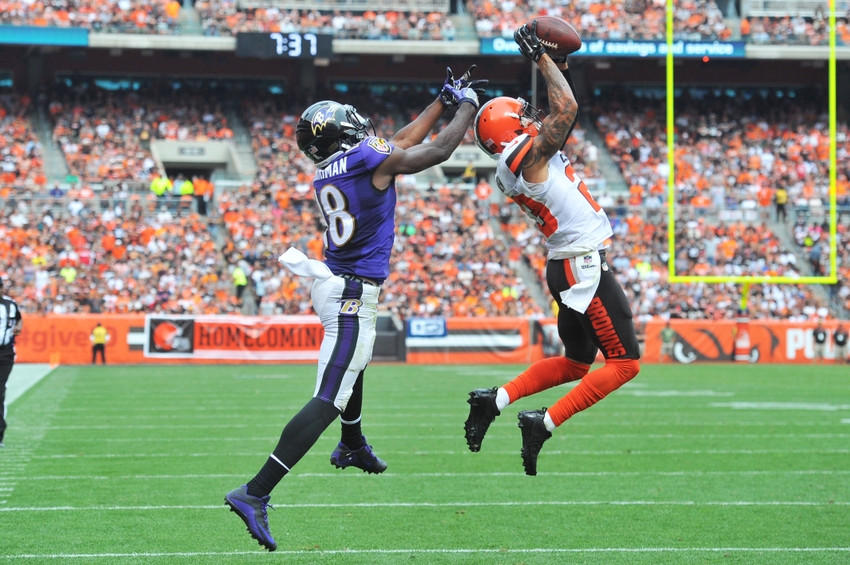 With the NFL trade deadline approaching, teams including Detroit could look to make moves.
Like most teams in the NFL, the Lions have many weaknesses that could benefit from an upgrade in talent. While it's not very common to see marquee players get traded, there are some good teams out there with some big needs and some great players that suddenly find themselves looking for a change of scenery. With that in mind, don't be shocked if you see some notable moves on the November 1st trading deadline. Here are five potential trades that I've thought up based on needs and rumored availability.
1. Lions trade for Browns DB Joe Haden
The Lions have needs at defensive tackle, linebacker, safety and running back — which are all probably bigger needs than corner. I just look at Pro Bowl DB Joe Haden as a very talented player who'd benefit from playing opposite Darius Slay. Nevin Lawson has played well at times, but he and Quandre Diggs are more physically suited to play at the nickel. I think Lawson can develop into a solid starter, but for now, he's raw and inexperienced. The Lions aren't getting the pressure up front to be able to get away with poor secondary play.
Case Keenum and Brian Hoyer aren't as good as they looked against Detroit. Haden still has something left and has 2 interceptions on the season for an abysmal Browns team. Cleveland is selling basically every asset in an attempt to rebuild in some type of "Moneyball" analytical fashion. Bob Quinn could make a statement by being aggressive and trying to help the Lions' 2016 Playoff chances.
2. Broncos trade for Cowboys QB Tony Romo
This trade is all about recreating last year's model for the Broncos. Dallas could give Romo an honorable send off to a great situation in Denver, while getting back a viable backup like Trevor Siemien. Romo would be a great fit for Kubiak's system, being significantly more mobile in the pocket than Peyton Manning. While Siemien and Paxton Lynch both have good upside, Denver would become a potential championship favorite with Romo.
They have two great wideouts on the outside that he could better take advantage of. His contract would be a rather large cap hit, but Denver did avoid paying big bucks to Brock Osweiler — who signed with the Texans — and nobody can deny Romo would be an upgrade over their current quarterbacks. Sure, it's crazy but who thought the Sam Bradford trade would work out so well for Minnesota? Dak Prescott is looking like the future in Dallas so Romo may prefer to go somewhere else while he's still able to play.
3. Packers trade for Browns WR Terrelle Pryor
This is a trade that could really improve the Packers this season. Bleacher Report hints Pryor might be available. Jordy Nelson is back, but Aaron Rodgers has struggled this season. His receivers aren't doing a great job of getting separation. Pryor has been having a breakout season for the Browns, despite a revolving door at QB. He's a big, versatile receiver which could open things up for Nelson and Randall Cobb.
I like the move because it gives the Packers' somewhat stale offense another legit offensive weapon. I know running back seems like a bigger need, however, the Packers just traded for Knile Davis from Kansas City earlier in the week. It's not the kind of thing GM Ted Thompson generally does, but another loss like the one to Dallas and that could change.
4. Vikings trade for Cowboys RB Darren McFadden
This makes a lot of sense for both teams. The Vikings lost Adrian Peterson and Darren McFadden is a very capable back. Despite having a 1,000-season for Dallas last year, the emergence of Ezekiel Elliott and signing of Alfred Morris somewhat make McFadden expendable. Now, would the Cowboys want to help potentially their biggest AFC threat? Probably not, but Minnesota has a wealth of defensive talent in several areas where Cowboys need help.
It could be a win-win scenario. McFadden would enjoy playing in the Vikings' offense, even if they're not as talented as Dallas up front. He can certainly help take some pressure off of Bradford — who will likely be tested more and more as the season goes on. McFadden could fill that feature-back role for the Vikings, now that he's nearly healthy.
5. Steelers trade for Bears QB Jay Cutler
Okay, calm down! Just having a bit of fun trying to fill needs. So, why Cutler and why the Steelers? Because as great as he is, Steelers QB Ben Roethlisberger is incapable of playing a full season. He got his annual 6-10 week injury this past weekend against Miami. Now, with an underwhelming Landry Jones — think of a VERY poor man's Brock Osweiler — the team is in danger of falling out of Playoff contention and Cutler would give them some insurance so they won't waste yet another season. Cutler has missed time this season and pretty much worn out his welcome in Chicago.
The Bears aren't stupid enough to think they're going anywhere this season and Brian Hoyer has done a nice job since stepping in. Cutler is in the final year of his mega-extension, owed a reported $16 million this season. That's where the reality of this trade virtually disappears. The Bears and Cutler could be inclined to restructure, however, if they could get something for him. Cutler would be better with a great offensive line and running game. Plus, he surely wants out of Chicago and could help restore his image and play a key part in a championship-caliber Steelers team. Or maybe not…
More from SideLion Report
This article originally appeared on