5 NFL teams who should hire Charlie Strong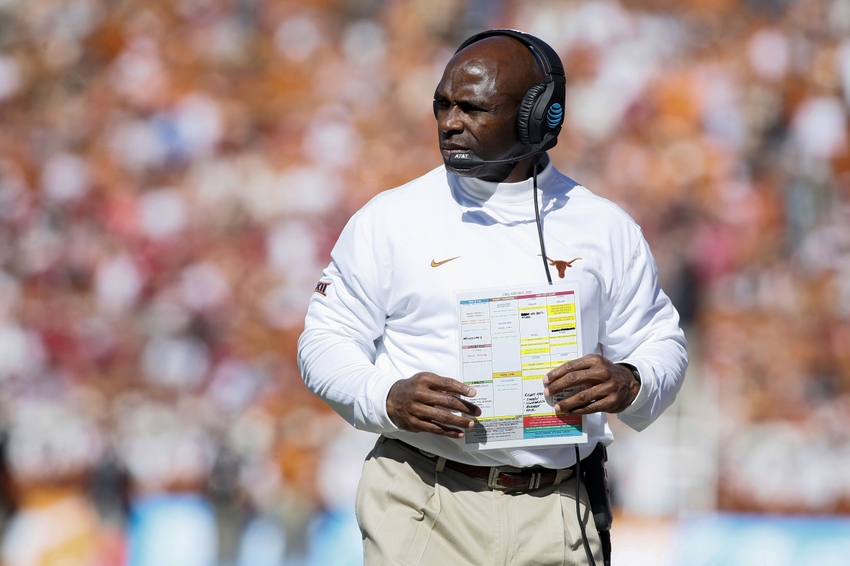 Charlie Strong will likely be fired by the University of Texas. While he has never coached in the NFL, here are five teams that could work for him in 2017.
After losing an absolute embarrassing game on the road to the Kansas Jayhawks, the University of Texas plans to fire its head football coach Charlie Strong on Monday. He could have coached the 5-6 Texas Longhorns in their final regular season game against the TCU Horned Frogs, but Texas has made it abundantly clear it wants to go in a different direction with its head football coach.
While Strong can land another Power 5 head coaching gig in 2017, or at the very least a defensive coordinator role, maybe this is the time he can look to coaching in the NFL. Now he likely won't get glamorous positions right off the bat, but maybe the disaster in Austin has caused him to hate the college game and the associated boosters that come with it.
Here are five teams in the NFL that could use Strong's help in 2017 in some way or another.
5
Oakland
Raiders
AFC,

West
As the Oakland Raiders seem to be a serious AFC Championship contender under second-year head coach Jack Del Rio, there are still plenty of ways this young team can improve. Del Rio's renegade approach to coaching is working marvelously in the Bay Area, but one area Oakland can improve in is pass defense.
The Raiders have a solid defensive coordinator in Ken Norton Jr. and several outstanding defensive backs. Most of the great players in the Raiders secondary are on the younger side of 25. Would it make sense to have a former collegiate back in Strong help bring along guys like David Amerson, Karl Joseph, and Sean Smith as a defensive backs coach?
When Oakland gets everything together in the defensive backfield, then the Raiders can become one of the few teams every season that can contend to win Super Bowls. The problem is that the Raiders tend to give up the big, broken play far too many times in the secondary.
Whether it is a defensive back coaching role or a defensive consultant role, Strong could do very well in the positively infectious culture in the Raiders organization. Yes, the Raiders seem to have a great football culture for the first time in over a decade. It will absolutely beat the constant beat down he has never weekly from the Austin media.
4
Cleveland
Browns
AFC,

North
The Cleveland Browns are a long way away from being a competitive football team. It seems to be a long rebuilding process in Northeast Ohio, which seems like a great entry point for a first-time NFL coach.
Strong would be very familiar with many of the young players on the Cleveland roster that Sashi Brown and Paul DePodesta are assembling. Coaches going to the NFL from the college level half roughly a two-year advantage in terms of scouting of the draft process.
Strong will have recruited most of the 2017 and 2018 NFL Draft entrants. That could give the Browns a leg up in finding draft gems with their endless day three picks. Cleveland is going to be in this youth movement until the Browns find enough raw talent to build something respectful out of it.
There could be a place on Hue Jackson's coaching staff in Cleveland in 2017. A consulting role or a defensive backs role on Ray Horton's defense couldn't be all that bad. Strong would also get the chance to coach one of his favorites back from his days as the defensive coordinator for the Florida Gators: Browns cornerback Joe Haden. Strong to Cleveland isn't ridiculously all that farfetched.
3
San Diego
Chargers
AFC,

West
With the San Diego Chargers possibly being relocated to Los Angeles in 2017, maybe there is a spot on the 2017 Chargers coaching staff for Strong? Regardless of if the Chargers are playing in San Diego or Los Angeles, there would be a lot to like for Strong on this team.
The Chargers might be the fourth best team in the AFC West, but they have several interesting young defensive stars Strong would love to coach. Jason Verrett and Manti Te'o should be back after their season-ending injuries. Joey Bosa and Denzel Perryman look to be promising players in this league in their own right.
At 4-6, there are no guarantees that Chargers head coach Mike McCoy will get another season with the team. Either way, McCoy is an offensive-minded coach that could use an extra pair of eyes on the defensive side of the ball.
San Diego will be picking in the top-half of the 2017 NFL Draft. The Chargers may not be picking in the top 10, so it is crucial that they hit on their likely mid-round picks. What better way to sure up the defense than a former college head coach from a Power 5 institution like Texas?
Strong could be a position coach, a defensive coordinator, and maybe even a head coaching candidate for the Chargers this offseason. There are a lot of entry points for him with this middle of the pack NFL team.
2
Atlanta
Falcons
NFC,

South
Would Strong want to go be on the staff of the guy that replaced him in Florida in Atlanta Falcons head coach Dan Quinn? Quinn is doing a fine job in his first two years in Atlanta. He has an elite offense and an improving defense. However, the Falcons aren't getting as much as they could out of their defensive personnel.
The Falcons have some very promising players on defense in safety Keanu Neal, outside linebacker Vic Beasley, and defensive tackle Grady Jarrett among others. Atlanta already has a star cornerback in Pro Bowler Desmond Trufant.
However, the Falcons give up a ton of points and draw far too many pass interference calls to be an obvious Super Bowl contender. Atlanta is about one year away from really gelling on defense. Coaching for a former college coach in Dan Quinn may not be a bad entry point for Strong in the NFL.
Atlanta may not have more than a position coach or consulting role for Strong, but the Falcons organization will welcome him to Atlanta if he wants to be a part of the team in 2017.
1
Jacksonville
Jaguars
AFC,

South
If there is any head coaching job that Strong could potentially land in the NFL in 2017, it might as well be the one that is most likely going have a vacancy: the Jacksonville Jaguars.
Regardless of what owner Shahid Khan thinks, the Jaguars have to move on from Gus Bradley in 2017. There is way too much talent on both sides of the football for this team to be 2-8. General manager David Caldwell has executed a few strong drafts in a row. The Jaguars need a coach that will give them some much needed energy from the sidelines.
It's a total gamble to roll with a college head coach that has no NFL experience, but this might be a move that Jacksonville needs to make. A college coach in a city best known for hosting a major college rivalry game would be an interesting fit.
If you sit back and really think about it, the Jaguars' greatest head coach in franchise history was a former college head coach in Tom Coughlin. Coughlin coached the Boston College Eagles from 1991 to 1993 before leading the Jaguars from 1995 to 2002.
Yes, Coughlin had some previous NFL position coaching experience before getting the expansion Jaguars job. Maybe that's what Strong needs? He doesn't have to be the Jaguars head coach. Strong could be defensive coordinator, a positional coach, or come on in a consulting role. There are so many potential entry points for Strong with the Jaguars.
This article originally appeared on