5 NFL Teams That Should Hire Les Miles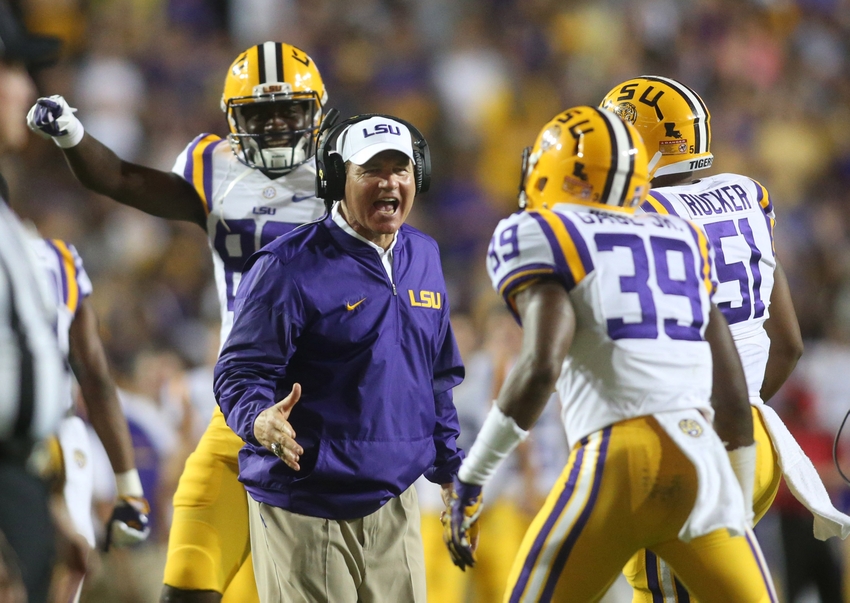 After 12 illustrious seasons, Les Miles has been fired as the head coach of the LSU Tigers. Which NFL teams should try and bring in the Mad Hatter?
Now that Les Miles is out at LSU, our natural inclination is to wonder what the future holds for one of college footballs greatest coaches. Since we've seen top coaches like Jim Harbaugh, Chip Kelly, and Pete Carroll make at least mildly successful transitions from the college ranks to the pros, it would be interested to see if Miles decides to try his hand at coaching in the NFL.
For a couple of years in the late 1990s, Miles was the Dallas Cowboys tight ends coach. He's been in the NFL before, just not in a decorated position. That said, the NFL is always looking for the latest and greatest, and more college names pop up in head coaching searches. Someone could find Miles interesting given his track record. So let's look at five teams that should consider hiring the 2011 Coach of the Year.
I highly doubt there's much mutual interest between Miles and NFL teams. But that doesn't mean that these teams couldn't use a little Mad Hatter in their lives, whether they want it or not.
5. Los Angeles Rams
Earlier this month, Pro Football Talk's Mike Florio reported that the Los Angeles Rams and head coach Jeff Fisher may have an extension in place right now, based on "widespread belief" within NFL circles.
The Rams recovered nicely from their nightmare of a loss to the San Francisco 49ers in Week 1 by defeating the rival Seattle Seahawks. Still, this is a team stuck in neutral under the unimaginative Jeff Fisher. We've seen the Rams make strange decisions in the past with the intent of making a splash, and I wouldn't put it out of the realm of reason for them to hire Miles as their next head coach, though that would only happen if Les Snead gets the boot.
It seems like Stan Kroenke likes Snead too much, but nobody is ever safe in the NFL. Miles doesn't have high-level NFL experience, but he was once Oklahoma State's offensive coordinator; maybe they want a head coach with some background experience on offense.
4. Indianapolis Colts
Andrew Luck is one of the NFL's brightest assets, and it would be interesting to see how the Indianapolis Colts would approach building a staff around him if they choose to clean house. Chuck Pagano just hasn't earned full security at this point. I could see Jim Irsay and, if he's still a member of the organization, Ryan Grigson making a bold move.
Miles can bring the motivation and ability to develop players that the Colts need. He also won't have to worry about hamstringing the offense by not putting the right quarterback in place, because he will have Luck. He could also help the Colts running game become more effective, which will be more important in the future with Frank Gore's years numbered.
The Colts just don't seem to be a well-coached organization, and they also don't seem to be afraid of going against convention. I could see them dipping into the college ranks, and Miles could be an option for them to consider.
3. Buffalo Bills
There's a lot of unrest in Buffalo, and I have no idea what to expect from this organization. They fired Greg Roman, scapegoating the most talented member of the coaching staff, after a loss to the New York Jets that clearly was not on Roman. Their most gifted offensive player wasn't healthy enough to make an impact, but Roman got canned despite the loss being the fault of the defense.
Anthony Lynn is the Bills offensive coordinator, but how long will that last? How long will Rex Ryan and Rob Ryan coach together in Buffalo? The Bills blew out the Arizona Cardinals in shocking fashion, but how will the rest of the season go for this team?
Judging by the way the Pegulas got involved in Roman's firing (Pro Football Talk, Josh Alper), the Bills ownership is unpredictable. If they decide to clean house and can Doug Whaley, then all bets are off in Buffalo. And if the Bills decide they want a different offensive coordinator in the future, maybe they ask Miles for an interview if he's willing.
2. San Diego Chargers
Mike McCoy is a difficult head coach to figure out. When he was the Denver Broncos offensive coordinator, McCoy looked like a straight-up genius. He designed an offense that allowed a team led by Tim Tebow and Willis McGahee to make it to the playoffs and even win a game over the Pittsburgh Steelers.
In his first season as the San Diego Chargers head coach, McCoy led Philip Rivers to a resurgent year. Previously one of the league's top quarterbacks, poor coaching and even more abhorrent offensive line play caused Rivers's career to spiral out of control. Under McCoy and a great coaching staff of offensive minds, Rivers turned in an MVP-caliber season.
Since then, the fans have turned on McCoy, and he should be considered on the hot seat, even if unlucky injuries and an unbalanced roster have been bigger issues for the Chargers. San Diego's ownership stinks and is wholly unpredictable. So a Miles hiring can't be ruled out. They might view Les Miles as the type of personality to lead this team.
1. Jacksonville Jaguars
Now that the Jacksonville Jaguars have started the season 0-3, chants for Gus Bradley's potential firing are getting louder. The season started with optimism after an active offseason that included arguably the best draft in the NFL. Signing Malik Jackson, Chris Ivory, Tashaun Gipson, and others seemingly had the Jaguars in position to be sneaky contenders in the AFC South.
However, everyone's favorite team just can't seem to buy a win, as Blake Bortles helped blow the game against an even worse Joe Flacco in Week 3. Bradley has a lower popularity rating than general manager David Caldwell right now—and I can't blame people for that.
The Jaguars think differently than every other organization. While I doubt Caldwell or the Jags want to go in this direction, Miles is available. If the Jaguars choose to fire Bradley during the season, it would make far more sense to promote someone—offensive coordinator Greg Olson comes to mind.
Miles's most likely landing spot seems to be USC, but maybe the Jaguars decide to come knocking in the quest to try something crazy.
This article originally appeared on