5 NFL teams that should draft Lamar Jackson in 2018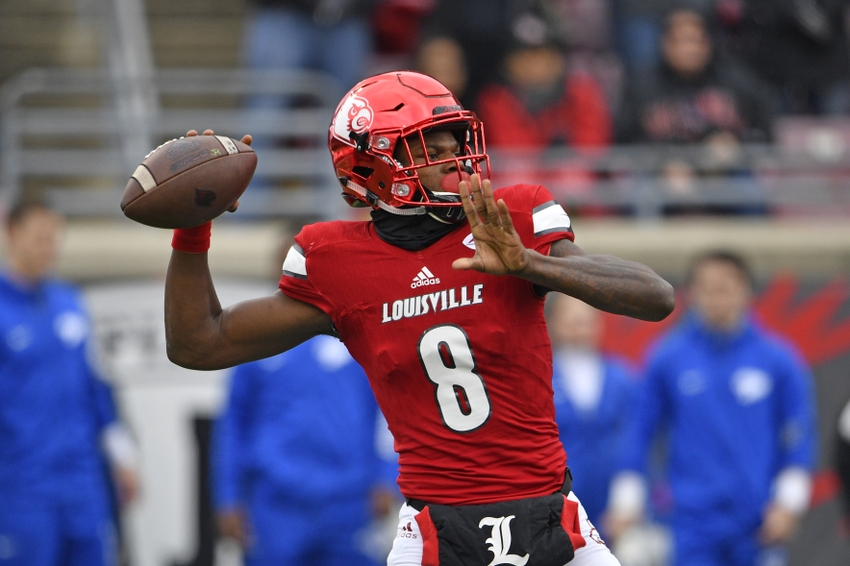 Which NFL teams may be the best fits for Lamar Jackson in the 2018 draft?
Lamar Jackson is arguably the favorite to win the 2016 Heisman Trophy. His dynamic play throughout the college football season has landed him with a great opportunity of winning this, including putting up over 5,000 total yards and 51 touchdowns. It didn't quite lead Louisville to a College Football Playoff spot, but for the majority of the year, he looked like the best player on one of the nation's best teams.
NFL teams have probably already started scouting the Cardinals quarterback. However, he cannot enter the draft until 2018 since he's a sophomore. That means there's one more year left to see how much further Jackson develops and if he's worthy of a top pick.
There's still about a year-and-a-half left of football to play before the 2018 NFL Draft, but it's never too early to look at who Jackson could be selected by. Which franchises could be in play?
5. San Francisco 49ers
Remember when the 49ers traded Alex Smith so Colin Kaepernick could become their quarterback for years to come? That wasn't even four years ago. Two coaching changes, declining play from Kaepernick and one horrible Blaine Gabbert experiment later, and it looks like the 49ers will have to address the quarterback position.
Given all the talent that San Francisco lost as well, they'll probably continue into the 2017 season as a below-average team. This is especially if they decide to bring back Kaepernick as their quarterback. If they sign him or someone else to simply stabilize the position for a year or two, then Lamar Jackson could be an option for the 49ers brass in 2018.
Jackson would bring similar elements to the 49ers that Kaepernick brought. As of his sophomore season, he's not the most polished passer and relies on his legs more than anything to get the offense going. However, the explosiveness of the potential Heisman Trophy winner resembles a player greater than Kaepernick. He could be the more dynamic of the two and breathe some much-needed life into the 49ers offense.
However, it would be difficult to think that the 49ers are going to pass up a quarterback in the 2017 draft. DeShone Kizer, Mitch Trubisky, Deshaun Watson, Brad Kaaya, and Mason Rudolph make up a deep signal caller class. Kizer, Trubisky, and Watson all have the potential to be top 10 picks too. So, if SF decides to choose one of them, then they would probably be out of the Lamar Jackson sweepstakes.
4. Cleveland Browns
When do the Cleveland Browns not need a quarterback? They have gone through six different ones in the 2016 season, even though they signed Robert Griffin III and drafted Cody Kessler with their third round pick. Just about every player they have used at this position hasn't been able to stay on the field, so yet another quarterback could eventually come into the fold.
If the Browns choose to go into 2017 with RGIII, again and letting Kessler develop, then this could put them in play for Lamar Jackson in 2018. That would be if the former USC star doesn't take a significant step forward as a future stalwart for this lowly franchise.
Bringing in Jackson would give Cleveland maybe their most exciting quarterback prospect since returning to the NFL in 1999. He would immediately become their face of the franchise and someone to hopefully build around. "Hope" has been the keyword for this team for nearly two decades, though, as they have dealt with their fair share of draft busts, especially at quarterback (Tim Couch, Brandon Weeden, Johnny Manziel).
The Louisville star would make this team exciting and actually worth the watch for the first time in years. He would bring media hype and a new look to this stagnant franchise, which has undergone so many changes in recent seasons. Jackson could finally be the piece that brings everything together and turns this team around.
However, the Browns have a knack for making poor decisions, grooming players improperly, and doing things that make fans scratch their heads. As foolish as it may sound, not using logic could take the Browns out of the Lamar Jackson hunt in 2018.
3. New York Jets
Like the Cleveland Browns, the New York Jets have had quarterback problems for years. They had a consistent starter in Chad Pennington for a number of seasons, but once he left, it became a bit of a carousel. Brett Favre played one year and left. Mark Sanchez flopped. Geno Smith has been inconsistent and hurt. Ryan Fitzpatrick had a successful 2015 season but reverted to his career norms in 2016.
Now, the Jets have quarterbacks Bryce Petty and Christian Hackenberg, both of whom are perceived as projects. They're far from the future of the team, so if the signal caller situation is still in flux by 2018, then the Jets may be drafting yet another one.
Given how Gang Green's performance has spiraled down from 2015, there's a decent chance they could be the same or worse in 2017. That could mean they receive a high enough draft spot to select Lamar Jackson. He would be yet another quarterback that the Jets hope to develop into their future guy, which might rub the fanbase the wrong way. However, Jackson has the potential to be special, and unlike anyone the team has had at the quarterback position. His electric ability with his legs is something few others can do at this primary position. It would make him a star at MetLife Stadium as he'd often grab the headlines of all the local papers.
However, since the Jets are probably going to have a top ten pick in the 2017 draft, they may opt to select a quarterback. That would probably take them out of the Lamar Jackson equation and make them focus on other positions. Petty or Hackenberg could end up becoming the future quarterback as well since they're both early in their respective careers. Neither of these is a guarantee, but it makes the Jets' odds of taking Jackson somewhat low.
2. Houston Texans
About nine months ago, the Houston Texans swiped quarterback Brock Osweiler away from the Denver Broncos for four years, and over $70 million. It seemed like an incredible sum for a player who hadn't taken many NFL snaps. But given how he worked behind Peyton Manning for four years, the Texans felt there was enough to warrant signing the Arizona State product.
Well, so far, the investment has failed miserably. Through 11 games, Osweiler has a 59.5 completion percentage (29th in the league), 2,307 passing yards (24th), 12 touchdowns (tied for 21st), and just 13 interceptions (tied for first). Given how bad the AFC South is, he still has them in the playoff hunt. If they make the playoffs, he'll probably be given another year to prove his worth as well. This could be a foregone conclusion since Houston gave him so much money.
Given how Osweiler has played, there's no reason to think that he'll drastically improve in 2017. This would put the Texans in a position to potentially make a change at general manager and head coach. The new brass may want their own quarterback to groom and work with, so that could leave Lamar Jackson as an intriguing option for the 2018 draft.
Of course, the Texas would need to have a miserable 2017 season to get Jackson. However, given the way this team is trending, that may be the case, even though they haven't been awful in 2016. The poor play on offense could result in the team wanting to revamp part of the roster to hopefully rebuild it into a quality unit. This doesn't always work well and has a chance of resulting in the Texans falling even further in 2017.
Texan fans probably still remember their first-ever selection, David Carr, from the 2002 draft. He got installed as the quarterback and instant face of the franchise, but never lived up to the hype. It's a No. 1 pick that's considered as one of the biggest busts of all-time. So, in this scenario, the Houston fans would have to accept another high pick in Jackson.
The Louisville product is unlike what the Texans have ever had at quarterback, though. They haven't had an electric presence that can use both his arms and legs to make plays. Pocket passers like Carr, Osweiler, Matt Schaub, and Brian Hoyer have been the identity of the Texans quarterback position, so maybe it's time to go in a different direction and see what works. That's if a potentially new coaching and front office brass in brought in.
1. Cincinnati Bengals
Every time the Cincinnati Bengals make the playoffs, they get eliminated in the first round. Before that, reaching the postseason seemed nearly impossible. All of this has been under head coach Marvin Lewis, who has yet to win a playoff game in his 14 seasons at the helm. This season probably isn't going to result in a playoff appearance since the Bengals are just 3-7-1 heading into December 4.
If Lewis gets fired either this year or next year, it would welcome a fresh change to an organization that needs it. During Lewis' tenure, they have actually been stable at the quarterback position, but none of their players have been able to lead them far. Andy Dalton has led them for the past six years and has done a respectable job. His 2016 season hasn't been anything to note of, though, as he's not finding the end zone and has had an awful QBR (52.9). So, it may be time for the organization to consider life after the former TCU star.
The 2016 season has already shown that the Bengals are in decline. This is the result of losing key players to injuries and free agency over the years, and the talent simply not being good enough to trump the stalwarts of the AFC. Plenty of times, the rebuild starts with the quarterback position. If Cincinnati continues to fall in 2017 and ends up firing Lewis, then Lamar Jackson should be a serious option for them.
The Bengals franchise has gotten stale over the years, mostly due to the same coach and identity of the team. They tend to keep the same core of players around for a number of years, which is great for stability. That group has to produce results, though, and over the past decade-plus, it has not. So, if this team decides to tear it down and rebuild, then Jackson could be the first piece to the puzzle in 2018. He would bring a dynamic dual-threat to the Bengals offense that would open things up for them like never before. Instead of relying on just a pocket passer, they could use him to extend plays, make defenses have to guess if he's going to pass or run, and thwart game plans. It would be something unlike anyone else at QB in the AFC North, including Ben Roethlisberger, who is already 34-years-old.
Jackson would represent the future of this division of teams and potentially lead the Bengals to a handful of playoff appearances. There's even a chance of him finally getting this team over the Wild Card hump.
Lamar Jackson would represent a completely new chapter for the Bengals, one that's needed after years of mediocrity. It would first take a new head coach, though, which is far from a guarantee given Lewis' tenure and relationship with ownership. Could it finally change by 2018?
This article originally appeared on