5 NFL teams that should draft Christian McCaffrey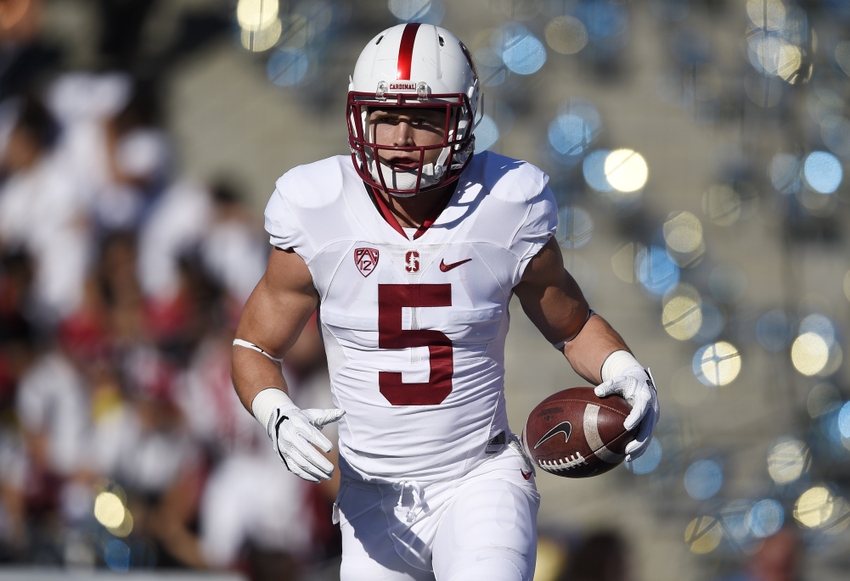 With Christian McCaffrey reportedly set to go pro, here are five NFL teams who should draft him.
Stanford running back Christian McCaffrey burst on to the scene as a sophomore in 2015, with an NCAA record 3,864 all-purpose yards and a school record 2,019 rushing yards on his way to being runner-up for the Heisman Trophy.
McCaffrey entered this season as a top contender to win the Heisman Trophy. But bad games against Washington (12 carries for 49 yards) and Washington State (eight carries for 35 yards), and a missed game against Notre Dame due to injury took him off the Heisman radar never to return.
But McCaffrey has absolutely had a very productive 2016 season, averaging 211.5 multi-purpose yards per game and leading the Pac-12 with 1,603 rushing yards (seventh in the country). That includes at least 135 rushing yards in each of the final six regular season contests, and over 200 yards against both Cal (284) and Rice (204) to end the regular season.
On Monday, Bleacher Report's Matt Miller reported McCaffrey will declare for the 2017 NFL Draft. He's widely considered a possible first-round pick, and CBS Sports.com has McCaffrey at No. 3 in their running back rankings right now.
McCaffrey's versatility makes him a very exciting NFL prospect, and here are five teams that need to have him on their draft board.
5. Denver Broncos
McCaffrey's father Ed spent the best years of his own NFL career with the Broncos, so there's some legacy feel to Denver adding him. But the Broncos have also struggled to run the ball lately and they are in the bottom part of the league in rushing offense (100.2 yards per game; 23rd) and yards per attempt (3.6; 28th).
The Broncos signed C.J. Anderson to a four-year deal last offseason, and rookie Devontae Booker has a place in the pecking order going forward. But McCaffrey brings a different dimension to the table, so John Elway and Gary Kubiak should be intrigued.
4. Cleveland Browns
Running back is not an obvious need for the Browns looking ahead to next spring's draft, but they have made it a priority to stockpile draft picks and adding talent everywhere has to be on the radar until further notice.
Duke Johnson had 61 receptions as a rookie in 2015, and he's averaging 4.8 yards per carry so far this season along with 45 receptions. But he has struggled to usurp Isaiah Crowell for a bigger overall role, with double-digit touches in just four of 12 games thus far. A winless team that is routinely getting beaten soundly and a bad offensive line puts limits on establishing the running game, as evidenced by Cleveland's league low 245 attempts. But Johnson's lack of work is mysterious at best.
McCaffrey is the kind of multi-purpose talent that can help the Browns cultivate a young quarterback, while sparking a stagnant offense and running game. That alone makes him an appealing draft target, though McCaffrey may secretly hope he doesn't land in Cleveland next spring.
3. Oakland Raiders
General manager Reggie McKenzie's recent track record in the draft has helped vault the Raiders to a 10-2 record right now, and they enter this week with the seventh-best rush offense in the league (114.6 yards per game).
That said, leading rusher Latavius Murray is slated to become a free agent during the offseason. It's unclear if Oakland will make an effort to bring him back, or maybe look elsewhere in free agency to fill that possible void. So the draft could quickly become the fallback option to add talent at running back in Oakland.
McCaffrey could very well be the best player available when Oakland's turn comes in the first round next spring. They are well-positioned to follow that kind of draft plan, without a lot of regard for specific, urgent needs, and if Oakland's running back depth chart looks a little thin at that point there's a possible fit.
2. New York Jets
After nearly making the playoffs with a 10-6 record in 2015, the Jets entered this season with very high hopes. But things have gone downhill very quickly, with a 3-9 record now and second-year quarterback Bryce Petty slated to start the final four games of the season in place of Ryan Fitzpatrick.
Matt Forte started the season very well, with 196 yards (on 52 carries) over the first two games. But he has looked far more like a 30-plus-year-fold running back since then, and backup Bilal Powell actually out-snapped him in Week 13's blowout loss to the Indianapolis Colts.
The Jets are in the limbo of having some big-name veteran players in place for next season, like Brandon Marshall and Muhammad Wilkerson, but also needing to look toward the future with an infusion of young talent at certain positions. McCaffrey would be that at the running back position, and he could step right into a big role if Forte continues to show signs of decline.
1. Green Bay Packers
Injuries to Eddie Lacy and James Starks led to wide receiver Ty Montgomery seeing substantial time at running back for Green Bay earlier this season. Starks has since returned from a knee injury, with dismal results before and after his absence (2.3 yards per carry this season), and recent addition Christine Michael has not gotten much of a chance to spark the Packers' running game since coming aboard.
Lacy should be fully recovered from ankle surgery in time for offseason work, but he is also slated to become a free agent in March. Conditioning issues dating back to 2015 and this year's injury stand to limit Lacy's free agent market though, which could put him right in Green Bay's price range and foster a return.
McCaffrey has 82 receptions over his last two seasons at Stanford, with a bowl game obviously remaining this season, so he would be a great fit in a Packers' offense that will still rely heavily on quarterback Aaron Rodgers and the passing game going forward. Running back should be near the top of general manager Ted Thompson's list of draft needs, based solely on this year's chaos at the position. Among the top running back prospects, McCaffrey clearly looks like the best fit for the Packers.
This article originally appeared on