5 NFL Players Back from the Dead in 2016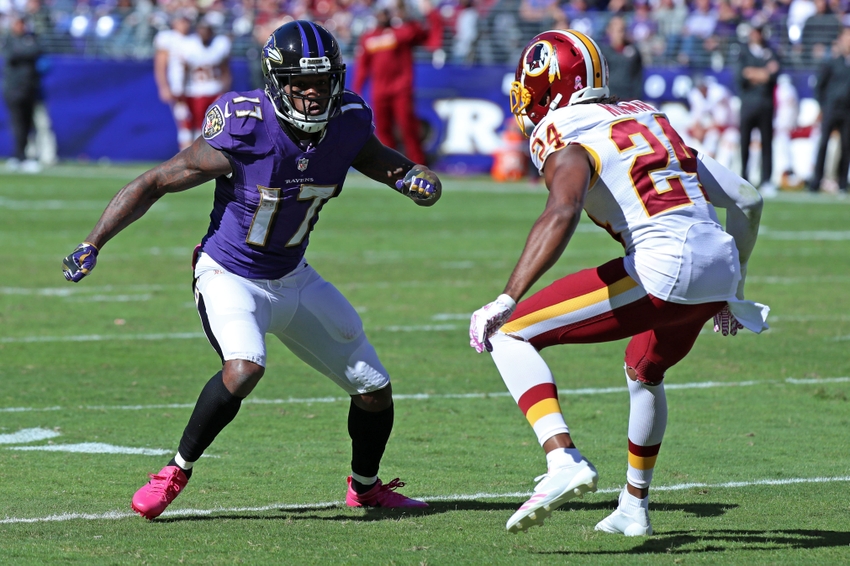 Written off after more than one disappointing season, these five NFL performers have bounced back in 2016 seemingly out of nowhere.
Make sure the house is decorated, the candy bowl is full and costumes are all set, Halloween is always a fun time. But there's something scary about the way these five NFL performers (listed in alphabetical order) have bounced back in 2016.
Each is making a big-time contribution to their current team due to the fact that they've improved or even been a lot more available than in years past.
Don't worry. There are plenty of puns ahead when it comes to Halloween. And no, Jack O'Lantern is not on the enclosed list of players "witch" are having terrific seasons to date.
5. CB Morris Claiborne, Dallas Cowboys
In 2012, the Washington Redskins dealt up to the number-two overall spot to draft quarterback Robert Griffin III. Among the picks the then-St. Louis Rams acquired in the deal with the sixth selection that year. But they didn't have it too long as they swung another trade, with the Dallas Cowboys moving up to that spot.
Jerry Jones and company would take LSU cornerback Morris Claiborne to help their defense. Entering the 2016 season, the 'Boys had not got a lot from the talented youngster in four seasons on the job. After playing and starting 15 games as a rookie, he would miss 23 contests over a three-year span. His career totals entering this season included three interceptions, three fumble recoveries and 16 passes defensed.
Claiborne has been a different and better player this fall. He's started all seven of the club's outings. The fifth-year pro has 26 tackles, a pair of takeaways and has knocked down five passes. And he's currently the eighth-ranked player at his position via Pro Football Focus. The 26-year-old defender has been one of the Cowboys' best players in '16.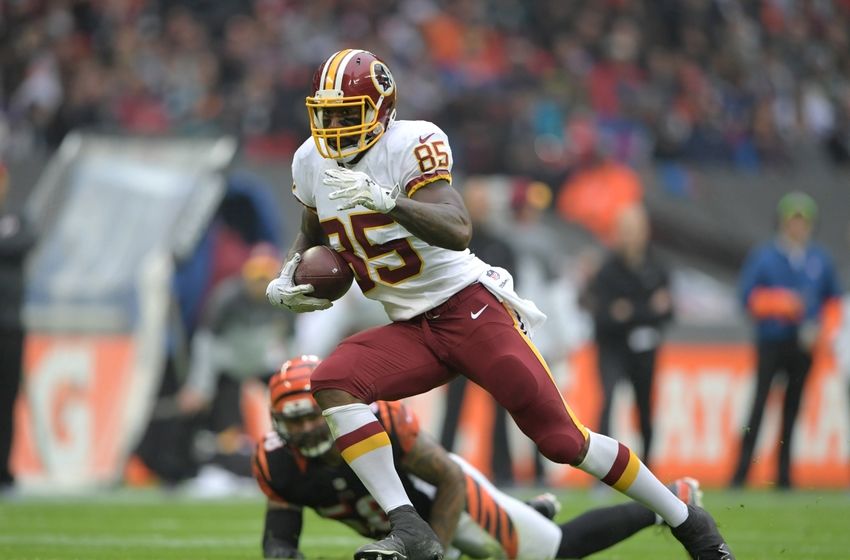 Oct 30, 2016; London, United Kingdom; Washington Redskins tight end Vernon Davis (85) carries the ball against the Cincinnati Bengals during game 17 of the NFL International Series at Wembley Stadium. Mandatory Credit: Kirby Lee-USA TODAY Sports
4. TE Vernon Davis, Washington Redskins
It's been a nice return to productivity for the former Pro Bowler who began his career with the San Francisco 49ers and was the sixth overall pick in the 2006 draft.
Vernon Davis was once one of the most productive players at his position in the league. In 10 seasons with the Niners, he would finish with 441 catches good for 5,640 yards and 55 scores. In eight playoff contests with the club from 2011-13, he totaled 27 grabs for 600 yards, seven for touchdowns
On opening weekend in Dallas in 2014, he caught two scoring passes in his team's 28-17 victory. It would be the last time he would reach the end zone for quite some time. In 2015, he was dealt to the Denver Broncos at midseason and was a member of the Super Bowl 50 champions. But he was mostly a non-factor with the club, dropping his share of passes from both Peyton Manning and Brock Osweiler.
This offseason, he was an unrestricted free agent. He was signed by Washington Redskins general manager Scot McCloughan, who was involved in the draft process in San Francisco 10 years ago. In eight games this year, he's made six starts, catching 23 passes for 316 yards and one score.
It's safe to say Davis is still alive and kicking. And he brings some Super Bowl experience to a Redskins' franchises that hasn't been to the Big Game in 25 years.
3. RB Christine Michael, Seattle Seahawks
Talk about scary? When Marshawn Lynch was running through opposing defenses like Michael Myers was rampaging through neighborhoods, the Seattle Seahawks had the scariest ground attack in the league.
You also knew that "Beast Mode" (unlike Myers) would not last forever. No one can dish out and take that kind of punishment and have a long shelf life in this league. Now the physical runner is retired, giving him more time to give career advice to the younger players.
Christine Michael was one of those young backs that the Seahawks were hoping to take some of the load off of Lynch. But he had problems staying healthy and saw only limited action. In 2015, he was dealt to the Dallas Cowboys and wound up playing five games for Jason Garrett's club before being released. He closed the year back in Seattle.
Here's the bottom line. From 2013-15, Michael appeared in 22 games with two clubs. He ran for 497 yards, totaled four receptions for 28 yards and failed to find the end zone in any instance.
As for 2016, it has already been a career campaign for the 2013 second-round pick from Texas A&M. He's played in all seven of Seattle's games and made six starts. He's rushed for a team-best 446 yards and five touchdowns on 107 attempts. Michael has added 19 catches for 92 yards and another score.
Seattle drafted a few running backs in April and Thomas Rawls has played in only two games this season. Michael has been an important part of the Seattle offense this season. And talk about bang for the buck. You get both "Christine" (hello, Stephen King) and "Michael" on Halloween.
2. OLB Nick Perry, Green Bay Packers
There's a lot to be said about having a career year at the right time.
But to be fair, Green Bay Packers outside linebacker Nick Perry really started to open some eyes in the 2015 postseason.
In the split with the Washington Redskins and Arizona Cardinals, the 28th overall pick in the 2012 draft totaled 3.5 sacks. That equaled his regular-season production from '15, in which he played in 14 games and made one start.
In his first four years in the NFL, injuries and inconsistency took its toll on the former USC standout. He played in only 46 of 64 contests and racked up only 13 sacks over that span.
This year, he's made seven starts in as many games and has rolled up a team-high 5.5 sacks. He will also be an unrestricted free agent after this season just as he was in 2016, when the Packers opted to bring him back. This was after the declined the fifth-year option on the defender in 2015.
Green Bay's defense has been a bit inconsistent this year. On Sunday, Falcons' quarterback Matt Ryan threw for 288 yards and three touchdowns in his team's 33-32 victory. Perry managed only one tackle and one pass defensed in the loss as the Packers' pass rush totaled only two sacks of Ryan.
Still, it's been a nice start for the fifth-year performer. Don't be surprised if general manager Ted Thompson brings back the promising defender via a longer contract this time around.
1. WR Mike Wallace, Baltimore Ravens
It's been an interesting journey by a player who began his career in the AFC North and returned to the division this offseason.
In four seasons with the Pittsburgh Steelers, wide receiver Mike Wallace hauled in 235 passes for 4,042 yards and 32 touchdowns. He averaged an impressive 17.2 yards per reception and earned a Pro Bowl invitation.
The speedy wideout opted to take his talents to South Florida, where he earned a five-year, $60 million contract with the Dolphins. In two seasons in Miami, he totaled 140 catches for just 1,792 yards and 15 scores. He failed to lead the 'Fins in receptions in either season. The club opted to deal him to the Minnesota Vikings one year later and he fizzled in the Twin Cities.
Jeff Zrebiec of the Baltimore Sun recently evaluated the team at midseason and had this to say:
"The Ravens' signing of Wallace following his release by the Minnesota Vikings didn't generate a ton of positive attention outside Baltimore. But thus far, Wallace has been the Ravens most consistent offensive player. Answering critics who suggested he didn't have much left, Wallace has 35 catches — four fewer than he had all of last season — for 490 yards and three scores. He's also had a big impact in the locker room, mentoring young receivers Breshad Perriman and Chris Moore."
The numbers are pretty eye-opening and Wallace looks primed for a big year what with strong-armed Joe Flacco taking advantage of his speed. And the best may yet to come this season for a wideout that looked like he was on the downside of his NFL career.
This article originally appeared on