5 fictional quarterbacks Bill Belichick, Patriots can win with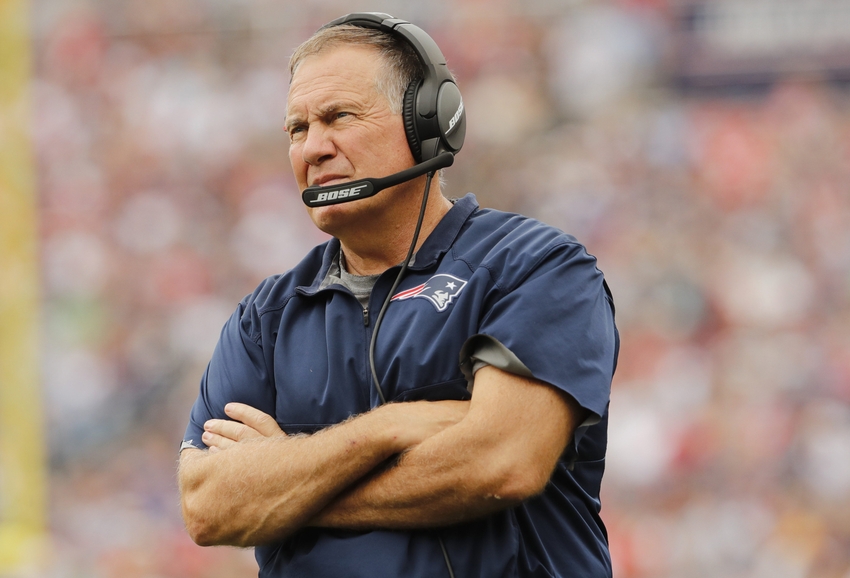 Bill Belichick could easily win games with these five fictional quarterbacks from television and film. 
The New England Patriots have a bad case of the injury bug. Tom Brady, Jimmy Garoppolo, and Jacoby Brissett are all unable to play. The Patriots have a little over a week to prepare a new quarterback. They'll likely have to prepare two because of the Patriots' terrible injury luck. But at least they can rest knowing that Brady will be back after Week 4.
Sure, they could play it safe and go with Julian Edelman. He is, after all, a quarterback by trade. But what if Bill Belichick decided to find a fictional quarterback? There have been some classic ones. Here are five he could easily win with.
5. Becky "Icebox" O'Shea
Becky O'Shea is best known as the cheerleader in Little Giants who saw her boyfriend get injured against the Dallas Cowboys. So she came in and whooped up on them, leading her team to a victory. While she might have been the backup quarterback, she is tough as nails and she can definitely throw. O'Shea came through in the biggest game of her father's life and helped him beat his brother.
More NFL coverage from FanSided
Each team's best draft pick of all-time
Heisman winners with best NFL careers
30 best NFL coaches of all-time
An added bonus to having O'Shea is that she's a pretty gifted cheerleader. She could be a cheerleader while the Patriots play defense and then quickly go out there and whoop some butt on offense. O'Shea even ran over some of the Cowboys. She's basically a good Tim Tebow.
If Bill Belichick really wanted to motivate her, he could just tell them that Junior "Pretty Boy" Floyd got beat up by the other team before the game. May God have mercy on their souls if she believes him. Because nobody wants to face the Icebox. Especially if she is angry. Just ask the Cowboys and their star player Spike. O'Shea was played by Shawna Waldron, who sadly didn't have much of a career after Little Giants.
4. Uncle Rico
Napoleon Dynamite is one of the best movies of the 21st century. A huge reason for that was its fantastic cast. The most memorable supporting character in that film? Uncle Rico, who was played by Jon Gries. Rico allegedly was a great quarterback. But could Belichick win with him?
First off, it's important to remember that Rico could throw a football "a country mile". Let's assume that he is telling the truth. Who wouldn't want a quarterback like that? If Tyrod Taylor can last a whole season by basically just throwing deep passes, why can't Uncle Rico?
Secondly, Uncle Rico would be great in the locker room. Could you imagine the conversations that he would have with Rob Gronkowski? Sure, Uncle Rico obviously has some ego issues. But if Belichick can put up with Randy Moss, Uncle Rico will seem like nothing.
Uncle Rico's deep arm is probably the best of any quarterback that Belichick has coached. Just watch Belichick sign a bunch of tall people and tell him to just throw to them. And the Patriots would still probably win.
Of course, Uncle Rico was never the brightest bulb in the box. But Uncle Rico is probably the worst quarterback that Bill Belichick could feasibly win a game with.
3. Matt Saracen
Obviously, Bill Belichick would like someone from Friday Night Lights. Playing football in Texas is, after all, about as high pressure as it gets outside of the NFL. However, in the movie, Mike Winchell is wildly inconsistent. But in the television series, Matt Saracen, played by Zach Gilford, was an excellent quarterback. Belichick could definitely win with him.
Saracen's biggest weakness is that he always falls just short of his goals. Perhaps that is because Belichick isn't guiding him along the way. Belichick could give Saracen the confidence he needs to consistently win football games and perhaps even finally win over the girl of his dreams Julie. He shares a similar background to Julian Edelman, having been a quarterback and a receiver. Belichick loves guys who have versatility.
So would Saracen really be a better choice than Edelman? Yes, he would. If Edelman is the quarterback, he obviously can't catch passes. With Edelman as Saracen's number one receiver, Saracen would finally be able to test some NFL success.
Saracen is definitely a better quarterback than Uncle Rico. While he can't throw a football a country mile, he can throw accurately. And he has the kind of character that Bill Belichick loves. Match made in heaven.
2. Shane Falco
Keanu Reeves has been in many movies, but perhaps his best one is The Replacements. In The Replacements, Reeves plays Shane Falco, a quarterback who is pretty much the fictional version of himself. Falco leads a group of replacement players after the NFL has a strike. Even though he has to battle a lot of obstacles, the movie ends with Falco leading his team to the playoffs.
Falco is obviously a talented quarterback. How many deaf tight ends has Tom Brady thrown a game-winning touchdown pass to? One less than Falco has. Falco has a bit of Tom Brady in him with his confidence and his composure under pressure.
Even Bill Belichick can appreciate Falco's story. After failing to win the Sugar Bowl, Falco never lived it down until given a chance to be a replacement player. Sounds like the kind of guy Belichick would be able to coach up to win about 10 to 11 games a year.
If Belichick can win 11 games with Matt Cassel at quarterback, he could easily win games with Falco despite having a less talented team than Cassel. All Belichick has to do is give him an offensive line that can block so Falco doesn't get happy feet.
1. Willie Beamen
Sure, Jamie Foxx's character Willie Beamen in Any Given Sunday is a bit of a hot head. He also has a bit of an inflated ego that nearly costs his team a chance to make the playoffs. However, Bill Belichick could still easily win with him. How long he could tolerate him is an entirely different story. But if he needed to, Belichick would have a very easy time winning with Steamin' Willie Beamen as his quarterback.
Beamen is the best quarterback on this list. His athleticism and power are comparable to Cam Newton. He can throw the ball very well too. Beamen has every physical tool that a coach would want in a quarterback.
Handling his ego could be difficult. However, Belichick has proven that he will tolerate egos as long as he keeps winning. Belichick tolerated Randy Moss for far longer than anyone expected him to. Maybe Belichick gets Beamen to focus on football and not stardom. Beamen did, after all, eventually come around in Any Given Sunday. He went from having no intangibles to having all of them.
The best part of this is that maybe Brady becomes the head coach and general manager of a new expansion team, signing Beamen to be his quarterback.
This article originally appeared on