5 Fantasy Football Replacements for Eddie Lacy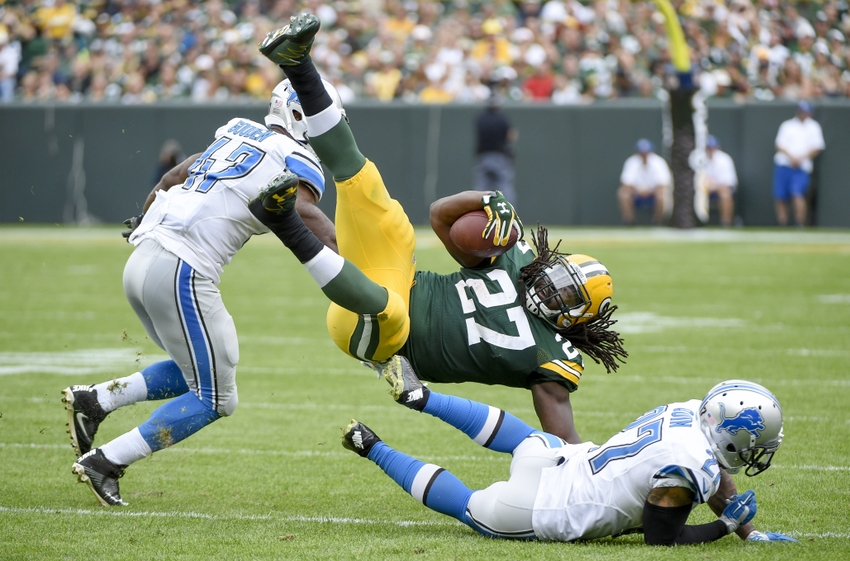 An ankle injury is going to sideline Green Bay Packers running back Eddie Lacy. Here are five replacements fantasy football owners need to target.
As funny as it sounds, this injury to Eddie Lacy is a blessing for fantasy football owners. The fact is, Lacy wasn't a productive fantasy running back. In both standard and PPR leagues, Lacy failed to reach double-digit performances in four out of five games this season. Lacy failed to reach the end zone in any game this season. Sure his 5.1 yards per carry average was nice, but owners don't get bonus points for that now do they?
However, due to name value, he was simply too good to drop. Some owners were even too scared to bench him fearing he might go off. Yet, they were burned over and over.
Eddie Lacy owners are now free from this one-sided relationship and can now look to upgrade their running back position.
Here are five running backs owners need to target on the waiver wire with Lacy out for at least the next few weeks.
5. Bilal Powell — New York Jets
If you are in a PPR league, this add makes plenty of sense because believe it or not, Bilal Powell was already a better fantasy running back than Lacy.
In three out of the last four games, Powell scored double-digit points in PPR leagues. A big reason for that is because, on three separate occasions, Powell hauled in six receptions in a game. In fact, Powell has only had fewer than three receptions in only one game this season. And that was back in Week 2. Lacy, on the other hand, only had four receptions for the entire 2016 season.
In standard leagues, Powell's value is not as strong but there is still reason for optimism.
Over the last four games the Jets starting running back, Matt Forte, has only averaged five more touches per game than Powell. In Week 6 against the Arizona Cardinals, Powell actually played more snaps than Forte. According to the New York Post's Brian Costello, Powell played on 39 snaps compared to Forte's 21.
A lot of that had to do with game flow because the Jets were playing from behind. However, if you watched the Jets this season, you know they will be in "catch-up" mode in plenty of games this season.
4. Rashad Jennings — New York Giants
What has Rashad Jennings done for you lately? The answer to that is simple: nothing. Yet, that isn't due to the fact that he isn't capable, but because he hasn't been healthy.
Back in Week 2, Jennings suffered a thumb injury and because of it, he missed the following three games. In his first game back in Week 6 he only had 35 total yards. That's the bad. Now follow me down Logic Avenue as I try to find (create?) a silver lining for you.
Although he was ineffective in Week 6, Jennings still led the way in touches in the Giants backfield. He led all running backs in carries with nine. He led all running backs in receptions with four. He led all running backs in touches with 14. The Giants running back with the second-most touches, Bobby Rainey, finished with eight touches.
Jennings isn't 100 percent healthy and he won't be in Week 7 against the Los Angeles Rams. However, the Giants do have their bye in Week 8. Coming out of it, that will probably be healthiest he will be since Week 1.
Between Weeks 1-2, he had 34 total touches. As mentioned before, he had 14 touches in Week 6. In the three games he's played in this year, he's averaged 16 touches.
Coming out of his Week 8 bye, he plays the Eagles, Bengals, Bears, Browns and Steelers. Four of those five teams are ranked in the bottom-half in the NFL in rushing yards per game. The team that isn't, the Pittsburgh Steelers, were just gashed by Jay Ajayi for 204 yards in Week 6.
3. Chris Ivory — Jacksonville Jaguars
Last year Chris Ivory was a straight up beast for the New York Jets. He finished the 2015 season with 1,287 total yards and eight touchdowns in 15 games. In 2016, he signed with the Jacksonville Jaguars and he's been a straight up bust.
Once again, follow me down this place I call Logic Avenue.
Ivory missed the first two games of the regular season because he had some kind of weird illness that left him hospitalized. Thankfully, he made a full recovery. In his first game back in Week 3, he out-touched teammate T.J. Yeldon 13-8. In Week 4, he did not out-touch Yeldon, but a contributing factor in that outcome might have been due to a leg injury. Once again, Ivory out-touched Yeldon 13-7 in Week 6.
In the three games he has played in this season, Ivory has averaged just over 11 touches per game. A very important touch (and reminder) came last week when Ivory had a one-yard touchdown run in the fourth quarter. In case you forgot, he's the goal-line running back for the Jaguars.
In short, since returning in Week 3, Ivory has out-carried Yeldon 31-26 and is the team's goal-line running back. The Jaguars take on the Raiders in Week 7 who are giving up 132.2 rushing yards per game, which ranks 30th in the NFL.
Ivory could provide an immediate short-term solution for owners in Week 7, but also help out for the remainder of the fantasy season.
2. James White — New England Patriots
Since Patriots quarterback Tom Brady returned in Week 5, the Patriots offense has operated on another level (duh). One of the beneficiaries of Brady's return has been running back James White.
In Week 5, White had a season-high in carries (5), rushing yards (26), and receiving yards (63). In Week 6, he set new season-highs in carries (7), receptions (8) and receiving touchdowns (2).
Throughout the years we have always seen a passing-down running back be a integral part of the Patriots offense. Kevin Faulk, Danny Woodhead, Shane Vereen and Dion Lewis. Since Lewis went down with a torn ACL last season, White has stepped in and been that dude for the Patriots.
If you are in a PPR league and he's on the waiver-wire, you better make him your first priority. In two games with Brady he has racked up 12 receptions on 15 targets. To put that in a perspective that might easier to understand, that would put him on pace for 96 receptions in a 16-game season.
This shouldn't be a shock. Prior to these two games, White averaged five receptions a game in the Patriots previous seven games (including playoffs) with Brady under center. That is only one fewer reception per game he is currently averaging in 2016 with Brady.
Until Lewis returns (if?), White will be a a big part of this Patriots offense.
1. Jay Ajayi — Miami Dolphins
Last week, Jay Ajayi slashed and gashed his way to 204 rushing yards on the ground. Forget about the Pittsburgh Steelers defense. The way he was running the ball, even the Kardashians would have had no shot at keeping up.
Will Ajayi continue running the football at this rate? Don't be silly. However, he very well could dominate the touches in the Dolphins backfield from here on out.
The Dolphins running back corps was a young, inexperienced, and underwhelming group in training camp. Not one of them was able to prove to head coach Adam Gase that he were capable of handling the duties and responsibilities. As a result, the team signed Arian Foster to a one-year contract.
Foster was coming off a 2015 injury-plauged season which ended when he tore his Achilles tendon in Week 7 (ironically against the Dolphins). This one-year "prove it" deal in 2016 with the Dolphins made sense for both sides.
For Foster, he could show teams around the NFL he was healthy and capable of still being an impact player. He could then try to get one last contract with good money in 2017. For the Dolphins, they would be able to find a one-year solution to their running back woes and address the issue next year.
Now that the 23-year-old Ajayi has shown that he could be capable of being a starting NFL running back, why would Miami turn back to an injury-prone 30-year old Foster who is still dealing with injuries?
If I'm guessing (which I am), I'm saying they won't. Instead, they will give Ajayi every opportunity to be "the guy" in the Dolphins backfield. If he can step up and prove last week wasn't a fluke, he could be an every week RB2.
This article originally appeared on