5 Fantasy Football Replacements for Alshon Jeffery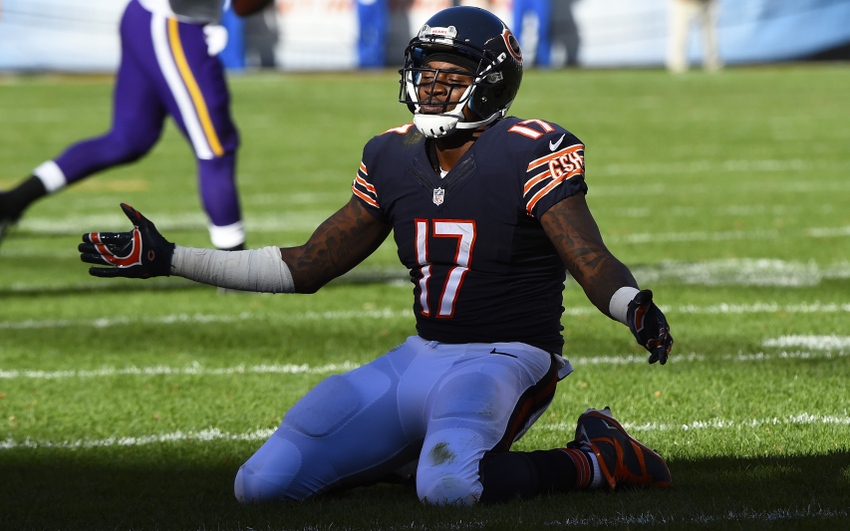 Chicago Bears wide receiver Alshon Jeffery is suspended for four games. Here are five stopgap replacements for fantasy football owners.
On Monday afternoon, it was announced that Chicago Bears No. 1 wide receiver, Alshon Jeffery, was suspended for the next four games for violating the league's policy on performance-enanching drugs. As a result, he won't be eligible to return until Week 15. This is a big hit for fantasy football owners because, although Jeffery was underperforming, his stock was on the rise.
When Bears quarterback Jay Cutler returned to the starting lineup in Week 8, he targeted Jeffery early and often. His nine targets that week was the most on the team by a wide receiver. The wide receiver with the second-most targets that game, Josh Bellamy, only finished with two. In the team's next game in Week 10, Jeffery led all wide receivers in targets. Now that he's gone for the next four games, owners need to look for other options.
Here are five wide receivers owners need to target on the waiver wire.
5. Eli Rogers – Pittsburgh Steelers
If you recall, Steelers wide receiver Eli Rogers got off to a great start in 2016 when he finished with six receptions, 59 yards and a touchdown back in Week 1. Since then, a turf toe injury and rumored disciplinary issues kept Rogers sidelined and ineffective. However, he's starting to turn things around.
In Week 9 against the Baltimore Ravens, Rogers finished with 10 targets, six receptions and 103 yards. He led the team in receiving yards that game and his 10 targets were only one fewer than superstar wide receiver Antonio Brown's. He followed up his solid Week 9 performance with another good one on Sunday.
Against the Dallas Cowboys in Week 10, Rogers finished with 4 receptions, 42 yards and one touchdown. He was third on the team in targets, only behind Antonio Brown and Le'Veon Bell.
With Markus Wheaton and Sammie Coates well under 100 percent healthy, Rogers has established himself as the team's No. 2 wide receiver. He should continue to see opportunities in the Steelers offense that currently ranks fourth in the NFL in passing yards per game.
4. Cameron Meredith – Chicago Bears
A little over a month ago, Cameron Meredith was the number one waiver-wire target in a lot of leagues heading into Week 6. That was because he had a monster game in Week 5 against the Indianapolis Colts. He finished the game with 12 targets, nine receptions, 130 yards and one touchdown. The following week, he had another solid performance against the Jacksonville Jaguars when he had 11 receptions and 113 receiving yards. Unfortunately, it's been nothing since then.
In each of the team's next three games Meredith has only recorded one reception per game. The reason for this sudden lack of production is because of the injury to quarterback Brian Hoyer. When Hoyer was the starting quarterback for the Bears, Meredith was his favorite target and he was constantly looking in his direction. When Hoyer broke his forearm in Week 7 against the Green Bay Packers, Meredith became an afterthought in the Bears offense.
As mentioned before, Jay Cutler heavily targeted Alshon Jeffery, but he also preferred the Bears tight end, Zach Miller, in the passing game over Meredith. Just how bad has it gotten for Meredith? In Weeks 5 and 6 with Hoyer, Meredith had combined for 27 targets. In the team's next three games between Matt Barkley and Cutler, Meredith has combined for just five targets.
With Jeffery now out of the Bears lineup, Meredith is now the No. 1 wide receiver on the Bears and should inherit a good amount of Jeffery's targets. At this point, who else is Cutler going to throw to?
3. Robert Woods – Buffalo Bills
Since coming into the league as a second-round pick back in 2013, Robert Woods has been a bit of a disappointment. However, the last time we saw Woods take the field, he set a career high in receptions (10) and receiving yards (162) against the Seattle Seahawks. Hopefully, this is a sign Woods is becoming a bigger part of the Bills offense.
Without Sammy Watkins on the field, Woods has clearly become the team's No. 1 wide receiver. He leads the team in receptions (39), receiving yards (452) and targets (56). In each of the last six games he's played, he's seen over six targets in every one of those games.
Like Watkins, Woods was also dealing with a foot injury that forced him to miss Week 7 against the Miami Dolphins. Before his breakout performance against the Seahawks in Week 9, he was questionable heading into that game. With a Week 10 bye to heal up, he should be at full strength.
Something else to keep in mind is the favorable schedule he has coming up. In five out of the team's next seven games the opposing defense ranks in the bottom-half of the NFL in passing yards per game.
2. Kenny Britt – Los Angeles Rams
It's really difficult to get excited about anything or anyone on the Rams offense. With that said, Kenny Britt has established himself has a high-end WR3 in fantasy football. He currently leads the Rams in receptions (44), receiving yards (693) and is tied for the most receiving touchdowns (3). Although his overall numbers don't jump off the page, he has been rather consistent in 2016.
In eight out of nine games, he has had four or more receptions. His 44 receptions is just as many as New Orleans Saints wide receiver Brandin Cooks and one more than New York Jets wide receiver Brandon Marshall.
Also in eight out of nine games, he's had six or more targets. His 64 targets is just as many as Detroit Lions wide receiver Marvin Jones and one fewer than Green Bay Packers wide receiver Randall Cobb.
Right now, the good news for Britt is Los Angeles Rams quarterback, Case Keenum, is remaining the starter at the moment. Using the word "good" and "Case Keenum" in the same sentence doesn't appear to make any sense, but in this case it does.
The fact is, if Jared Goff was better or even just as good as Keenum, he would be starting. When/if Goff does take over as the Rams starting quarterback, there are no guarantees he's going to rely on Britt in the passing game. He very well might lean on guys like Brian Quick, Lance Kendricks and/or Tavon Austin instead. Yet, until that switch happens, Britt will remain a reliable WR3.
1. Rishard Matthews – Tennessee Titans
Over the last six weeks of the 2016 season, Titans quarterback Marcus Mariota has been one of the best fantasy football quarterbacks. His wide receiver, Rishard Matthews, has been a direct beneficiary from it. In those last six weeks, Matthews has six total touchdowns and a touchdown in five out of those six games. He is now tied for third in the NFL in receiving touchdowns.
The one issue with Matthew is he's not seeing an abundance of targets or receptions every week. In those six games, he's only seen five or more targets just 50 percent of the time. Yet, it appears Mariota prefers Matthews once the Titans enter the opponents territory. Out of Matthews six touchdown receptions, the longest was from 32 yards out. Five of the six touchdowns were from inside the red zone.
With Matthews' current production, it's hard to believe he's still available in 46 percent of Yahoo! Leagues. Not only should he be owned in virtually all 10-team leagues, but he should find his way into owners lineups as a WR3 and/or FLEX option. With the Indianapolis Colts and Chicago Bears as the next two games on the Titans schedule, there's a strong possibility Matthews continues his heavy touchdown production.
This article originally appeared on