5 Fantasy Football Replacements for A.J. Green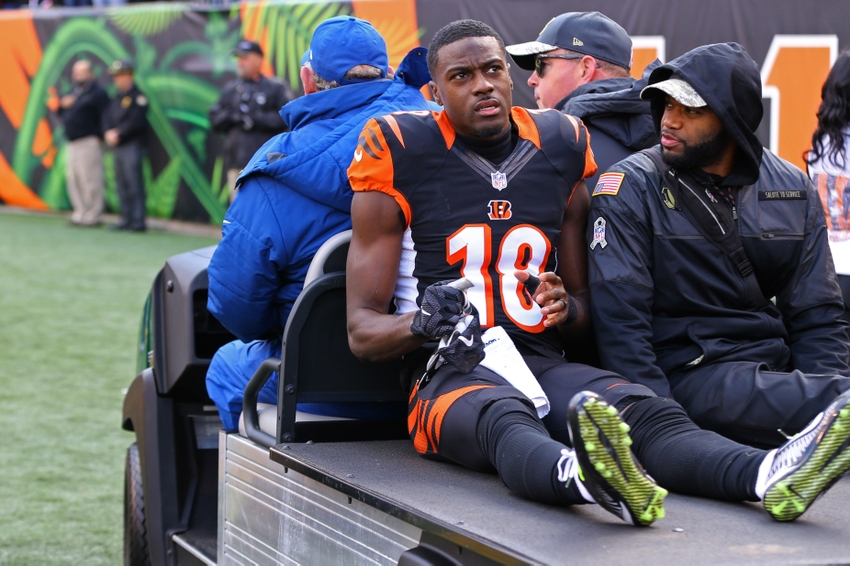 Cincinnati Bengals star wide receiver A.J. Green is out for the rest of the season with a hamstring injury. Here are five stopgap replacements for fantasy football owners.
It was absolutely worst-case scenario for A.J. Green owners yesterday. On the Bengals second offensive play of game, Green went down with an injury. At the time, the exact injury wasn't known. But when the cart was brought out, it was obvious he was done for the day. The immediate  outcome was owners got zero fantasy points from their star player. However, it wasn't over there.
Later in the day it was announced Green likely tore his right hamstring and his season was over. Owners had the rest of the day yesterday to mourn the lost of Green. Heck, I was one of them. Now it's time to get proactive and look for some help. Just because Green's season is over doesn't mean your fantasy football season has to be over too.
Here are five wide receivers owners need to target on the waiver wire to replace the Bengals star.
5. Cameron Meredith – Chicago Bears
Available in 43% of Yahoo leagues
Well, it keeps getting worse for the Chicago Bears, but the situation kind of keeps getting better for Cameron Meredith. Last week the Bears No. 1 wide receiver Alshon Jeffery was suspended for four games for violating the league's policy on performance-enhancing drugs. As a result, Meredith moved up the depth chart as the Bears new No. 1 wide receiver.
On Sunday, it was announced the Bears starting tight end, Zach Miller, broke his foot and is out for the season. So in a matter of six days, Jay Cutler has lost his top-two targets in the passing game.
Yes, the Bears offense and Cutler can look atrocious at times. With that said, Meredith is a No. 1 wide receiver in an NFL offense and, due to injuries, should be Cutlers primary target for the next three games until Jeffery returns. Meredith is obviously not on the same level as A.J. Green, but then again, nobody is on the waiver-wire.
4. Eli Rogers – Pittsburgh Steelers
Available in 77% of Yahoo leagues 
This is a name you've probably seen throughout the year and honestly don't have any interest. Yet, Eli Rogers is a player you need to strongly consider in fantasy football.
The Steelers wide receiver corps has been hampered due to injuries and it's allowed Rogers to see an increase in playing time and targets. Sammie Coates has multiple broken fingers and has been a non-factor in the Steelers passing game. In four out of the last five games, he has zero receptions. The one game where he did manage to catch a pass, he only had one reception for four yards.
Markus Wheaton was the Steelers No. 2 wide receiver heading into 2016, but he's been dealing with a shoulder as of late. The injury was so serious the Steelers decided to place him on season-ending injured reserve on Saturday. By default, Rogers is team's new No. 2 wide receiver.
Yesterday, Rogers didn't do much on the stat sheet, but then again, nobody really did in the passing game. The winds in Cleveland were so strong, it had a negative impact on the passing game. That is why Ben Roethlisberger ended with only 167 passing yards. The fact is, in the last four games he's played in (missed Week 7), he's had five-plus targets and four or more receptions in every game. In two out of the last three games, he's either had 100 yards receiving or a touchdown. The Steelers have one of the most pass-happy and explosive offenses in the league. Rogers brings a relatively high ceiling every week because of that.
3. Pierre Garcon – Washington Redskins
Available in 77% of Yahoo leagues
Believe it or not, Pierre Garcon has quietly been a productive fantasy football wide receiver recently. After his 70-yard touchdown on Sunday Night Football, people may believe I'm being a prisoner of the moment. Yet, it's much more than that.
After his performance on Sunday, Garcon now has seven or more targets and six receptions in four out of his last five games. Although his ceiling isn't as high as his teammate DeSean Jackson, he's seeing consistent targets and receptions in just about every game. For owners who play in a PPR leagues, Garcon has double-digit performances in seven out of 10 games this season.
The Redskins offense has been playing pretty well as of late and a big reason for that is the play of quarterback Kirk Cousins. Over his last four games, he is averaging 349 passing yards per game. During that span, he has a TD:INT ratio of 8:1.
Last year, we saw the same kind of production from Cousins towards the end of the year and he was one of the best quarterbacks in the NFL. Between Weeks 14-16, the Redskins will play the Philadelphia Eagles, Carolina Panthers and Chicago Bears. All three have below-average secondaries and Cousins should put up some gaudy numbers. As a result, Garcon should produce as well.
2. Tyler Boyd – Cincinnati Bengals
Available in 95% of Yahoo leagues
When A.J. Green went down with an injury and missed basically all of Sunday's game, Tyler Boyd benefited the most from it. His eight targets and six receptions were the most he'd had since Week 2. His touchdown reception in the 2nd quarter was his first of the season and career. He ended up leading the Bengals offense in receptions, receiving yards and touchdown receptions yesterday.
The rookie out of Pittsburgh was the No. 3 wide receiver behind Green and Brandon LaFell, but now will be in the starting lineup with Green out. Yet, another injury to the Bengals should also benefit Boyd as well.
It was announced yesterday the Bengals receiving running back, Giovani Bernard, tore his ACL and is expected to miss the remainder of the season. Now the Bengals will be without their first and third most targeted players in their offense. Being a running back, most of Bernard's routes were of the shorter variety. The routes Boyd mostly runs are in the short-to-imediate range. So not only should Boyd see an increase in targets by default, but he could also be leaned on more in the short passing game than he already is.
1. Cole Beasley – Dallas Cowboys
Available in 42% of Yahoo leagues
I'm not sure why Cole Beasley is available in so many leagues but he is. So if he is available in your particular league, you need to scoop him up.
In four out of his last six games, Beasley has scored a touchdown and he has five total touchdowns during that span. He has six-plus targets in five-straight games and five or more receptions in four out of those five games. As a result, he has more fantasy points than guys like Jordan Matthews, Jarvis Landry, Brandon Marshall, DeAndre Hopkins and Randall Cobb in standard leagues. For one reason or another, all of these players are underperforming, but you still wouldn't see them on the waiver-wire in a vast majority of leagues. So why is Beasley, who is doing better, on the wire in so many leagues? Once again, I'm not sure why.
Many owners might have assumed Beasley's value was going to plummet after Dez Bryant returned from injury, but he still remains as a consistent option in the Cowboys offense. In the four games since Bryant has returned, Beasley has averaged seven targets, five receptions, 50 yards and 0.5 touchdowns. In PPR leagues, he has had double-digit performances in seven out of 10 games this season.
Time and time again, owners need to be reminded fantasy football is about numbers and not the name on the back of the jersey. By the numbers, Beasley is a consistent and reliable starter in fantasy as a WR3 and/or FLEX.
This article originally appeared on