5 Bold predictions for New England Patriots vs. Cincinnati Bengals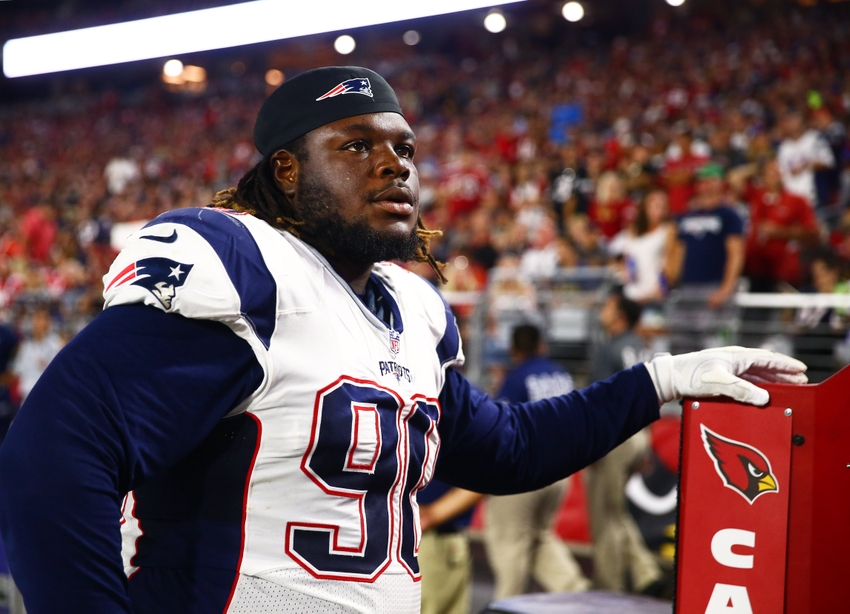 We're about 72 hours out from kickoff between the New England Patriots and Cincinnati Bengals, which means it's time for some bold predictions.
Patriots vs. Bengals Bold Prediction: Patriots will rack up six sacks
Following a game against the Cleveland Browns in which the pass rush was dialed back a bit, expect the Patriots to unleash on the Bengals' offensive line in this game. Leading the charge will be Malcom Brown, Chris Long and Jabaal Sheard.
Brown continued his impressive sophomore season last week by posting two sacks against the Browns, the only sacks the Patriots registered in the game. He possesses a solid blend of size, athleticism and power that has no Patriots fans missing Dominique Easley, that's for sure. Expect Brown to record two sacks for the second straight game.
On the edges, Long and Sheard will each have success against the Bengals' tackles. These guys currently lead the Patriots' sack chart, with Sheard having notched a hat trick of sacks and Long earning two of his own. Like Brown, Sheard and Long will each have two sacks in this game.
So to sum up this bold prediction, Brown, Sheard and Long will power the pass rush by posting a pair of sacks apiece for six total.
Patriots vs. Bengals Bold Prediction: Brandon LaFell will outgain A.J. Green
It's shaping up to be another elite year for A.J. Green; the sixth-year veteran is on pace for 115 receptions and 1,658 yards, both of which would be career highs. It's Green's stardom, as well as the respect he receives from Bill Belichick, that makes this a bold prediction.
In fact, when I told my boss at my day job that Green would be out-produced by Brandon LaFell this week, he immediately responded "that's bold", almost as if he knew I had to write a bold predictions article after clocking out.
Here's the thing: LaFell was the only Bengals pass catcher that had touchdown success in the Week 5 embarrassment in Dallas. LaFell racked up 68 yards and two fourth quarter touchdown catches on eight receptions; both touchdowns were in the red zone.
Considering that Bill Belichick will allocate resources toward Green in this game, LaFell should have a good matchup against one of his former cornerback teammates: Logan Ryan, Malcolm Butler or Justin Coleman (if he's activated).
Speaking of Butler…
Patriots vs. Bengals Bold Prediction: Pick-six for Malcolm Butler
We've seen Butler intercept three passes in his NFL career. The first was the famous Super Bowl XLIX heroism, the second came off a tipped ball in Week 2 last season, and the third was a garbage-time pick against the Titans in his own end zone.
Butler is about due for his third regular season and fourth overall interception as a pro, and it will happen in Week 6.
Moreover, Butler will return the interception for a touchdown; the Patriots defense as a whole is about due for a juicy play like a pick-six, and this writer senses it coming against the Bengals.
For those of you not completely sold on Butler after a bit of a premature Pro Bowl casting last season, you will get fully on board with No. 21 after he makes this outstanding, game-changing play.
However, Butler won't have the only pick-six of the day…
Patriots vs. Bengals Bold Prediction: Pick-six for Adam Jones
Yesterday, we took a look back at Tom Brady's career history against the Bengals, and we remembered that Jones snagged one of Brady's passes in the 2013 meeting between these teams. Three years later, Jones will do it again, this time with six points on the end of it.
Look, Brady had it somewhat easy last week against the Browns. After all, those orange-helmeted players have yet to win a game this calendar year. The Bengals, although 2-3, present a much stiffer challenge, and we're expecting Brady to make a miscue or two en route to victory.
Jones will make the most of a poor decision by Brady in the face of a heated Cincy pass rush, and he will use his kick returning prowess to take it back all the other way. The Bengals won't score much in this game, but Jones' highlight reel play will translate into points on the board.
Speaking of points on the board…
Patriots vs. Bengals Bold Prediction: Three Gronk spikes
Slowly but surely, Rob Gronkowski is gaining strength. He was sidelined the first two weeks, used as a decoy the next two and took the training wheels off in Week 5. Like a brewing volcano, Gronkowski has been increasing in power, and he is going to blow against the Bengals on Sunday.
It's gotten to the point where defenses really have to plan for Martellus Bennett when they face this offense, as Bennett leads the Patriots in receiving yards and touchdowns. Gronk will explode in Week 5 as a result of increased one-on-one matchups thanks to the respect Bennett is commanding these days.
Gronkowski will be held without a catch in the first quarter, but he will more than make up for that silence by spiking in the second, third and fourth acts. It will be a beautiful sight for Patriots fans that have waited the better part of nine months for such an occasion.
Be sure to stop by Musket Fire tomorrow as we host a Patriots Roundtable discussion among four of the staff. You won't want to miss it.
This article originally appeared on