5 biggest problems with the Vikings' offense in 2016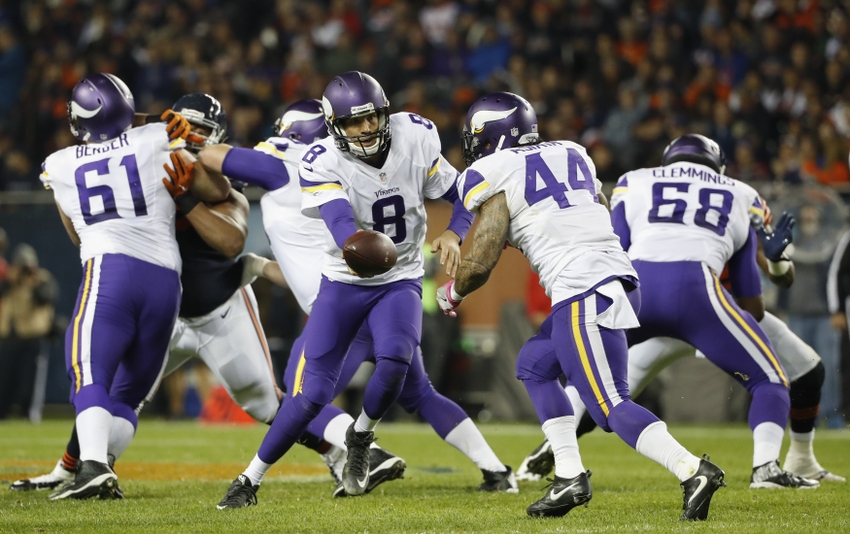 Here are the five biggest issues with the Vikings offense Pat Shurmur will be expected to fix. 
Following an embarrassing 20-10 loss to the Chicago Bears Monday night, the Minnesota Vikings offense must address some significant issues. Former offensive coordinator Norv Turner is resigning from his position, leaving Pat Shurmur to make some red flags disappear. He'll inherit an offense 31st in total offense and 31st in yards per game.
Fixing these issues is a priority for Minnesota. They might be 5-2 this season, but the Green Bay Packers are quickly closing in on them. Shurmur doesn't need to make Minnesota an offensive juggernaut since their defense is very good, but he needs to make them competent enough to let their defense get some rest. Here are the five biggest issues the Vikings offense have faced in 2016.
5. Quarterback play
Usually when an offense is sputtering, they turn to their quarterback to step up their game. With all due respect to Sam Bradford, this is a luxury Minnesota doesn't have.
Bradford has been a bit better than expected so far, but his 240.3 passing yards per game are his fewest since 2012. Interestingly, his 7.1 passing yards per attempt represents the highest mark of his career. Bradford's 72.9 QBR isn't outstanding, but it suggests he's been doing well.
Those numbers are a little bit deceiving. Minnesota's offense has been tailored to perfectly fit Bradford's strengths. He's an accurate passer in the short passing game but his issue has always been deep passes, though he has developed impressive chemistry with Stefon Diggs. Bradford is more of a game manager, and that's fine if you have the parts around the quarterback necessary, but the Vikings don't have that. Lately, they've been asking Bradford to be what he's not. This issue isn't nearly as big as some of their other issues, but it's still a concern.
4. Replacing Adrian Peterson
It's very hard to replace a star player. The Vikings have found that out the hard way with Adrian Peterson's injury which will keep him out until at least November 20th. So much of their offense ran through Peterson. He allowed them to go out and get Bradford and Peterson's success is why Teddy Bridgewater thrived in 2015. Minnesota has a balanced offense with Peterson, but without him, this has not been the case.
Part of this falls on the Vikings. After all, if you aren't prepared for an injury, that's your fault. Jerick McKinnon and Matt Asiata have combined for 417 rushing yards and three touchdowns this season. It's clear they only had one quality starting running back in Peterson — and he got injured.
Peterson's injury has forced Minnesota's offense to be unbalanced, having to rely more on Bradford than they'd like. Most of these issues were hidden in the first five weeks because their offense was able to do enough for their defense to dominate. After their past two losses, it's obvious the offense isn't holding their end of the bargain.
However, this doesn't mean the issues started with Peterson's injury. There were some issues even before he got hurt. Pat Shurmur will have to find a way to fix them and they're much more complicated than finding a competent running back.
3. Red Zone offense
In the NFL, successful offenses take advantage when they get into the red zone — they don't settle for three points. Instead, they tend to get a touchdown more often than they get three points. This has not been the case with the Vikings. They have only scored a touchdown on 44.44 percent of their red zone drives, the fifth lowest in the NFL.
At home, they've been extremely good in the red zone. In fact, entering November 2nd, their 88.71 percent red zone touchdown percentage at home is the best in the NFL. However, their offense has struggled to score on the road, getting into the end zone on just 18.18 percent of their red zone drives. That's the worst percentage in the NFL.
Part of the issue is Kyle Rudolph isn't a great red zone option. Factor in Bradford's limited arm strength and it's not hard to see why they've struggled in the red zone. Rudolph leads the team with three receiving touchdowns. Despite having 467 receiving yards, Stefon Diggs has just two touchdowns. Cordarrelle Patterson is the only other vikings receiver to have multiple receiving touchdowns.
Minnesota hasn't gotten in the red zone too much, making getting at least six points when they visit that area vital. They haven't done that nearly enough.
2. Too conservative
Even with Peterson out, the Vikings have been extremely conservative. They've been so conservative, it's a bad thing. Granted, Bradford isn't a Drew Brees type who should be throwing the ball 65 percent of the time. However, Minnesota ranks in the bottom seven in passing play percentage, which shows how many times a team runs a passing play.
With Peterson out, Minnesota has a very weak running game. For better or for worse, they need to start throwing the ball more. Bradford can handle it, and he has been at worst competent so far, so why not put more faith in him instead of in two running backs who have struggled? Maybe if Minnesota still had a healthy Peterson at running back, this would be justified.
Despite having some dynamic weapons on offense like Diggs and Patterson, Norv Turner didn't trust Bradford too much. Perhaps Pat Shurmur should. And Shurmur is a guy who knows Bradford quite well, serving as his offensive coordinator in St. Louis and in Philly. Bradford excels in the short passing game, but has enough of an arm to take advantage of Diggs' ability to be a deep threat.
Turner wasn't the right guy for the offense, but if anyone is, it's someone who knows the quarterback. That's Shurmur.
1. Offensive Line
The biggest issue Shumur will have to fix is the offensive line. This is going to be very difficult, as the Vikings are already without starting tackles Matt Kalil and Andre Smith. Even Alex Boone might be out with a concussion. Minnesota's subpar offensive line play has affected every facet of their offense.
Just how bad has it been? Back in Week 5, Pro Football Focus had the Vikings with the 30th best offensive line and this was back when they still had a healthy Smith. It has been even worse since then. They have allowed 19 sacks, the ninth most in the NFL, and 51 quarterback hits, tied for the seventh most. Considering how many times Minnesota passes the ball, it could be a lot worse.
The Vikings offense line ranks dead last in rushing yards per attempt (2.7). Minnesota has especially struggled when running to the right side, with just six first downs (second worst in the NFL). They aren't much better when running to the left side, with just 10 first downs (tied for fourth worst).
If Shumur can fix the offensive line woes, it likely fixes a lot of their other issues. At worst, it makes them far less prevalent. However, if he can't fix it, the Vikings season could be in danger.
This article originally appeared on