49ers vs Seahawks: Week 3 Grades and Analysis for San Francisco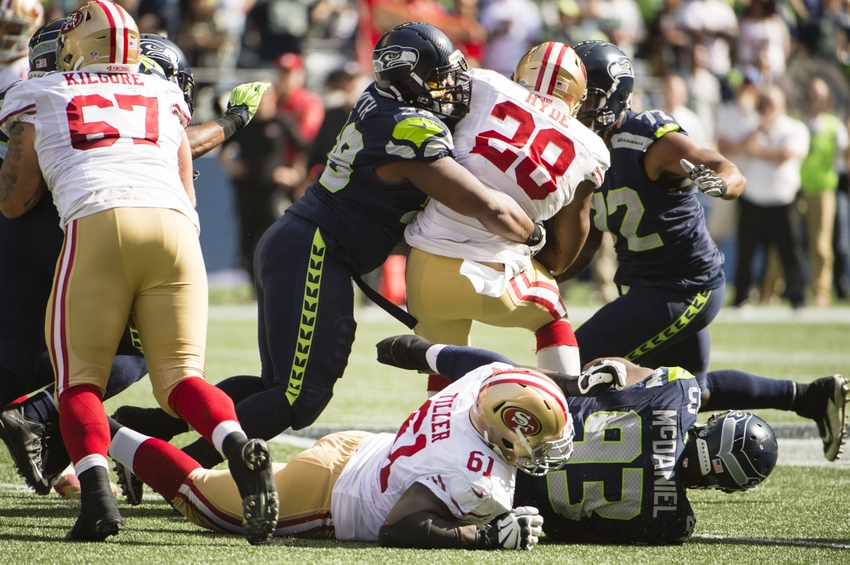 The San Francisco 49ers put on a dismal performance Sunday against their division rival Seattle Seahawks. Between consistent and continual defensive lapses and an inability to move the ball, the 49ers 37-18 loss was
The San Francisco 49ers have now lost six straight games to the Seattle Seahawks. You'd have to go back to the 2011 NFL season to find the last time the 49ers defeated the Seahawks in Seattle. So maybe it should not be a surprise that San Francisco looked like a squad of backups against Pete Carroll's players en route to a 37-18 loss.  And the game wasn't even that close
Then again, this is a Seattle team who only managed 15 points combined in their first two games, one of which was against the same Rams team the 49ers destroyed two short weeks ago.
Alas, history repeated itself as the Seahawks jumped out to a quick 14-0 lead and never looked back. The 49ers caught a break when a Chip Kelly challenge succeeded, giving the 49ers the football after a fumble and recovery in Seattle territory. Unable to to crack the goal line, the 49ers settled for a field goal. They would not score again until Seattle had racked up 23 more points.
Carlos Hyde plunged into the end zone for a couple of TDs in garbage time, making the final score look slightly better. But this game was awful
You'll want to put together a grades piece for each San Francisco 49ers game in this slideshow format. You don't need slides for each position, but you will want to break down each grade in the following way.
Offensive Grades
Quarterback: F
Blaine Gabbert is still the San Francisco 49ers best option at quarterback. If he wants to remain the starter, however, he needs to start throwing more accurately. He has consistently been behind his receivers, thrown the ball low, and simply missed guys. 14/25 for 119 yards and a pick (though it wasn't his fault) doesn't cut it.
Yet while Colin Kaepernick's off-the-field stance is commendable, based on his performances last year and in the preseason, he would not be playing as well against these top NFL defenses, let alone better.
Running Back: C-
Carlos Hyde's 100 yard performance and two touchdowns gets this up to a "C-." That many of these yards — and both touchdowns — were gained in garbage time keeps the grade from getting any higher. Shaun Draughn was barely visible with five carries for 10 yards
Wide Receiver: D
Torrey Smith led the receivers with 3 receptions for 35 yards. Jeremy Kerley had two grabs for 24. Quinton Patton had one catch for eight yards and a horrific bobbling drop that placed the ball perfectly in the hands of a defender for a pick.
Tight End: D
Vance McDonald left the game with a hip injury with two catches for four yards. Garrett Celek managed two receptions for 25.
Offensive Line: C
While the offensive line kept Gabbert from getting sacked, Gabbert did experience some pressure. More importantly, however, the O-Line failed to open any holes for Carlos Hyde until the game was already way out of hand.
Defensive Grades
Defensive Line: F
The 49ers defensive line was simply bad on Sunday. Part of this may have been coaching decisions, but it was rare to see a 49er in the backfield. The 49ers defensive line was overmatched by Seahawks, allowing a backup running back, Christine Michael, to gain over100 yards on the ground.
Meanwhile, Russell Wilson racked up 200 passing yards in the first half.
Linebacker: D
NaVorro Bowman had a nice forced fumble in the first half that had the potential to start a comeback. Ahmad Brooks played fairly well throughout the game. But you can't get a good grade letting a backup running back gash you like Michael did.
Defensive Back: F
Special Teams & Coaching Grades
Special Teams: D-
Phil Dawson does not usually miss field goals, even 53 yarders. He wasn't even close on Sunday.
Bradley Pinion had another solid (and busy) day, punting seven times. He even managed to get one punt off that was tipped by a Seahawk. He also had arguably the most interesting play of the day. One of his punts landed around the 20 yard line and bounced down the sideline near the end zone before hitting the pylon. By rule, this was unfortunately a touchback. So close to a beautiful punt, and fun to watch too.
Coaching: F
On offense, Chip Kelly and Curtis Modkins also implemented a conservative game plan. Clearly this did not work. Blaine Gabbert is no superstar, but the 49ers need to pass the ball more early if they want to open up the running game.
Cumulative 49ers Grade for Week 3: F
The 49ers simply played an awful game on Sunday. The coaching staff and players alike will need to figure something out soon, if they want to salvage any portion of this season.
The 49ers' losing streak to Seattle continues: they have now lost six straight to their northern rival, and five straight at CenturyLink Field.
Hopefully they can manage to do so before the Dallas Cowboys come to town next week.
All statistics, records and accolades courtesy of Pro-Football-Reference.com and ESPN.com unless otherwise indicated.
This article originally appeared on