49ers vs. Seahawks: 5 Things to Watch in Week 3 for San Francisco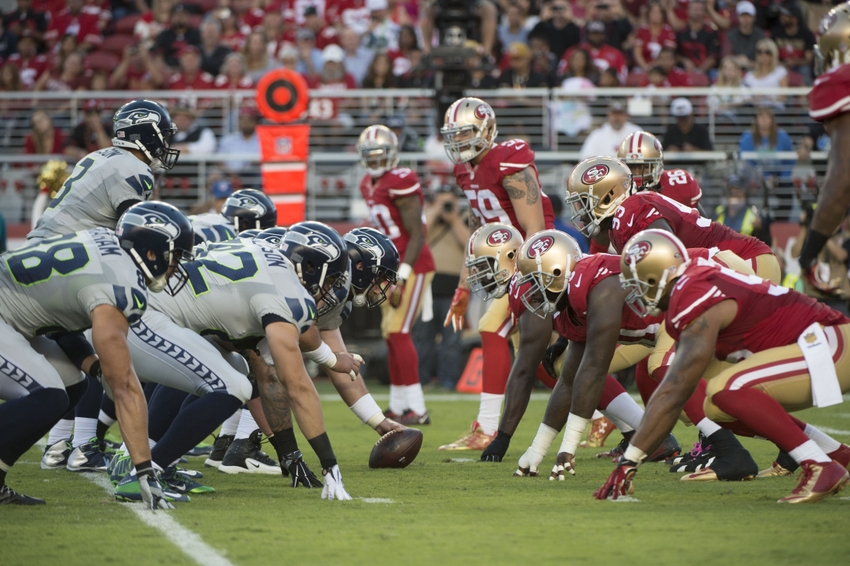 The San Francisco 49ers will try to do something they haven't done since 2011 — defeat the Seattle Seahawks at CenturyLink Field. Niner Noise takes a look at five things to watch in this Week 3 NFC West divisional bout.
Yes, it's been some time before the San Francisco 49ers have won against the Seattle Seahawks at CenturyLink Field.
2011, to be exact.
Both the Niners and Seahawks were on the ascent that year. And while the 49ers have crashed down to the depths of the NFL, Seattle is still considered an upper-tier team in 2016. At least defensively.
Seattle's offense is another story though. Quarterback Russell Wilson and Co. rank next to last in total points scored (15) and 26th in all-purpose yards (658). The Seahawks have scored just one touchdown, and their offensive line is a mess.
On the flip side, the Niners offense has averaged 27.5 points per game, which stands at No. 9 overall.
And yet the vaunted Seattle defense, still as stout as ever, could pose a major problem for a 49ers team lacking consistency or playmakers.
As Week 3 approaches, Niner Noise takes a look at five things to watch in this heated NFC West rivalry.
Can the 49ers Offensive Line Withstand the Seattle Pass Rush?
A year ago, the Seahawks' front-seven defense would have made quick work of the 49ers offensive line.
Well, it did — eight sacks over two games.
That's the same number the Seahawks have through two games in 2016. They're currently tied for second in the NFL with this mark. Second-year defensive end Frank Clark has three of his own to lead the team. And fellow ends Cliff Avril and Michael Bennett continue to be factors.
But the 2016 49ers O-line is nothing like last year's version.
San Francisco no longer has linemen Jordan Devey or Erik Pears on its roster. Center Marcus Martin is in a backup role, and the Niners have given up just two sacks this season.
The Niners even had positive O-line grades, per Pro Football Focus, against the vaunted defense of the Carolina Panthers in Week 2.
Will this trend continue on the road in Seattle? Even if the 49ers O-line holds up, how will San Francisco's skill players take advantage of the added protection.
Let's look on the ground first.
Which Version of RB Carlos Hyde Will Be on Display in Week 3?
No. 1 tailback Carlos Hyde burst for 88 yards and two touchdowns in Week 1 against the Los Angeles Rams. His patience, elusiveness and vision were on full display.
Which led to runs like this:
#49ers scoring drive, 10 plays, 80 yards, 5:51 resulting in the @elguapo 1-yard TD! #GoNiners https://t.co/EI3wBexJ4b

— San Francisco 49ers (@49ers) September 13, 2016
But the Carolina Panthers thwarted any back-to-back standout performances. Hyde was held to just 34 yards on 14 carries. And a costly first-quarter fumble negated an early drive San Francisco needed on the road.
"So I think once that happened, his mind was probably shot," ex-49ers great Ricky Watters said, via Matt Maiocco of CSN Bay Area. "He was pressing everything after that. He wanted to probably get back all of it in one play."
Which Hyde will be on display in Week 3?
Hyde has averaged just 38.0 yards per contest in three games against Seattle. But his 5.18 yards-per-attempt average is reason for hope.
Can 49ers Wideouts Challenge Seahawks Secondary?
The 49ers don't exactly have bona fide talent, outside of Torrey Smith, at wide receiver.
Smith might even be considered a No. 2 guy in many offenses. And the remainder of San Francisco's receiving corps boasts Nos. 4 or 5 wideout types at best.
The Niners finally got Smith involved on the scoreboard in Week 2, which is a good sign moving forward. And slot receiver Jeremy Kerley has been a nice factor in head coach Chip Kelly's offense.
Who else though? Quinton Patton? Rod Streater?
While the Seahawks have numerous questions, mostly on offense, any worries about their secondary haven't gone away. Not yet at least.
We noted earlier Seattle is still ranked No. 1 on defense. And Seattle's pass defense has allowed just 369 yards through the air — fourth best in the NFL.
Trying to figure out who wins the matchups between Niners wideouts and Seahawks corners and safeties doesn't bode well for San Francisco.
This is going to be a tough test. The 49ers definitely are on the short end of this matchup.
What Will We See out of QB Blaine Gabbert?
We've learned one thing about quarterback Blaine Gabbert through two 2016 games — he's consistently inconsistent.
His efforts in Week 1 were adequate, if not stellar. And his Week 2 numbers could have been better had it not been for two late-game interceptions against the Panthers.
Gabbert is capable of the occasional "wow" throw from time to time. But he matches those passes with equally frustrating bounced passes or completely missing wide-open targets.
"Even some of the completions, the ball placement is not what it should be," NFL Films senior editor Greg Cosell said of Gabbert KNBR 680 (h/t CSN Bay Area). "He's going to have to play better, I think, for this team to be better offensively. He was very, very erratic in this game."
He's the best option San Francisco has right now though. Colin Kaepernick hasn't been able to figure out the Seahawks, so don't expect any sudden changes under center.
Gabbert has faced Seattle just once in his career and went 22-of-34 for 264 yards and a touchdown, which led to a 98.2 passer rating.
San Francisco is hoping for a similar-type performance in Week 3.
Can the 49ers Pass Rush Manhandle the Seahawks O-Line?
Carolina's offensive line is vastly superior to that of the Seahawks. And it showed. The Niners' struggling pass rush managed just one sack and three hits on Panthers quarterback Cam Newton last week.
Through two weeks, San Francisco ranks No. 22 in the league with just three sacks. This group can't get linebacker Aaron Lynch back from suspension soon enough.
But Seattle's O-line presents a much different opportunity.
The Rams made easy work of the Seahawks linemen in Week 2, as pointed out by Pro Football Focus. Quarterback Russell Wilson, who's dealing with an ankle injury, was under constant pressure. And Seattle's running game never got going.
Not surprisingly, the Seahawks offense is suffering.
No In-Editor Preview for 120 Sports Videos
Video Details
ID: 202193146
Source: 120 Sports
The 49ers defense may be the only element to keep San Francisco in this contest. Nothing Seattle has done on offense has suggested this unit is ready to break out.
And it all starts up front.
Look for the Niners to try and take full advantage of this problem area the Seahawks are experiencing.
If the defense can exploit this matchup well enough in Week 3, San Francisco might finally end its losing streak in Seattle.
All statistics, records and accolades courtesy of ESPN.com, Pro-Football-Reference.com and Sports-Reference.com unless otherwise indicated.
This article originally appeared on