49ers vs. Panthers: What Week 2 Loss Tells Us About San Francisco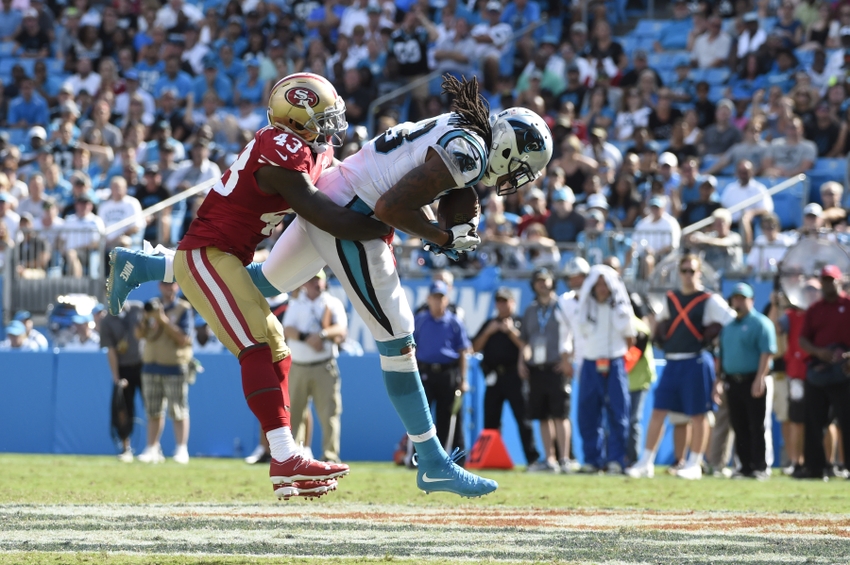 The San Francisco 49ers now sit at 1-1 after dropping their Week 2 contest 46-27 to the Carolina Panthers. What does this loss tell us about the Niners early in the 2016 season?
The San Francisco 49ers came crashing back down to earth after losing their Week 2 bout to the defending NFC champions, the Carolina Panthers, 46-27.
Fantasy Football: Winning Daily Fantasy Football Picks for NFL Week 2
In fairness, the Niners had to travel east after playing on Monday Night Football and take on a Panthers squad that had an additional three days' rest after debuting the 2016 season on September 8.
And sure, the heat and humidity of Charlotte didn't help the non-acclimated 49ers either.
Still, Week 2 revealed more of what's wrong with San Francisco than what's going well. While the Niners' 28-0 drubbing of the Los Angeles Rams in Week 1 was impressive, the actual reality of this team is probably closer to what was seen Sunday in Carolina.
This is how the 49ers match up against one of the NFL's best. The Niners aren't anywhere close to being able to beat a team like the Panthers under these circumstances.
It's going to take a lot more effort.
Nonetheless, let's take a detailed look at what was learned from San Francisco's Week 2 effort. And this isn't going to be a completely negative piece either. The Niners definitely have some positives on which they can build.
We'll focus on those too.
The 49ers Will Live and Die by the Running Game
We already know head coach Chip Kelly wants to have his offense move the ball on the ground. It's one of the reasons San Francisco led the entire NFL in preseason rushing yards.
Week 1 suggested this.
No. 1 tailback Carlos Hyde rushed for 88 yards on 23 carries with two touchdowns against a formidable Los Angeles Rams' front seven defense. And the 49ers accumulated a total of 150 rushing yards and three touchdowns during the performance.
The yardage numbers accounted for nearly half of San Francisco's offensive output. There were 42 running plays compared to just 35 passing attempts.
Whatever feel-good moments on the ground from Week 1 were quickly erased at Carolina.
San Francisco had another 26 rushing attempts against the Panthers but netted a total of just 65 yards on the ground. Hyde had only 34 yards on 14 carries — an average of 2.4 yards per attempt.
And his costly first-quarter fumble didn't help matters either.
If the 49ers ground attack is working, the rest of the offensive approach will be that much easier. From what we've seen so far, this aspect his been hit or miss.
The Offensive Line is Notably Improved
Not all elements from the 49ers' Week 2 loss were bad.
San Francisco's offensive line is, far and away, better than the product that was fielded a year ago at this time.
The Niners did allow two sacks on Sunday, which combined with Week 1, is the total for 2016 so far. A year ago at this time, the 49ers had already allowed six.
Pro Football Focus' best San Francisco grades all went to the offensive line — a clean sweep:
With all five starting lineman earning the top grades on offense for the 49ers, the strength of this offense is evident. A mauling run blocker with athleticism to match, LT Joe Staley is one of the NFL's best O-linemen. He allowed just a solitary hurry in 42 dropbacks. Combined, the starting offensive line allowed just six pressures. In addition, four of the five up front earned run-blocking grades of at least 74.6. An offense severely lacking talent can at least be confident of its production in the trenches.
San Francisco has faced two very good front-seven defenses in back-to-back weeks. And the O-line has been a major reason the offense has been able to generate anything on that side of the ball.
The 49ers Are Hurting for Playmakers
We can break down both the offense and defense on this one, but let's stick to the offensive side of the ball for now.
San Francisco doesn't have enough weapons on the offensive side of the ball. Going 4-of-14 on third downs Sunday is an indication of this. These are the moments when a team's best weapons make their biggest contributions.
OK, so wide receiver Torrey Smith had a nice touchdown grab. And tight end Vance McDonald also had his second touchdown reception in as many games.
Positive impacts? Yes. Bona fide playmakers? Not necessarily.
Running back Carlos Hyde may be the one player on offense opposing teams will largely scheme against. We saw this in Week 2. Carolina did everything in its power to force quarterback Blaine Gabbert to throw the ball.
And even he's not adequate enough a playmaker to make a major difference.
Linebacker Aaron Lynch Can't Return Soon Enough
The 49ers are also hurting for a pass rush. Against the Panthers, San Francisco's defense managed just one sack of quarterback Cam Newton and a mere three quarterback hits.
Pressuring Newton was one of the only ways the Niners defense would have stood a chance. It didn't work, and the 49ers gave up 10 plays of at least 16-plus yards.
Linebacker Tank Carradine, one of the players whom the 49ers needed to step up big, wasn't much of a factor in Week 2. He had a stellar preseason, but those efforts haven't exactly translated over into the regular season.
Carradine had just one hurry against Newton, per Pro Football Focus.
So that means the 49ers need their top pass-rusher to return and be 100 percent. Yes, this means linebacker Aaron Lynch, who is serving a four-game suspension for failing a drug test.
Lynch, along with fellow linebacker Ahmad Brooks, were tied for the team lead in sacks last season (6.5). But Lynch is certainly the better of the two at this point in both players' careers.
Until then, the Niners will simply have to get by with what they have. And they'll hope Lynch returns ready to contribute right away.
49ers Defense Able to Generate Turnovers
Don't look now, but the 49ers defense ranks second in the NFL with six total turnovers generated — two in Week 1 and another four in Week 2.
Those four turnovers against the Panthers — three fumble recoveries and an interception by safety Antoine Bethea — helped keep San Francisco in the game all the way into the fourth quarter.
Remember, the 49ers were trailing by only seven points with five-plus minutes remaining in the final frame.
Bethea, and linebackers NaVorro Bowman and Ray-Ray Armstrong, each have an interception apiece. Those Week 1 turnovers completely demolished any hope the Rams had to get their offense rolling.
And the subsequent Week 2 turnovers could have cost Carolina the game as well.
San Francisco, with all its questions on offense, will need its defense to continue producing in this area.
QB Blaine Gabbert Is Who He Is
That might sound a little cliche, and it probably is, but 49ers quarterback Blaine Gabbert certainly doesn't look like he's the long-term answer for San Francisco.
His efforts in both Weeks 1 and 2 were pedestrian at best. And his two interceptions thrown late against Carolina sealed any remote hopes of a 49ers comeback.
Here's what Pro Football Focus had to say about him:
Nothing Blaine Gabbert has done in the first two weeks has convinced onlookers of his long-term suitability for the starting spot. Despite being offered relatively good protection, Gabbert recorded yet another poor outing in Week 2. He completed only five of 16 attempts beyond 10 yards, with two picks. Gabbert was highly erratic in the short range, as well, managing an adjusted completion percentage of only 61.8 overall.
Gabbert's short-range game wasn't particularly impressive, and his accuracy woes continue to be a problem. A number of his passes were simply "bounced" towards their intended target.
All this amounted to a 64.9 passer rating on the day and a net rating of 74.4 in 2016 — good for 30th in the league out of all teams.
Swapping out Gabbert for No. 2 QB Colin Kaepernick isn't exactly the answer. Accuracy isn't Kaepernick's top strength either, and he's at a point in his career where his sheer athleticism isn't enough to overpower ready-and-willing defenses.
So the Niners have Gabbert. And while there may be games where he shows a thing or two, it's hard to project him being a true difference-maker for San Francisco's offense.
And the Niners will hurt for it.
All statistics, records and accolades courtesy of ESPN.com, Pro-Football-Reference.com and Sports-Reference.com unless otherwise indicated.
This article originally appeared on