49ers vs. Panthers: 5 Ways San Francisco Can Win in Week 2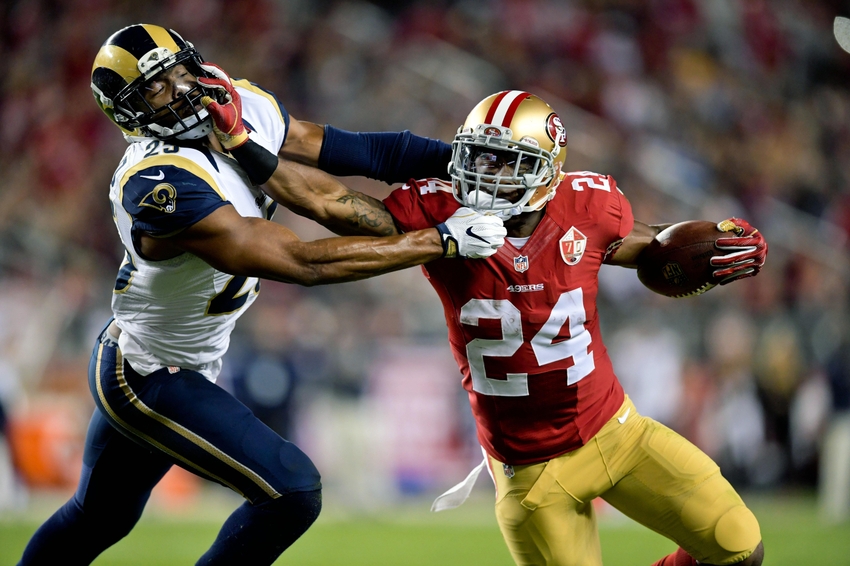 After shutting out the Los Angeles Rams 28-0 on Monday night, the San Francisco 49ers have a short week as they head over to face a Super Bowl-ready Carolina Panthers team in Week 2. Here are five ways the 49ers can escape with a win.
The Chip Kelly era has officially begun in San Francisco.
On Monday night, the 49ers dominated the Los Angeles Rams on their way to a 28-0 victory behind stellar play on the defensive side of the ball.
Starting off the season with a big divisional win is a great first step. But now comes the real test. A lot of people will overreact to how well the 49ers played on Monday night in the same way they did just a year ago when the Niners manhandled the Minnesota Vikings in Week 1.
Well, as most of you know, the 49ers finished with a 5-11 record last year. Monday night had a lot of that same feeling from a year ago. High hopes the team would turn around only to be let down by season's end.
While all is well and good right now in San Francisco, the 49ers have possibly their toughest opponent in the Carolina Panthers on Sunday. This will be a much different matchup than the Rams.
Not only do the 49ers have to travel to face a team that just played in the Super Bowl seven months ago, but a team that just got beat up by the Denver Broncos and will be as hungry as ever to succeed in their home opener.
But the Panthers are human and they do have their weaknesses. If the 49ers can capitalize on them and remain consistent on defense, they can pull off an upset.
Here are five ways the 49ers can walk out of Carolina with a win.
Contain Cam Newton
One might be asking themselves, "how can the 49ers contain the reigning NFL MVP?"
It certainly is a tough task to complete, which is what makes Panther quarterback Cam Newton so good. It's all about pressure.
The Niners must find a way to apply pressure on every down. Pressure in the pocket can fluster even the greatest of quarterbacks.
In Super Bowl 50, Newton was sacked six times and his play suffered because of it.
Against the Rams, the San Francisco pass rush was much improved compared to 2015. Rookie first-round selection DeForest Buckner led all NFL rookies in Week 1, according to Pro Football Focus:
Second-year defensive end Arik Armstead has also shown he can create pressure in the pocket.
Our data is still going through our review process, but we have Armstead and Buckner leading the #49ers D with five QB pressures each.

— Jeff Deeney (@PFF_Jeff) September 13, 2016
If the 49ers can find a way to disrupt Newton throughout the game, it will give them a great chance at keeping the Panthers point total and offensive production down.
Carlos Hyde needs to break 100 yards rushing
This one is simple, running back Carlos Hyde needs to have a great game.
Upcoming

Schedule

9/18

at

Carolina Panthers
9/25
at

Seattle Seahawks
10/2

Dallas Cowboys
10/6

Arizona Cardinals
10/16
at

Buffalo Bills
The core of head coach Chip Kelly's offense is the run game and that was made apparent against the Rams, as the 49ers racked up 150 yards rushing (88 yards from Hyde).
When the Niners move the ball successfully on the ground, it wears the defensive front down. Mix that with the tempo of Kelly's offense, it leads to the defense not able to scheme for the formations correctly.
Defenses are forced to sit in base packages, and it allows the 49ers to control the game.
Hyde looked much more patient as a runner in Week 1 then he has ever been, leading to an 88-yard, two-touchdown game.
Getting Hyde on the right track early in the game gives San Francisco the best chance to sustain drives and score points.
Blaine Gabbert needs to be more accurate
A lot went right in Week 1 for the Niners. So much so, it sort of masks the things that went wrong.
Although quarterback Blaine Gabbert did just enough to sustain drives and come away with points, he certainly didn't play all that well.
Gabbert's stat line reads like he played a game manager-type game, going 22-of-35, 170 yards and one touchdown.
What it doesn't show is the constant missed throws to wide open receivers and the multiple coverage throws that, if the Rams defenders were any better, would have led to multiple interceptions.
Had that happened, Monday night could have gone quite a bit different.
Gabbert has to play better and make better decisions when he throws. The Panthers are not going to drop those interceptions.
If Gabbert can hit his open receivers and avoid any turnovers then the 49ers have a good chance of stealing a win.
Defense must stay consistent
The 49ers defense held the Rams to 185 total yards and stopped them on 12 of 15 third-down attempts.
They will need to replicate that type of play against the Panthers.
The defense was able to swarm to the ball. And it seemed like the 49ers always had four or five guys in on every tackle. It's that kind of play that will win games.
Now, it's highly unlikely that the 49ers hold the Panthers scoreless and under 200 total yards. But if the San Francisco defense can continue the play it showed on Monday night, then it will not make things easy for the Panthers.
Must create turnovers
With a team as good as the Panthers are, in order to win, the 49ers must create turnovers and capitalize therafter.
The Niners defense came away with two interceptions on Monday night, aiding in their 28-0 victory. They will need to continue this trend in Week 2.
The main focus is turnovers keep Cam Newton off the field. And keeping him off the field is the 49ers' best weapon.
All statistics, records and accolades courtesy of CBSsports.com and ESPN.com unless otherwise indicated.
This article originally appeared on