49ers vs. Dolphins: Previewing Week 12 for San Francisco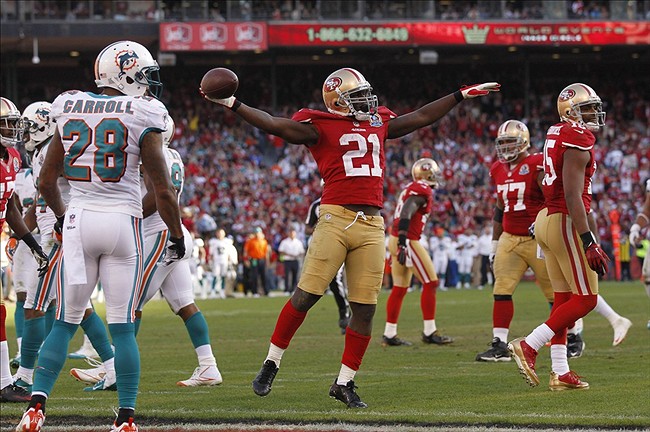 The San Francisco 49ers take on the Miami Dolphins in Week 12. Niner Noise breaks down this upcoming bout and points out who to watch during the contest.
At 1-9, the San Francisco 49ers have little to play for other than pride and future jobs beyond this season.
2017 NFL Draft: Why the 49ers Should Trade Down in Round 1
But the Niners can still have a say in the playoff picture, as they travel to Miami to take on the Dolphins in Week 12.
Miami, at 6-4 on the season, is riding a five-game winning streak and finds itself just two games behind the first-place New England Patriots. The Dolphins are also currently the No. 7 seed in the AFC playoff picture. They're on the outside, looking in. So any win down the stretch will be a valuable one for first-year head coach Adam Gase and Co.
Can the 49ers help spoil the party?
Judging by most anything seen from the red and gold over this nine-game losing streak, no. San Francisco's defense still ranks dead last in the league. And any offensive prowess dries up after halftime.
Few things are working for head coach Chip Kelly right now, and even relatively close games in back-to-back weeks haven't gone the Niners' way.
Regardless, let's break down this contest and see what the 49ers have to do in order to pull off the upset.
Week 12 by the Numbers
Pick a stat, any stat, and chances are the Niners are close to the bottom in the category.
If there are some positives around which the 49ers can hope in Week 12, it's within their pass defense (ranked 14th in the league) and rushing attack (ranked fifth).
The 49ers Run Defense
San Francisco's run defense — the No. 1 Achilles heel of the team right now — has certainly been abysmal. But one could argue this unit turned a small page over the last two weeks.
The Niners held Arizona Cardinals running back David Johnson to just 55 rushing yards in Week 10. And while Patriots running back LeGarrette Blount rushed for over 100 yards last week, the film on the 49ers run defense looked much more improved than what was seen earlier this season.
Clearly, the return of defensive tackle Glenn Dorsey has made a huge difference.
But the 49ers will have to face off against Dolphins running back Jay Ajayi and the No. 8-ranked rushing attack in the NFL.
Ajayi leads all running backs in the league this season with a stellar 5.6 yards per carry. He's pretty good and could easily have a huge game against San Francisco.
Yet running back Carlos Hyde could have a big game as well. The Dolphins have given up 1,261 yards on the ground this season, which ranks 30th in the NFL. So at least a Miami weakness plays into a 49ers strength.
The Passing Game
Miami isn't much of a threat through the air, at least not based on the numbers.
Outside of Dolphins wide receivers Jarvis Landry and Kenny Stills, Miami doesn't exactly have the bona fide weapons to create significant mismatches within San Francisco's OK secondary.
Don't expect the 49ers to have much success through the air either. The Dolphins are currently ranked eighth against the pass and have 23 sacks on the season.
Speaking of the guys under center…
Quarterback Comparison
The 49ers have had to endure three consecutive weeks facing off against elite-level quarterbacks — Drew Brees, Carson Palmer and Tom Brady.
Finally, they get a break facing off against merely an OK quarterback in Ryan Tannehill.
Tannehill might not be the big passing-touchdown threat he had been over the last three years. But he's still completing 65.9 percent of his passes, which is just a shade lower than his career-best mark back in 2014 (66.4).
His efforts have led to a respectable 91.1 passer rating on the season, and one can only imagine what his stat line might be with an elite receiving corps.
On the flip side, quarterback Colin Kaepernick has looked better over the last three games than his first two, since taking over for Blaine Gabbert in Week 6.
Kap is still completing only 53.1 percent of his passes, which is still lower than Gabbert's percentage. But it's clear Kaepernick is the better option even if he's far from the perfect one.
If there's one major problem with Kap's game, it's how ineffective he has been in the second half. Kaepernick's first-half passer rating this season is a wowing 126.2. But that number falls off dramatically to 55.8 in the third and fourth quarter.
Significant 49ers Injuries
San Francisco will be without starting safety Eric Reid for the rest of the year. Reid, who suffered a torn pectoral in the Niners' Week 11 loss to the Patriots, was placed on season-ending injured reserve. The 49ers called up practice squad safety Vinnie Sunseri to replace Reid.
The 49ers later confirmed second-year safety Jaquiski Tartt would step into Reid's starting role.
Here's a list of other San Francisco injuries, courtesy of Pro Football Reference:
DB Jimmie Ward (concussion) — doubtful
LB Aaron Lynch (ankle) — questionable
WR Torrey Smith (shoulder) — questionable
LB Eli Harold (foot) — questionable
Cornerback Jimmie Ward suffered a concussion and will have to clear the NFL protocol on head injuries before returning.
Fellow corner Keith Reaser assumed a lot of duties in Week 11, so it's a likelihood he'll be asked to move up the depth chart.
Linebacker Aaron Lynch has missed the last three games with a high-ankle sprain. And the 49ers pass rush could certainly use his ability after failing to get to Patriots quarterback Tom Brady quickly enough last week.
Offensive and Defensive X-Factors for San Francisco
G Joshua Garnett
Rookie guard Joshua Garnett will get one of the bigger tests of the season in Week 12 going up against Dolphins pass-rushing defensive tackle Ndamukong Suh, who leads Miami starters with five sacks on the year.
Pass protection was never one of Garnett's strength's coming out of college, so this will be quite the intriguing matchup to keep quarterback Colin Kaepernick protected.
WR Jeremy Kerley
Wide receiver Jeremy Kerley hasn't been much of a factor since Kaepernick took over. But he's still a valuable part of the offense and could have a good day against Dolphins nickel corner Bobby McCain.
According to Pro Football Focus, McCain is posting a 64.8 overall grade on the season. So Kerley might wind up being a No. 1 option in the passing game.
RB Carlos Hyde
Which version of running back Carlos Hyde will we see in Week 12? Will he be the ball-carrier who danced around too much against the Cardinals? Or will Hyde look more decisive like he did last week against New England?
We've already covered how stopping the run has been one of the Dolphins' weaknesses this season. It's a matchup head coach Chip Kelly would be wise to exploit.
49ers Run Defense
If the Niners stop the run, they have a good chance at pulling off the upset. If they don't, well, you know the story.
The problem is Dolphins tailback Jay Ajayi. He's pretty good, in case you haven't noticed.
So look for defensive tackle Glenn Dorsey to be a factor as well as inside linebacker Gerald Hodges. If defensive ends DeForest Buckner and Quinton Dial press gaps, and guys like Eli Harold and Ahmad Brooks set the edges well enough, the Niners might just be able to slow Ajayi down enough.
Game Information
The 49ers and Dolphins kick off at 1 p.m. ET at Hard Rock Stadium in Opa-Locka, Florida.
Fox is broadcasting coverage, so be sure to check your local affiliates to see if the game will be covered in your area.
For those out of market, you can always stream the game with NFL Game Pass.
Odds Shark currently lists the Dolphins as 7.5-point favorites and has a predicted score of 35.2 to 10.8 in favor of Miami — not exactly surprising.
Why the Dolphins Win
Miami comes away with the victory if it lets running back Jay Ajayi loose. The 49ers have given up eight 100-plus yard rushers in 10 games this season, and few things the Niners have done suggest they'll be capable of stopping the run.
As long as turnovers and penalties don't bite the Dolphins, they should come away with an easy victory.
Why the 49ers Win
San Francisco would have to find a way to stop Ajayi — either through scheme or a vastly improved form of technique. Doing that gives the Niners a chance, but only that.
Head coach Chip Kelly would have to let running back Carlos Hyde run loose. And the 49ers can't suffer any of those second-half blues they've endured seemingly all season long.
In all likelihood, these are factors which don't work in San Francisco's favor.
This article originally appeared on