49ers vs. Dolphins: 5 Key Matchups to Watch for San Francisco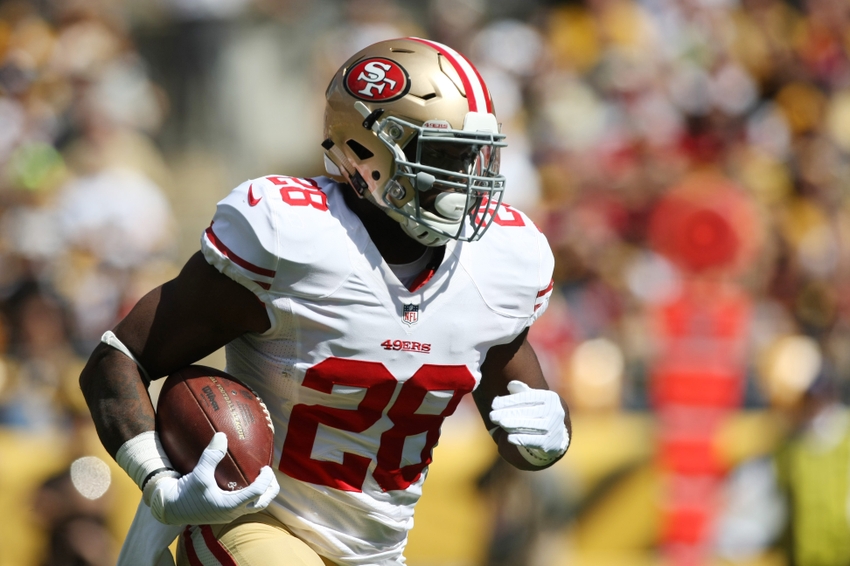 The San Francisco 49ers visit the Miami Dolphins in Week 12. Niner Noise breaks down the five most important matchups if the Niners want to come away with a road win.
Niner Noise won't be giving you a live in-game thread in Week 12, as the San Francisco 49ers visit the Miami Dolphins (thank you, mini family reunions).
2017 NFL Draft: Why the 49ers Should Trade Down in Round 1
Instead, we leave you with this breakdown of the five most critical matchups for the red and gold as they travel to Hard Rock Stadium near Miami.
The 49ers are riding a nine-game losing streak. Another loss would push the Niners' loss streak to 10 in a row, which would set a franchise record.
Not a good look.
Meanwhile, the red-hot Dolphins enter this contest with five straight wins under their belt. First-year head coach Adam Gase seems to have hit his stride, and Miami has to be considered a legitimate playoff contender.
It also helps to have a running back like Jay Ajayi, who is leading all tailbacks with 5.6 yards per carry.
He's good. The Niners run defense isn't.
Hint: that's a matchup to watch we'll explore in a bit.
But what others? Let's take a look at the key matchups San Francisco will have to win if the 49ers hope to come home with a victory and end the streak.
No. 5: OG Joshua Garnett vs. DT Ndamukong Suh
Rookie offensive guard Joshua Garnett will face one of the biggest tasks of the season, squaring off against three-time All-Pro defensive tackle Ndamukong Suh.
Suh is second on Miami's defense with five sacks, and pass protection has never been one of Garnett's strengths. Even in college.
Pro Football Focus has Garnett graded in pass protection at 49.4 which, if you're not familiar with PFF's grading system, is pretty bad.
Garnett has shown improvement as of late though, as our own Nicholas McGee pointed out:
This is the kind of work Garnett will need to do in order to keep quarterback Colin Kaepernick upright. Kap took five sacks last week against the New England Patriots, and a repeat of that stat line won't help matters at all.
No. 4: WR Jeremy Kerley vs. CB Bobby McCain
Wide receiver Jeremy Kerley hasn't gotten in on much of the action since Colin Kaepernick took over at quarterback in Week 6. He had 26 receptions over the first five games of the season, compared to only 14 in the equal amount of time since.
But Week 12 could prove to be a boost for Kerley's production.
He'll likely face off against Dolphins nickel corner Bobby McCain on Sunday, and it's a matchup that favors the 49ers wideout.
McCain owns a 64.8 overall grade on the season, per Pro Football Focus, which is the lowest out of any Miami defensive back in nickel formations.
Assuming the Dolphins do a good job locking down Nos. 1 and 2 wide receivers Torrey Smith and Quinton Patton, Kerley should have his chances to get open.
Kaepernick would be wise to target him.
No. 3: RB Carlos Hyde vs. Dolphins Run Defense
Guess what, 49ers fans… Miami's run defense is almost as bad as San Francisco's.
It's true. While the Niners are last in this category, the Dolphins aren't too far behind. A total of 1,261 yards against puts this unit at No. 30 in the NFL entering Week 12. It's not a great number at all, even if the difference between it and San Francisco's is pretty substantial.
The Tennessee Titans exploited this weakness to a great extent in Week 5 — Miami's last loss — and rushed for a whopping 235 yards.
Needless to say, running back Carlos Hyde could be in for a big game.
Hyde needs to be more decisive in hitting his holes though. The Niners can't afford for him to dance around like he did in Week 10 versus the Arizona Cardinals. Instead, Hyde must look more to his efforts the following week against the Patriots.
Oh, and it wouldn't hurt to mix in some designed runs by quarterback Colin Kaepernick either.
No. 2: DE DeForest Buckner vs. OG Kraig Urbik
Dolphins left guard Kraig Urbik is one of the bigger weaknesses along Miami's offensive line.
The Dolphins have allowed 24 sacks of quarterback Ryan Tannehill on the season, and that number could increase significantly if rookie defensive end DeForest Buckner wins the trench battles against Urbik.
Buckner has been coming on strong as of late. He was nearly credited with a sack, which would have been his fourth of the year, on Patriots quarterback Tom Brady — it was later given to linebacker Ahmad Brooks — and has shown improvement against the run as well.
As such, Buckner has been one of the better 49ers pass-rushers this season. And he'll need to continue this trend in order to keep Tannehill off balance and out of rhythm.
But stopping the run might be something which Buckner needs to do even more.
No. 1: San Francisco's Run Defense vs. RB Jay Ajayi
If the 49ers slow down Miami running back Jay Ajayi, they Niners stand a chance to win. If they don't, well, it's going to be a long day.
We already know how bad San Francisco's run defense is this season. This group has allowed eight 100-plus yard rushers in 10 games on the year and is poised to set records in rushing yards against.
So far, the Niners are averaging 179.5 rushing yards against per game this season and are on pace to allow 2,872 on the year.
It doesn't help the 49ers have to face off against Ajayi.
Ajayi already has three games in which he's rushed for over 100 yards. And two of those he went for over 200 yards on the ground.
But recently, opposing teams have somehow figured out a way to slow him down. He managed only 79 yards against the San Diego Chargers in Week 10 and just 77 against the Los Angeles Rams last week.
San Francisco would be wise to watch plenty of film from these last two games.
Possibly the Niners hold off Ajayi like they did against Cardinals running back David Johnson (55 yards) two weeks ago.
If this happens, maybe San Francisco stands a chance.
This article originally appeared on