49ers vs. Chargers: 5 Players to Watch for San Francisco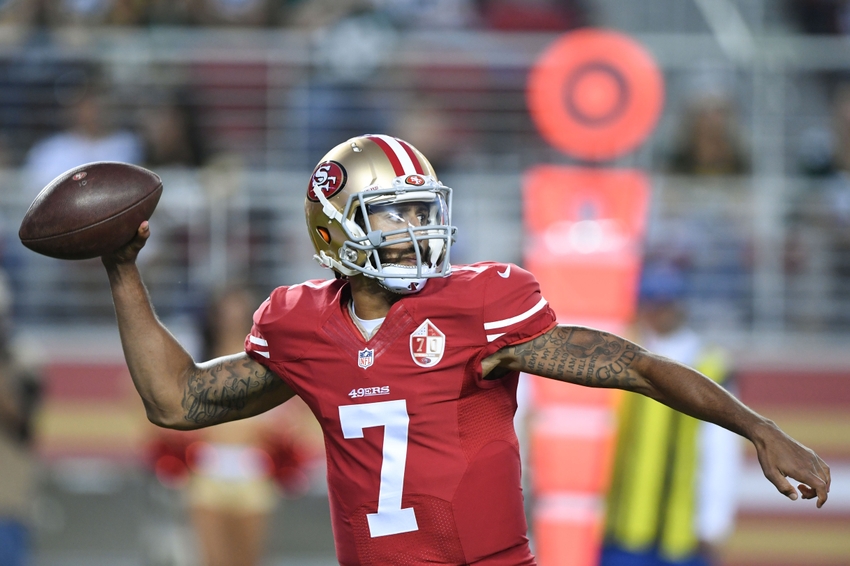 The San Francisco 49ers wrap up the 2016 NFL preseason with a road contest against the San Diego Chargers. While most starters won't play, which players should beg our attention. Niner Noise looks at five to watch this Thursday.
The regular season is nearly upon us, and the San Francisco 49ers have one last order of on-field business before Week 1 kicks off.
Carlos Hyde: Identifying 49ers RB's Scheme Fit in 2016
San Francisco ends its preseason with one more exhibition bout against the San Diego Chargers. The game kicks off at 10 p.m. ET at Qualcomm Stadium.
The fourth game of a preseason rarely looks anything like a regular-season games. Starters almost never play, and the snaps are almost always reserved for players vying to climb the depth chart or merely hold onto a roster spot.
As such, Thursday's contest may look a little ugly and disjointed. But that's OK. There is still a good deal of evaluation to be had.
For San Francisco, this game will provide the last opponent-versus-opponent look head coach Chip Kelly and the Niners brass will get prior to the regular season. And with a number of roster spots to be had, a primarily young 49ers team will look to make the most of the opportunity.
So let's look at five of these players likely to see a bit more time and break down why we should pay attention to them in San Diego.
Linebacker Marcus Rush
Linebacker Marcus Rush has been one of the better storylines for the 49ers this preseason.
He is currently tied for second in the NFL with four preseason sacks. That doesn't mean anything, aside from helping his roster chances, but it's a good sign to see nonetheless.
Rush is still on the roster bubble. But after his strong performances against the Denver Broncos and Green Bay Packers in preseason Weeks 2 and 3, respectively, one has to consider him a strong chance to make the 53-man group.
This will be important for the 49ers as well.
San Francisco is going to be without its top pass-rusher, linebacker Aaron Lynch (suspension), for the first four games of the regular season.
For a team that ranked 29th in the league last year with just 28 sacks, generating pressure is going to be one of the key ways head coach Chip Kelly can limit the damage and risk to his defense.
It's especially important considering Kelly's uptempo offense.
Rush has the chance to solidify himself as a situational pass-rusher and regular rotation member within the Niners defense.
Look for him to be a factor.
Linebacker Corey Lemonier
On the flip side of fellow linebacker Marcus Rush is disappointing pass-rusher Corey Lemonier.
Lemonier's stock has plummeted ever since the 49ers drafted him in Round 3 of the 2013 NFL Draft. Since that point, Lemonier has accumulated a mere 27 tackles and one sack over three pro seasons.
Not exactly inspiring.
Lemonier is a bit better than Rush against the run, at least according to Ryan Sakamoto of NinerFans.com. But the former's efforts have relegated him to the bottom of San Francisco's depth chart.
To Lemonier's credit, he did record four quarterback hurries on seven pass-rushes last week against the Packers, according to Pro Football Focus' Jeff Deeney, but these were mostly against second- and third-team units.
Corey Lemonier picked up four hurries in just seven pass rushes last night. #49ers

— Jeff Deeney (@PFF_Jeff) August 27, 2016
The former Auburn prospect is fighting for a roster spot and hasn't exactly done anything to merit placement.
If Lemonier can outplay Rush, then maybe he has a chance. Maybe.
EDGE Tank Carradine
Back to the positives.
Another 49ers good story from the preseason is edge-rusher Tank Carradine. It's clear the effort to make the former Florida State star a standard 3-4 defensive end wasn't going to work. So switching Carradine back to a pass-rusher only made sense.
Carradine has two sacks this preseason and has also drawn a number of holding penalties.
Tank Carradine is all over the place tonight. Fun to watch his transformation. #49ers

— Joe Fann (@Joe_Fann) August 27, 2016
He may not be the guy San Francisco wants in every-down situations. No, the 49ers will continue to view him as a situational pass-rusher. Carradine's strength isn't against the run.
But when the Niners roll out sub packages in obvious passing situations, Carradine's efforts should be on display.
Look for those same efforts against the Chargers.
If he's able to replicate more of the same we've seen this preseason, that should give fans a good idea what to expect in Week 1 and beyond.
Wide Receiver Dres Anderson
The season-ending hamstring injury suffered by wide receiver Bruce Ellington means the Niners have another slot open for this major question mark of a position.
And a guy who could easily seize it is second-year pro Dres Anderson.
Anderson hauled in a nice 30-yard touchdown reception against the Broncos two weeks ago, and his skill set may be the type which gives head coach Chip Kelly a nice option with which to work this season.
Ahora por aire. Christian Ponder a Dres Anderson.
– @49ers – #SFvsDEN #49ers pic.twitter.com/T1WRAGBcrq

— San Francisco 49ers (@49ers_es) August 21, 2016
Yes, the 6-foot-2, 190-pound Anderson may be a bit lanky. And he'll likely have some difficulty matching up against bigger-bodied corners in press-man coverage.
Still, the Niners need wide receiver production. They need someone to step up outside of the usual cast of guys like Torrey Smith and Quinton Patton.
Anderson has been the lone receiver to make a name out of himself in games this preseason.
Let's hope that trend continues against San Diego.
Quarterback Colin Kaepernick
All eyes are going to be on embattled quarterback Colin Kaepernick during Thursday's game anyway.
Cameras will assuredly be rolling if and when Kaepernick sits down to protest the national anthem. It's a move that has already generated plenty of discussion and controversy regarding freedom of speech, patriotism, injustice and racism in this country.
That alone is a major storyline. But there's another one to watch here.
Despite head coach Chip Kelly noting Kap was one of the two best quarterbacks on the roster — the other being Blaine Gabbert — there's still a very real chance Kaepernick doesn't make the 53-man group at all to start the season.
Simply put, Kaepernick was awful during his preseason debut against the Packers last week. And him missing all of OTAs and a good chunk of minicamps didn't help things either.
Is Kaepernick rusty? Sure. But the bigger question is whether or not he'll ever be capable of rediscovering the magic that made him one of the bigger NFL threats not so long ago. Signs aren't pointing to this happening.
Tack on the protests, and the 49ers are going to be asking themselves whether or not Kap is worth keeping around for the long run.
It's doubtful the Niners would ever release him based on his sociopolitical feelings alone, but the locker room distraction can't be a good thing either.
Maybe, just maybe, a rebound performance against the Chargers helps his cause.
On the field, that is.
All statistics, records and accolades courtesy of ESPN.com, Pro-Football-Reference.com and Sports-Reference.com unless otherwise indicated.
This article originally appeared on