49ers vs Cardinals: Week 10 Grades and Analysis for San Francsico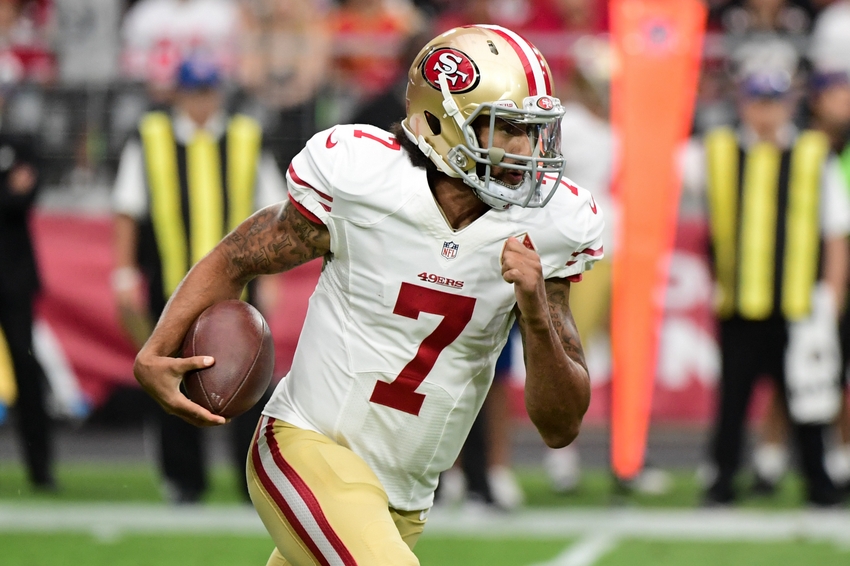 The San Francisco 49ers battled back thanks to an opportunistic defense. Despite a late game-tying drive, the 49ers could not hold Arizona on one last drive. San Francisco falls to its eighth-straight defeat 23-20.
Unfortunately, the offense was not able to capitalize on good field position as much as it needed to. Colin Kaepernick played by far his best game of the season. He still has significant room for improvement, however, as he continues to miss open receivers.
Offensive Grades
Quarterback: B-
This was easily the best game by Colin Kaepernick — and arguably by a 49ers quarterback — this season. His passer rating of 89.6 only trails Blaine Gabbert's 91.9 rating against the Cowboys in Week 4. Additionally, the 49ers Red Zone woes did not surface on Sunday, as the 49ers scored touchdowns on both visits.
Perhaps most importantly, Kaepernick took care of the ball and did not commit any turnovers. His runs allowed the 49ers to convert some key situations as well.
Kaepernick still needs to improve his touch and field vision. His only touchdown pass was to a Jeremy Kerley so wide open that I bet even I could have found him. An underthrown ball to Quinton Patton in the first half may have resulted in a big gain, but just a tad bit more on it and he Patton would have found the end zone.
Kaepernick's starting job looks secure for now. It would be nice for everyone if he could get a win, however.
Running Back: D
The Cardinals defense was not about to let Carlos Hyde get anything today. Hyde, in his first game back from a shoulder injury sustained in Week 6, struggled to find any room. He wound up gaining 14 yards on 13 carries.
DuJuan Harris did little better, garnering14 yards as well on his five attempts.
This may not be a reflection on Hyde or Harris as much as on the offensive line and Arizona's defense. Whatever the reason, it still deserves a bad grade.
Wide Receiver: C+
Jeremy Kerley finally got some looks from Kaepernick. The 49ers leading receiver had entered a slump ever since the 49ers switched quarterbacks. That now looks to be over. Kerley's seven receptions for 71 yards and a touchdown led the 49ers on the afternoon.
Quinton Patton played a decent game as well, grabbing three balls for 52 yards. Torrey Smith, meanwhile, continues to struggle. He managed two receptions for 26 yards but also made a big-time drop late in the game that could have resulted in a touchdown.
Tight End: B-
Vance McDonald continues to have a good (in 49ers terms) season. His four receptions for 50 yards added a nice spark to the offense. McDonald's hands still fail him from time-to-time, but today was a fairly good day.
Offensive Line: D
Kaepernick was sacked three times and had to scramble on a number of other occasions. More disturbingly, Carlos Hyde and DuJuan Harris could find absolutely no room to run the ball. Some of this may have been play-calling — Hyde is much better between the tackles than on sweeps — but the O-Line needs to step up.
Defensive Grades
Defensive Line: C+
This was a much better day for the 49ers defense than many expected. The 49ers managed to get two sacks on Carson Palmer and force four turnovers. The defensive line's effort in holding David Johnson to 55 yards rushing was also impressive.
Yet the 49ers still gave up too many plays. The 49ers defensive line played fairly well, but until it can get healthy it will continue to struggle.
Linebacker: B
While David Johnson did not get the rushing yards he normally racks up, his five receptions for 46 yards hurt the 49ers significantly. Nick Bellore simply could not keep up with Johnson.
That aside, the 49ers linebackers played well. Eli Harold's strip-sack of Palmer prevented a Cardinals score and kept the Niners in the game. Gerald Hodge's late-game interception gave the Kaepernick the ball back in good field position with a chance to tie the game. This time, Kaepernick actually delivered — though the defense could not stop the Cardinals after that.
Defensive Back: C+
The 49ers defensive backs have been the teams strongest unit this season. That was not the case today. Despite a beautiful interception by Eric Reid in the third quarter and a fumble recovery by Antoine Bethea in the first, the secondary was overmatched.
San Francisco's opportunism did much to counter the 363 passing yards racked up by the Cardinals. Without key turnovers in San Francisco territory, this game would not have been close.
The 49ers did give up too many big plays. The fairly young secondary was bound to struggle against elite receivers such Larry Fitzgerald and Michael Floyd. And it definitely did struggle. But it also gave up enough of a fight to keep the Niners in the game.
Special Teams & Coaching Grades
Special Teams: A
Phil Dawson, as usual, remains Mr. Reliable. Bradley Pinion had a good day as well, landing three of his seven punts inside the 20.
Kick and punt coverage also performed well on the day, giving up very little in returns.
Coaching: C
I want to give the coaches a better grade, but a lot of the reason the 49ers were in this game boils down to opportunistic turnovers. While there is preparation involved — especially in Hodge's QB-reading pick in the 4th — it also goes to show that the game plan would have collapsed without the turnovers.
Offensively, the 49ers need to give Hyde more carries within the tackles and stop trying to run him out on sweeps or pitches. He is best when he can burst through a hole. Torrey Smith still needs to get involved as well.
Lastly, any time you give up 100 penalty yards, something needs to be fixed.
Cumulative 49ers Grade for Week 10: B-
It's been awhile since the 49ers have come this close to winning. Hence, I'll be generous with a "B-".  The 49ers were able to move the ball to an extent, made some big plays on defense, and took fairly good care of the ball. That's a lot more than can be said of recent weeks.
The Niners eight-game losing streak is painful. Odds are, it will only get worse.
This article originally appeared on