49ers vs Cardinals Recap: A look at all 7 sacks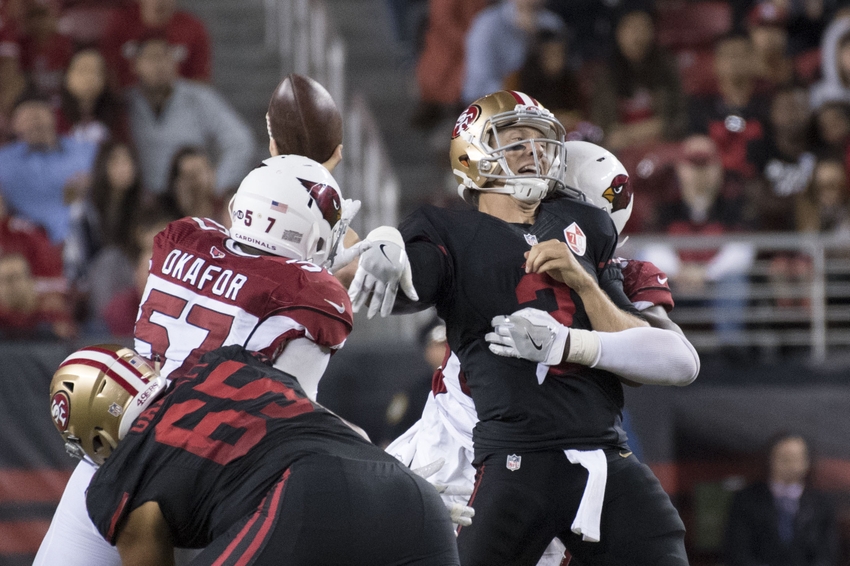 The 49ers lost their fourth straight game last Thursday night to the Arizona Cardinals, in part because of the Cardinals forced seven sacks. We look at them here.
The 49ers offense had trouble moving the ball against the Cardinals early on due in part to a stingy Cardinals defense led by defensive end Calais Campbell and linebacker Kevin Minter. Together, along with defensive tackle Corey Peters, combined to force eight sacks. We'll look at them here.
The Pro Football Focus player grades for the top five 49ers in this game featured four offensive linemen. While the line did not play their best, a number of these sacks on quarterback Blaine Gabbert could have been avoided if the quarterback showed a little more awareness and pocket manipulation.
In this slide show, we look at each sack and what went wrong.
First Sack: First Quarter, 1:21, 3rd and 11 from the SF 29
Gabbert is sacked by Markus Golden (#44) and Kevin Minter (#51). The Cardinals line up with a seven-man box and the 49ers have seven into protect. This sack should theoretically have never happened. But the key here is safety Tony Jefferson (#22).
At the snap, Jefferson fakes like he is going to blitz and this occupies the attention 49ers right tackle Trent Brown (#77) and tight end Brent Celek (#88). Miscommunication by Brown and Celek as to who to block allows Golden a free run right around the edge.
Linebacker Deone Bucannon (#20) and Minter are working the middle on left guard Zane Beadles (#68) with running back Shaun Draughn (#24) as the seventh man in protection.
Minter and Bucannon stunt on Beadles and Draughn and neither switch assignments due to miscommunication. Draughn also barely gets block on minter. Gabbert is sacked through no fault of his own.
Second Sack, 2nd quarter, 12:33, 3rd and 11 from the SF 33
Gabbert is sacked by Calais Campbell (#93). The Cardinals show blitz with Alex Okafor (#57) and Bucannon, but both Okafor and Bucannon bail at the snap into coverage with safety Tyrann Mathieu (#32) blitzing off the edge. Another sack that should never have happened.
But the key to this sack is Campbell, who beat Staley with an inside move at the snap. Minter and Campbell collapse the pocket to the left after right guard Andrew Tiller (#61) gets beat by Minter to the inside.
Gabbert tries to avoid the rush and shuffles to his right but Campbell is able to trip him up as he's going to the ground.
Third Sack, Second Quarter 1:24, 3rd and 7 from the SF 28
This sack is all on Gabbert and compounded by the inside stunt by Golden (#44) and Josh Mauro (#97) working on Kilgore (#67) and Beadles (#68). Trent Brown also gets beat outside by Alex Okafor, presumably due to some less than ideal footwork.
On this play, Gabbert also has an underneath option over the middle, receiver Quinton Patton (#11) who comes open with time for Gabbert to throw to him for a first down.
Fourth Sack, Fourth Quarter 12:41, 3rd and 4 from SF 31
This sack is the perfect storm of factors that could be mitigated by Gabbert. The offensive line protection held up pretty well until Gabbert panicked and looked to escape the pocket. A better quarterback could manipulate this pocket by scanning the field.
Gabbert's inability to scan to the field causes him to lock on his read on the right side of the formation, which causes the linebacker to hook his zone right into the crossing routes of Patton and Celek.
Gabbert does have an outlet to the left in running back Mike Davis (#22) out of the backfield into the flat. With a little precision, he could fit in there. Instead, he runs into Golden.
Fifth and Sixth Sacks, Fourth Quarter 4:21/4:14, 2nd and 3rd and 4 from the SF 31
These two are lumped together but Gabbert's lack of awareness, vision, etc., are all on display here. On the first sack, he has Smith open in the flat and sees him, but doesn't pull the trigger.
The stunt on the outside by Golden and Xavier Williams (#94) working on Brown and Garnett breaks the protection. Golden stunts to the inside and Garnett stays with Williams. Kilgore takes a bad angle and gets beat by Golden, causing Gabbert to escape the pocket.
Gabbert's lack of awareness ultimately leads to the sack. As he scrambles left, he should realize that he can throw the ball away if he cannot pick up yards. Instead, he holds it and runs out of bounds while being chased. Safety DJ Swearinger (#36) ultimately gets credit for the sack.
On the sixth sack, Gabbert again has time to get rid of the ball on a check-down to running back Carlos Hyde (#28). Golden(#44) again beats the right side of the line against Staley and Beadles on an inside stunt.
Instead of hitting Hyde as quick as possible, Gabbert elects to run and escapes left. His lack of awareness again leads him to keep the ball instead of throw it away and he gets tackled by Minter as he's running out of bounds. Minter gets credit for the sack.
Seventh Sack, Fourth Quarter 1:22, 2nd and 10 from the SF 1
There were two sacks before this that were negated by defensive penalties so this ends up as the last official sack on the stat sheet.
The inside stunt by Peters (#98) and Campbell (#93) bottlenecks Beadles, Kilgore, and Garnett. Less than ideal.
Gabbert does have Hyde open in the flat to the left and probably could have thrown it to him as soon as he recognized the rush in face but at that point it would not have mattered.
You'd like to see the quarterback not eat it for the sack, but this play epitomized the offense under Gabbert on this night.
On a night where the Pro Football Focus player grades for this game featured four offensive linemen of the top five offensive players for the 49ers, it should come as no shock that Gabbert is being replaced by Colin Kaepernick as the starter.
All images courtesy of NFL.com.
All statistics, records and accolades courtesy of Pro Football Reference unless otherwise indicated.
This article originally appeared on