49ers vs. Cardinals: 5 Players to Watch for San Francisco in Week 10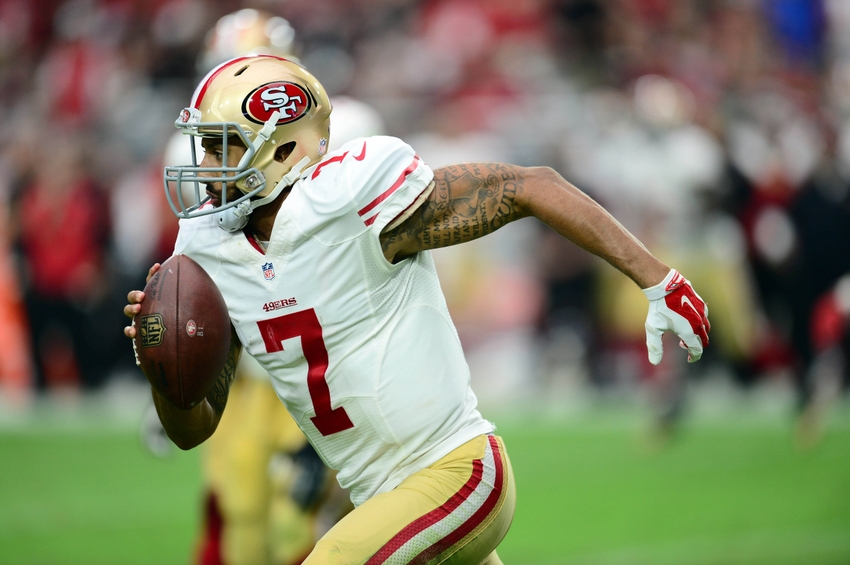 The San Francisco 49ers visit the Arizona Cardinals in Week 10. Niner Noise looks at 10 San Francisco players worth a watch this Sunday.
In all likelihood, the San Francisco 49ers are going to lose their Week 10 NFC West bout with the Arizona Cardinals on Sunday.
NFL Week 10: Survivor Pool Stone Cold Locks
But that doesn't mean the game doesn't hold value.
Niner Noise takes a look at five players worth looking at in Week 10. Some are more geared towards what might happen with this franchise moving forward. Others have a bit of a history against the Cardinals.
With a 1-7 record, the 49ers aren't exactly singing their own praises. So from here on out, the wide majority of games are little more than audition periods for 2017 and beyond. How will these, and other, players fit into the Niners' plans moving forward?
And even though the 3-4-1 Cardinals are dealing with their own struggles, a closer look at these five players might tell us quite a bit moving forward. It isn't as if Arizona lacks for talent.
So let's dive into five 49ers to watch on Sunday as the Niners hit the road at University of Phoenix Stadium.
No. 5: Cornerback Jimmie Ward
The Cardinals love featuring veteran wide receiver Larry Fitzgerald in the slot, as this Pro Football Focus chart points out:
And there's no reason to assume anything will be different in Week 10.
The 49ers are fortunate enough to have an up-and-coming defensive back in Jimmie Ward, who can play both in outside and slot formations. Per PFF, Ward is grading out with a respectable 78.4 mark. It's clear the days of his rough 2014 rookie campaign are long behind him.
Ward is tied for the team lead in pass breakups (four), and the matchup with Fitzgerald should be pretty enticing.
But it's also going to be a pretty good indication whether or not the young defensive back is truly going to be a key figurehead within San Francisco's secondary moving forward.
No. 4: DE Ronald Blair
Second-year pro Arik Armstead (shoulder) is out for the rest of the year, which means we should get an increased look at fellow defensive end Ronald Blair.
Blair, taken in Round 5 of this year's NFL Draft, has only seen 16.2 percent of the 49ers' defensive snaps this season. But with Armstead out, one should wonder if he'll see a sizable increase this weekend and beyond.
San Francisco needs help with its pass rush. And Blair, who registered 12.5 sacks over two years at Appalachian State, is capable of lining up at the edge or along the defensive line.
Ideally, the 49ers would line Blair up opposite Cardinals right guard Earl Watford, who has a 43.2 overall grade, according to Pro Football Focus.
The rookie carried a good deal of hype after being drafted. It's time to see if that hype carries over onto the field.
No. 3: CB Rashard Robinson
Rookie cornerback Rashard Robinson, who has missed time with a knee injury, managed to be limited in practice this week, according to Matt Barrows of the Sacramento Bee.
Eric Reid (knee) was added to the 49ers injury report. He was limited. Rashard Robinson (knee) practiced for the first time in three weeks.

— Matt Barrows (@mattbarrows) November 10, 2016
Robinson was one of the few 49ers standouts earlier this season before getting hurt. With the injury somewhat behind him, it will be interesting to see how well he responds to facing off against Arizona's passing game
The rookie had two tackles in Week 5 — the last time these two teams played — but was mostly known for running into the kicker on a field-goal try, which subsequently resulted in a Cardinals touchdown.
One might expect gaffes like that from a first-year player. But his coverage skills will be what's needed.
Hopefully they'll be up to par.
No. 2: WR Quinton Patton
Is it weird to think wide receiver Quinton Patton might be an X-factor on Sunday against the Cardinals?
Patton's looks have notably increased since quarterback Colin Kaepernick took over. He had six catches on nine targets for 106 yards in the 49ers' Week 9 loss to the New Orleans Saints. It's clear he has a bit more of a rapport with Kap than his predecessor, Blaine Gabbert.
And Patton has decent numbers against the Cardinals too — seven receptions for 93 yards, second only to the Los Angeles Rams.
With Arizona cornerback Patrick Peterson likely matched up against No. 1 wideout Torrey Smith, Patton will likely have fellow Cardinals corner Marcus Cooper assigned to him. Despite leading Arizona's defense with three interceptions, Cooper is posting a 49.0 pass-coverage grade, according to Pro Football Focus.
San Francisco needs to ask itself whether or not Patton will be worth keeping around in the long run. So opportunities like these are of the utmost importance to the inconsistent wide receiver.
No. 1: QB Colin Kaepernick
Quarterback Colin Kaepernick will face off against the Cardinals for the first time since his disastrous Week 3 appearance back in 2015 — the one in which he tossed four interceptions, two of which were returned for touchdowns, and posted a career-low 16.7 passer rating.
Kap probably isn't in the 49ers' long-term plans. We understand that. But the game is an important one for San Francisco's signal-caller.
Even a marginal improvement over what transpired between he and Arizona a year ago would be noticeable. And it might lend a little credence to any thought of Kaepernick getting his career back on track.
If Kap does have one thing going for him, he enjoyed a 398-yard passing performance against the Saints a week ago — second highest of his career.
This was against a bad New Orleans defense, however.
Still, the momentum is something the Niners need to carry over. If Kaepernick can maintain some sort of rhythm, especially into the second half, the 49ers might actually be able to stay in contention longer than a quarter or two.
It's a long shot at best, but eyeing Kaepernick is something fans will need to do.
This article originally appeared on