49ers vs. Bears: The Good, Bad & Ugly from San Francisco's 26-6 Loss in Chicago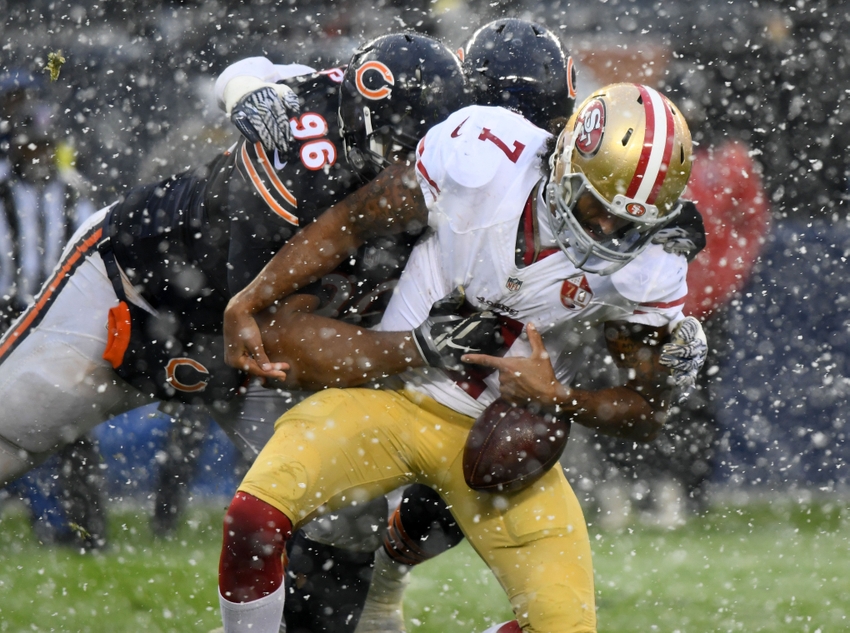 The San Francisco 49ers looked all the part of a bottom-dwelling NFL team, falling 26-6 to a lowly Chicago Bears team in the snow during Week 13. Niner Noise breaks down the good, bad and ugly from this lopsided contest.
Any good thoughts the San Francisco 49ers might be on the ascent after nearly upsetting the Miami Dolphins a week ago drifted away in the snow, as the Niners fell 26-6 to the Chicago Bears in Week 13.
Fantasy Football: Week 13 Daily Fantasy Football Picks
The 49ers, now 1-11, extended their franchise-worst losing streak. And they were on pace to set another franchise record in fewest passing yards in a game before quarterback Colin Kaepernick was benched in favor of Blaine Gabbert.
Gabbert returning under center didn't come close to rectifying any of San Francisco's woes though.
Week 13 was about as embarrassing a loss the Niners could take. Even with the weather a factor, Chicago quarterback Matt Barkley was able to put things together just before halftime and picked apart the 49ers defense with ease.
And he's a third-string quarterback.
No, there aren't going to be a lot of positives from San Francisco this week. Hardly any.
Instead, we're back at evaluating more of the same — bad, bad and more bad. Oh, and there's plenty of ugly mixed in too.
Let's get it over with, shall we?
The Good
Well, not much.
San Francisco's running back group was about the only positive out of this contest. Running back Carlos Hyde rushed for 92 yards on 20 carries — an average of 4.6 yards per attempt.
The Niners made an effort to utilize the ground game early and often, considering the snowy weather. And it worked for a good while. San Francisco was easily dominating the time-of-possession battle during the first half.
Fellow tailback Shaun Draughn also had a positive effort. He managed four yards per carry on five attempts. And his key blocked punt on special teams gave the Niners the ball back within the red zone.
Unfortunately, a penalty on cornerback Rashard Robinson pushed San Francisco's offense back 15 yards from the Bears four-yard line.
The Niners had to settle for a field goal, which completely shifted the momentum of the game.
Aside from the play from Hyde and Draughn, there isn't much to be had insofar as 49ers positives.
And that's pretty bad, considering how awful the Bears are.
The Bad
Where to start?
Quarterback Colin Kaepernick wants out after this season, per NFL Network's Ian Rapoport. And with Kap's play over the previous four games might have suggested he'd have some free-agent value.
Week 13 set that all back.
Kaepernick finished 1-of-5 for four yards and was sacked five times for 25 yards. Yes, you read that right. Backup QB Blaine Gabbert didn't fare much better, going 4-of-10 for 35 yards in relief.
The #49ers will finish the day with 5 completed passes, while being sacked 6 times. 6 net yards passing. #49ers

— Jeff Deeney (@PFF_Jeff) December 4, 2016
The Niners don't have a quarterback, at least not a worthwhile one.
But those numbers are just a tip of the problem.
San Francisco's run defense, thought to be improving, allowed Bears running back Jordan Howard to rush for 117 yards and three touchdowns. Howard was a difference-maker, and the Niners now have allowed 10 100-plus yard rushers in 12 games this season.
So much for improvement.
Penalties didn't help the 49ers either. Head coach Chip Kelly's squad was flagged 11 times for a total of 106 yards — mistakes a lowly Niners team simply can't afford to make.
And San Francisco still makes plenty of mistakes. All were on display in Chicago.
The Ugly
San Francisco's quarterbacking play was about as ugly as it gets. And if one wants to factor in the weather, just consider Bears quarterback Matt Barkley threw for 192 yards and completed 61 percent of his passes without throwing an interception.
And Barkley is a third-string QB.
Barkley picked apart the 49ers secondary with ease. Cornerback Tramaine Brock was flagged twice and was routinely burned. Chicago wide receiver Joshua Bellamy torched San Francisco's defense for 93 yards on four key receptions.
So much for defensive coordinator Jim O'Neil's defense starting to turn a page. Niners defensive backs were regularly out of position in questionable zone schemes and off-man coverage.
Keep this in mind too — the 49ers' momentum, whatever it had early, completely disappeared just before halftime and was wholly absent in the second half.
It's a story replicated on a nearly week-to-week basis.
Yes, San Francisco fans. This is about as bad as it could get for the 49ers this season. Week 13 marked a game in which the Niners might have had a chance to win.
And for those thinking this loss helps the team net a better draft pick in 2017, well, it does. But San Francisco would need an entire first round to come anywhere close to fixing this franchise.
This article originally appeared on