49ers Still Near Bottom in Analysts' Week 13 NFL Power Rankings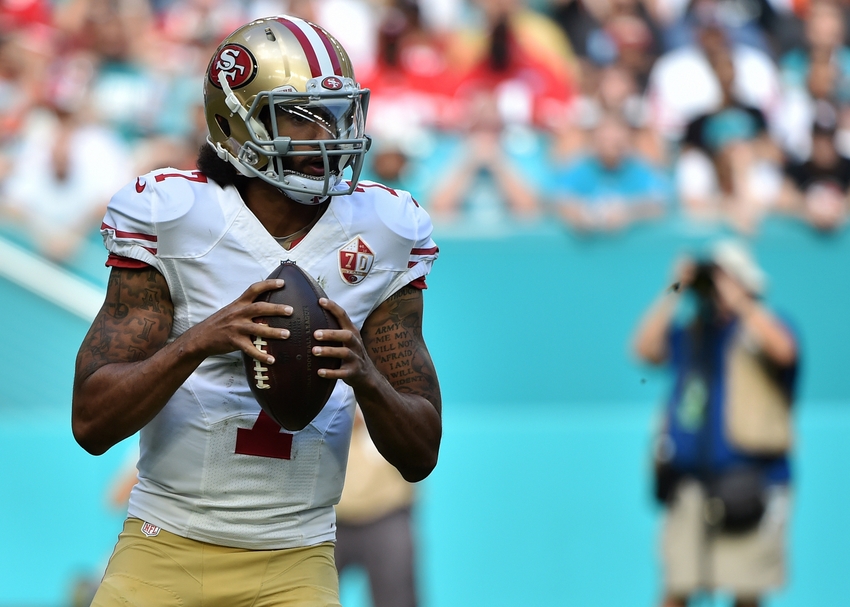 The San Francisco 49ers nearly upset the Miami Dolphins last week, but this wasn't enough to sway most analysts in Week 13 NFL power rankings. What are the experts saying?
The San Francisco 49ers were just a yard away from possibly tying things up against the Miami Dolphins in Week 12, only to fall 31-24 when quarterback Colin Kaepernick was tackled on a scramble at the one-yard line.
Such is the fate for the Niners this year — still losing even if they manage to play well.
At 1-10, San Francisco is now riding the longest losing streak in franchise history. Based off the record alone, it's easy to see why most analysts from around the league have the 49ers right where they are, at No. 31 in NFL power rankings.
Kaepernick played well enough to guide his team to a win. It's a trend we've seen over the last four weeks — shown in the video above — and not lost on included power-ranking takes.
But that's not enough to save San Francisco from being a bottom-dwelling franchise right now.
So what do the experts have to say? Let's take a look.
A few weeks ago, we penned a few lines about athletic pride with regard to this football team. It's worth highlighting again. The 49ers, a 1-9 group with nothing to play for, gave the streaking Dolphins all they could handle in Miami.

Colin Kaepernick became the first player in franchise history to throw three touchdown passes and rush for more than 100 yards in a game. His fourth-and-long conversion on the final drive was a beaut: Rolling out of the pocket to his right, Kaepernick threw across his body to a sprinting Torrey Smith (running the opposite direction) across the field. Unfortunately, taking too much time between plays and making a bad decision to cut back on the final play of the game ruled the day.

The point: Losing dominates the headlines and sports shows, but that 49er quarterback is doing a lot more than kneeling out there.
Can you imagine the 49ers losing 15 straight games and not getting the No. 1 overall pick? It could happen. NFL FPI has the 49ers favored in only one of their remaining games, and it isn't the upcoming one at Chicago.
Colin Kaepernick is playing good football for a team going nowhere. Why did it take Chip Kelly so long to play him?
The 49ers aren't a good football team, but Colin Kaepernick is earning himself a job in 2017 with his stellar play in the past month. It may not be in San Francisco, but he'll be a starter next season with a quarterback-needy team giving him a shot.
Colin Kaepernick has played pretty well over the last four weeks, and was good on Sunday. This is why it never made sense for the 49ers to seemingly be so worried about Kaepernick's injury guarantees that they rewrote his contract so he can opt out after the season. Kaepernick playing well isn't even that much of a positive for the 49ers, because if he plays too well he'll leave for another team.
Colin Kaepernick is starting to commit ugly turnovers on political front, but his quarterbacking has drastically improved over last month.
Colin Kaepernick might need to hit career highs in the next few weeks to ensure he's quarterbacking next season.

Sunday was a good start. His next employer will like what he did against the Dolphins (nearly 300 yards passing, 113 yards rushing). It won't enjoy the off-field controversy/attention that comes with him.

The rest of this 49ers roster gives talent evaluators enough reason for wholesale change. For instance, a second-quarter catch from Garrett Celek could've sparked a Niners drive. He fumbled the ball away instead (no team has more fumbles than San Francisco), and 11 plays later, Miami found the end zone. That can't happen to a team that lacks so much talent.
OK, so the 49ers stink. But they didn't look like it on Sunday. It's weird because the Niners actually looked like a cohesive NFL team over 60 minutes. Holding Dolphins running back Jay Ajayi to an average of 2.5 yards per carry is a step in the right direction.

Quarterback Colin Kaepernick doesn't have many weapons to support him outside of running back Carlos Hyde.

But Kap still managed to throw for nearly 300 yards and had three touchdown passes against one pick, which bounced off wide receiver Torrey Smith's hands.

Kaepernick also was the leading rusher for both teams, amassing 113 yards on the ground.
Yes, Kaepernick's performance might be enough to convince some analysts the Niners might be worth moving up in power rankings a spot or two. But it's more than just the quarterback right now.
San Francisco's defense, while bad, managed to do some good things against the Dolphins running game, namely Jay Ajayi. Holding him to 2.5 yards a carry is a good step for a run defense, which was on pace to set historic highs — not the good ones — this season.
Now the focus is on ending that losing streak. The 49ers face a very winnable game on the road against the 2-9 Chicago Bears in Week 13.
This article originally appeared on