49ers Should Start RB Mike Davis Against the Buccaneers in Week 7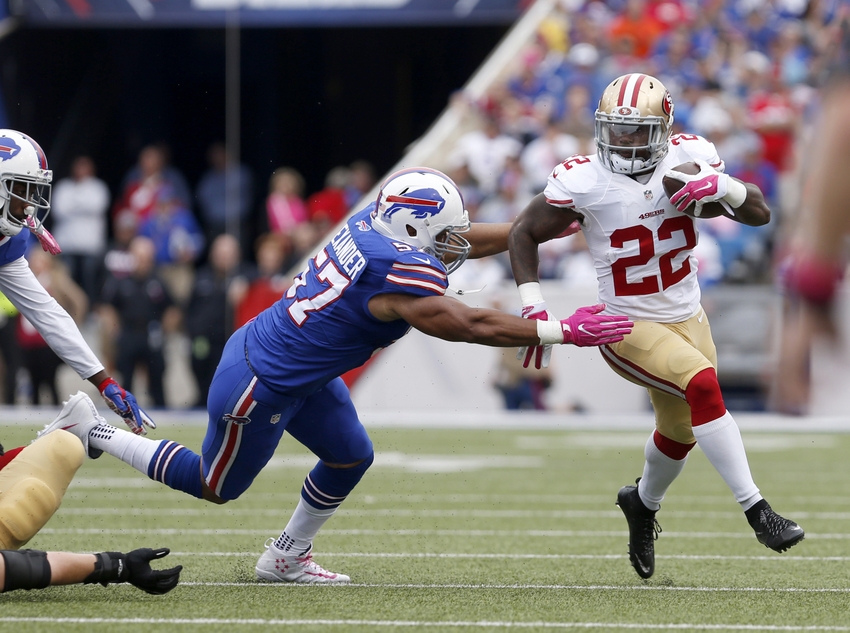 The San Francisco 49ers will likely be without No. 1 running back Carlos Hyde in Week 7 against the Tampa Bay Buccaneers, which means head coach Chip Kelly should start second-year tailback Mike Davis on Sunday.
San Francisco 49ers head coach Chip Kelly is doubtful No. 1 running back Carlos Hyde will be available against the Tampa Bay Buccaneers in Week 7.
49ers Last Few Drafts Filled With Regret
"He's not going to go," head coach Chip Kelly said of Hyde, via Matt Maiocco of CSN Bay Area. "We'll monitor him during the week, but it would be a stretch for him to play this week."
Hyde, who is dealing with a shoulder injury, has had his right arm in a sling during the week, per Maiocco. As such, the Niners will be without one of their primary offensive weapons on Sunday.
In response, Kelly needs to start second-year tailback Mike Davis over any other options.
The Niners also have Shaun Draughn on the roster, who is currently serving as the team's No. 2 tailback. Fellow running back DuJuan Harris is currently on the team's practice squad.
Both Draughn and Harris are likely viewed as better all-around running backs than Davis. And it's hard to erase Davis' 1.7 yards-per-carry average seen during his rookie campaign a year ago.
This year hasn't been much better. Davis is averaging just 1.8 yards per attempt — of which he's had only seven. Yet Davis flashed some promise in the preseason, ranking 12th out of all ball-carriers during the frame with 148 yards on 19 carries.
True, preseason stats are what they are. Still, if San Francisco truly is in rebuild mode — and if 2016 is merely an audition for 2017 now — what's the point in starting journeymen tailbacks like Draughn and/or Harris?
Davis should get the start here. At least it would help answer a question whether or not he's worth keeping around as a backup in coming seasons.
And maybe it would be worth seeing what he can do on a regular basis instead of seeing an average of just over one carry per game.
All statistics, records and accolades courtesy of Pro-Football-Reference.com, Sports-Reference.com and ESPN.com unless otherwise indicated.
This article originally appeared on