49ers Refused Eagles Offer for Torrey Smith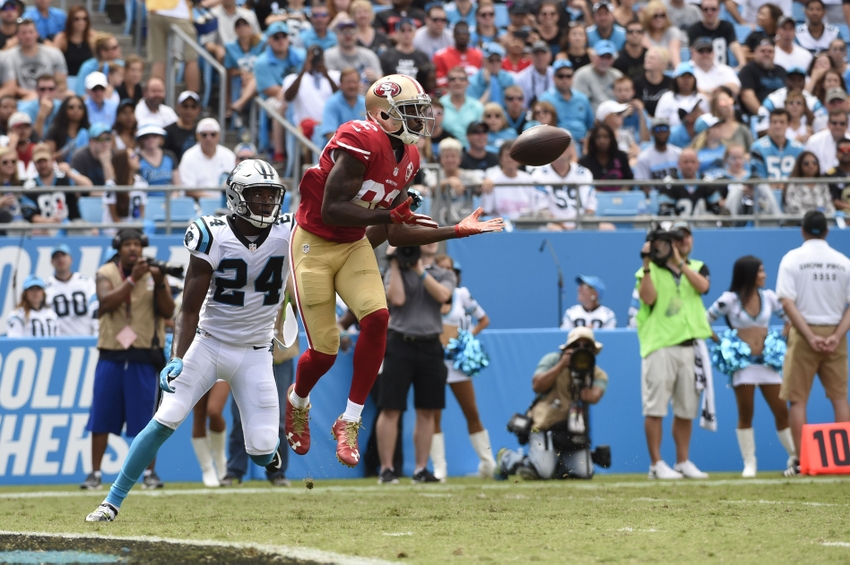 The San Francisco 49ers and Philadelphia Eagles were, despite denials, in trade discussions regarding wide receiver Torrey Smith. At the end of the day, the 49ers wanted more than the Eagles were willing to give for the six year veteran.
Torrey Smith traveled to Philadelphia last week, but it was not for a new job. The San Francisco 49ers wide receiver was simply visiting in-laws.
Meanwhile, discussions were occurring that could have sent him to Philly for good. The Eagles and 49ers discussed a potential trade sending Smith to the Eagles in return for a draft pick. The 49ers reportedly wanted a third round selection. The Eagles would only offer a fifth round pick.
In the end, the difference proved too great for the teams to come to an agreement. The Eagles, despite need at receiver, did not think Smith was worth the price. The 49ers recognized Smith has value beyond this season and his lack of production in San Francisco thus far.
While Smith admitted to pondering a future elsewhere, he told reporters on Tuesday that he remains committed to the 49ers.
"I think the selfish side of you, you think sometimes a change of scenery would be a good thing. But I know I'm very committed to everybody in this locker room and playing well."

"I'm a 49er. I'm going to go out there and play my ass off for these guys. It's not something where I'm going out there and crying, banging down the door, saying, 'Get me out of here.' I understand the business side of it, too. Things haven't gone the way any of us expected. So you're never surprised when these things come about."
The 49ers have unwisely made Torrey Smith their number one receiver, when his success has largely come as a number two guy.
The San Francisco 49ers were wise to keep Smith. If — and when — the 49ers get a new starting quarterback, his talent will hopefully emerge once again.
This article originally appeared on