49ers' Quinton Patton, Vance McDonald Making Cases for Contract Extensions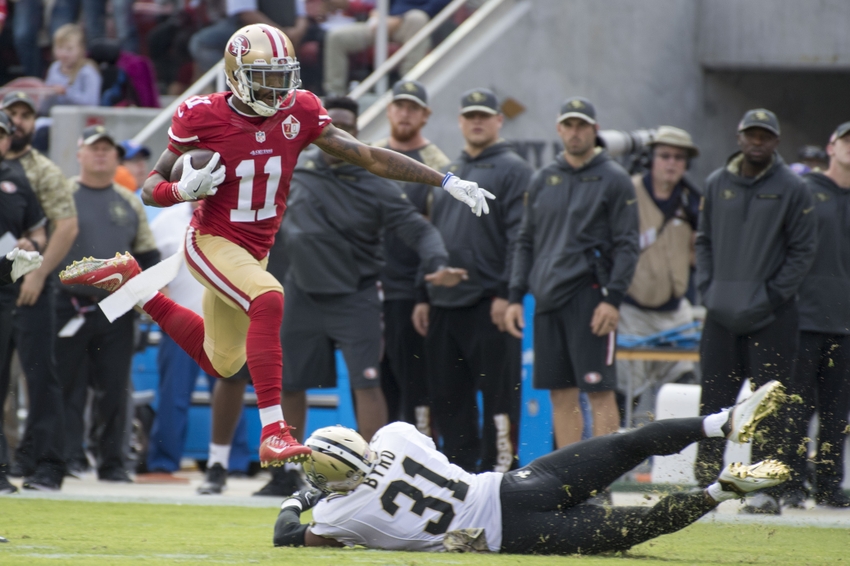 Quinton Patton and Vance McDonald have long been maligned figures in the 49ers offense, but they are making their case for contract extensions.
For a long time, Quinton Patton and Vance McDonald have been regarded as two of more emphatic failures of a 49ers' 2013 draft class that has yielded mixed returns.
Having spent much of their respective careers failing to produce, contract extensions for the pair – who are both free agents in 2017 – would not have been seen as priorities for the Niners' front office at the start of the year.
But they are each making cases for new deals with strong performances as San Francisco heads towards the latter portion of the season.
Patton's inability to succeed has been a prolonged source of frustration for 49ers fans given the wide receiver's evidently impressive skill set.
The former fourth-round pick is blessed with decent size at 6'0″ and 204 pound and has regularly shown off his speed to create separation on underneath routes.
His quickness and elusiveness in space allow Patton to generate yards after the catch, but putting it all together on a consistent basis has been a significant problem for him.
Indeed, too often in the past the positive plays Patton has made have been undermined by some bizarre lapses in discipline and concentration, but that has not been the case in 2016.
Patton has proven a reliable target for both Blaine Gabbert and Colin Kaepernick, using his natural ability as a hands-catcher to bring in 28 of his 49 targets – a catch rate of 57.1 percent – for 345 yards.
Those are not startling numbers by any stretch of the imagination and it should be noted that Patton has been kept out of the end zone in 2016, but he is on pace to comfortably surpass his career-best yardage of mark of 345 from last year.
And, perhaps more promising for the 49ers is that Patton is beginning to generate separation on deep throws, as this 45-yard completion – which would have been a touchdown had the ball not been slightly underthrown by Kaepernick – against the Arizona Cardinals demonstrated.
Patton has been a longtime favorite of Kaepernick and has a rapport with the 49ers quarterback, something which tight end McDonald had not enjoyed until recently.
McDonald struck up a connection with Blaine Gabbert in the second half of last season that carried into this campaign as he caught two touchdown passes in the opening two games of the year.
A second-round pick in 2013, McDonald has previously found it difficult to hold on to passes from Kaepernick, which come with more zip than any of Gabbert's throws. However, he finally seems to have adjusted, catching seven of his last 12 targets for 134 yards and a touchdown in the last two weeks.
Like Patton, McDonald is also on track to beat the career-high mark of 326 receiving yards he set in 2015 – he is just 50 yards shy of that total with seven games left – and what is most surprising about his recent ascent is how he has developed into a big-play threat.
McDonald, who early in his 49ers career was known primarily as a blocking tight end, has displayed surprising athleticism in 2016, rumbling down the field for scores of 75 yards and 65 yards.
He received good blocking from the Niners' wideouts on both those touchdowns but McDonald has proven a difficult man for defenders to stop in open space and is averaging a hugely impressive 18.4 yards per reception.
The challenge for both Patton and McDonald will be to maintain their form down the stretch on a 49ers team largely playing for pride after going 1-8 through the first nine games.
Should they succeed in doing so then each player figures to have a place on the San Francisco offense, even if the Niners add to their ranks at the skill positions on that side of the ball in the offseason.
At this stage in his career Patton is a decent third receiver who is playing at a higher position on the depth chart than his past performances have merited due to the 49ers' lack of talent on offense.
But he has the potential to develop into a solid No. 2 wideout, particularly if he can continue to test defenses deep, while McDonald is producing play that provides the Niners with some dependability at tight end, which is much-needed for a team with so many other holes to fill.
It has been a rocky road for Patton and McDonald since the 2013 draft, yet they will be in a strong position to at least be offered second contracts by the 49ers if the pair continue to polish their respective resumes in the final seven games.
This article originally appeared on