49ers Nine-Game Losing Streak Means No Climb in Week 12 NFL Power Rankings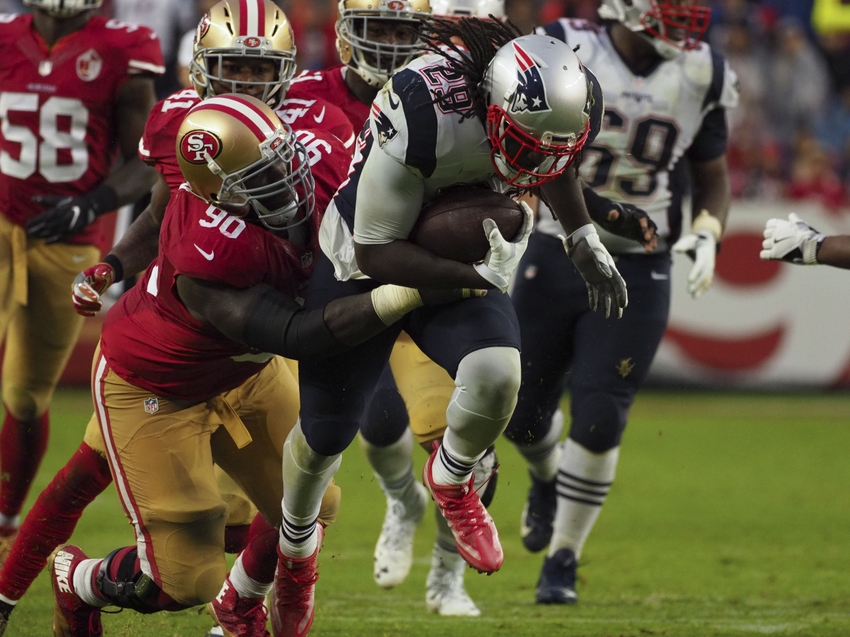 The San Francisco 49ers are still wallowing right towards the bottom of analysts' NFL power rankings heading into Week 12, after dropping Sunday's contest to the New England Patriots.
Hey, if there's a moral victory for the 1-9 San Francisco 49ers, it's the fact they were only trailing 13-10 heading into the fourth quarter against the New England Patriots.
Patriots vs. 49ers: The Good, Bad and Ugly from San Francisco's Week 11 Loss
Moral victories are all the Niners are likely going to get for the rest of this season. In what has been a lost year for head coach Chip Kelly and Co., a nine-game losing streak seems to be the least of San Francisco's worries.
And yet that streak ties a franchise record. The lone 49ers' Week 1 win over the Los Angeles Rams seems like a lifetime ago.
We all know the 49ers are bad. And this has been reflected in NFL power rankings ever since Week 2. San Francisco might have some winnable games on the schedule. But it's very possible we're looking at a two-win team.
It's good, for those wanting a top-two pick in the 2017 NFL Draft.
The draft is a long ways away. Instead of that focus, let's look at what other experts and analysts around the league are saying in Week 12 NFL power rankings.
Sadly, it's likely to be only more of the same.
Patriots at 49ers was all about Tom Brady's homecoming to the Bay Area — at least, that's what we were sold. Cool. But actually, not cool. It was only four years ago that Colin Kaepernick outdueled Brady in a shootout that remains one of the best Sunday night games ever. Kap is obviously not the same quarterback. But all of his weapons from that memorable battle — Frank Gore, Michael Crabtree, Randy Moss, Vernon Davis and Delanie Walker — are gone. While New England is still rolling, having won a Super Bowl two years ago, the Niners are buried in the middle of a nine-game losing streak. Since Bill Belichick won his most recent Lombardi Trophy, the 49ers have gone 6-20 … a stretch that coincides with the absence of a certain head coach.
Nine straight losses. That's tied for the longest losing streak in franchise history (1978). To avoid setting the franchise record for consecutive losses, they'll need to beat a Dolphins team that has won five straight.
They showed some fight against the Patriots, but they just don't have a lot of talent.
Overmatched team still showing fight. But with four of next five on road, still a chance they could "overtake" Browns for No. 1 pick in 2017.
For a while Sunday, they were actually giving the Patriots a scare. They faded late, but the last two weeks they have looked a lot better. That's a positive step for a one-win team late in a season.
Chip Kelly's defense was in two horrible positions for a sizable chunk of Week 11.

First, it was on a short field after a handful of big Patriots plays—like a long Danny Amendola punt return or a big LeGarrette Blount run. Then, it fell behind by multiple scores.

Those two factors are tough for any team to overcome, let alone one facing Tom Brady. I'm impressed New England's margin of victory wasn't bigger.

Hats off to Colin Kaepernick for hanging tough, even in the face of New England's defense. He collaborated with Carlos Hyde on a few eye-opening runs, but that was about all the offense San Francisco could consistently scratch up.
For three quarters, the 49ers looked as if they had a chance to possibly upset the mighty Patriots. San Francisco trailed 13-10 entering the fourth quarter.

But quarterback Tom Brady happened. And he happened again. Seventeen unanswered points ensured the Niners' nine-game losing streak would continue.

Granted, Brady will do Brady-like things. The 49ers sure wish they had a good pass rush, as three of his four touchdown passes were nearly negated by defensive pressure within the pocket. But the Niners don't get points for being close.
The thought San Francisco actually has shown some improvement over the last two weeks didn't go unnoticed. Against both the Arizona Cardinals and Patriots, the Niners had legitimate chances to stage an improbable upset.
But this team simply isn't talented enough to contend with even average teams over a full 60 minutes. And we've seen, on a seemingly week-to-week basis, the 49ers fall apart in the second half.
It happened Sunday too, with the Patriots posting 17 unanswered points in the fourth quarter before a Colin Kaepernick touchdown pass in fourth-quarter garbage time.
San Francisco now has to travel to Miami to take on the Dolphins in Week 12. One should expect Dolphins running back Jay Ajayi to run wild against a Niners defense having allowed eight 100-plus yard rushers in 10 games this season.
Judging by that matchup alone, it looks as if San Francisco will set an all-time record for a longest losing streak.
This article originally appeared on