49ers Last Few Drafts Filled With Regret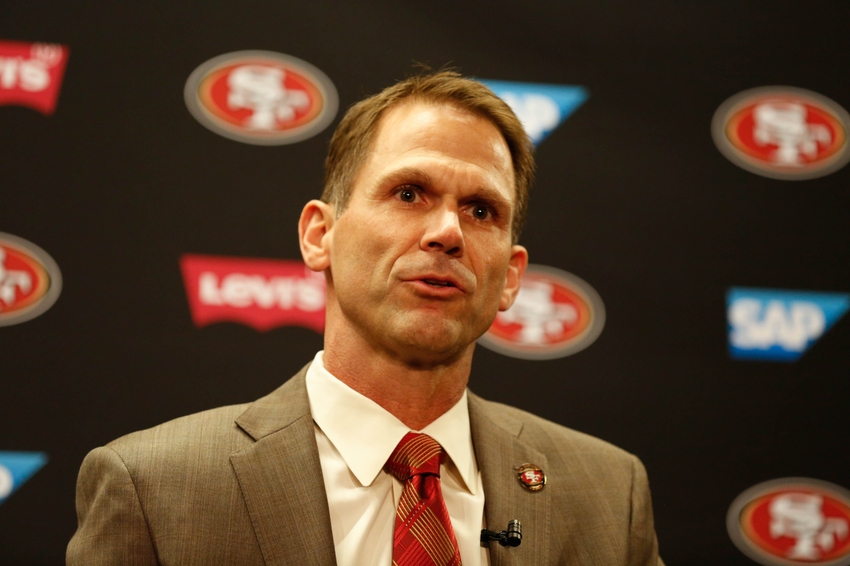 With a 1-5 record and little hope of  a significant turnaround in 2016, the San Francisco 49ers are taking heat. Many are beginning to second-guess and question Trent Baalke's decision making and job security with each loss. Niner Noise takes a quick look at a few of  those regrettable decisions, and players they should have taken.
It's sometimes easy to tell someone what they should have done after the fact. But on some occasions, the decisions were so flawed that it doesn't take a genius to point out the obvious.
Such is the case in regards to San Francisco 49ers general manager Trent Baalke and the vast majority of his draft selections the past few seasons.
The players below were all graded in the top five at their position by most draft pundits. So without further ado, let's reselect a few key positions that may very well have changed the Niners' fortunes.
2012 Draft: WR Alshon Jeffrey Instead of WR A.J. Jenkins
They may share the same initials, but that is where the similarities end between these two wideouts.
In 2012, the Niners selected wide receiver A.J. Jenkins with the 30th pick overall. All the while, fellow wideout Alshon Jeffrey was still on the board.
He was taken 45th overall by the Chicago Bears. And 281 receptions, 4215 yards and 24 touchdowns later, he is setting his mark as an all-time great Bears receiver. Jenkins was traded to the Kansas City Chiefs, then released by Kansas City and later the Dallas Cowboys.
He is now currently out of the league.
Last I checked, the 49ers were still searching for a red-zone threat and a No. 1 receiver.
2014 Draft: QB Derek Carr Instead of DB Jimmie Ward
Yes, it's true. The Niners get to watch Derek Carr lead the Oakland Raiders while they struggle to find a viable option at QB themselves.
Ward, taken 30th overall, has been an average starter on a team lacking an abundance of talent. Carr, taken six picks later, has proven to be a good starting QB with major upside.
He has produced 65 touchdowns, 28 interceptions and has a 60.7 completion percentage.
Ward, meanwhile, has totaled a grand total of one interception in two-plus seasons.
It's little wonder the Raiders are atop their division at 4-2, while the Niners toil in last place in the NFC West as one of the worst teams in football.
2015 Draft: CB Marcus Peters Instead of DE Arik Armstead
Defensive end Arik Armstead has not been too bad so far. Armstead has been solid, not spectacular, in his first season and a half.
He has totaled four sacks, but his interior run-stopping ability has not been good. He was a main reason the Cowboys had huge running lanes right up the gut two weeks ago and missed open tackles frequently that would have helped a runner to a two-yard gain rather than a five- or six-yard gain.
Cornerback Marcus Peters, meanwhile, just may be one of the brightest young defensive backs in the league, totaling a whopping 13 interceptions in just 21 games.
He is sure to make a Pro Bowl appearance this season, if he stays healthy, and looks to be a rising superstar in the league. Armstead may very well be a solid player himself when all is said and done. But, right now, Peters is looking to be on another level.
2015 Draft: Eric Kendricks Instead of Jaquiski Tartt
Yes, the Niners would have had to move up to get him. But it would have only been one spot up to land the 2015 Butkus Award winner who has helped the Minnesota Vikings to a 5-0 record and the top-ranked defense in the league.
Linebacker Eric Kendricks has racked up 128 tackles, four sacks, and an interception in 19 total games. And his future is shining bright right now.
For safety Jaquiski Tartt, he has displayed a nice physicality and does have 82 tackles in 20 starts. But the consistency overall has not been there. He struggles, at times, in run support. And teams are thriving picking on  the middle of the 49ers defense this season.
At the time of this pick, linebacker NaVorro Bowman was coming back into his own from his knee injury, and Chris Borland and Patrick Willis had both retired. The Niners needed another inside linebacker, if for no other reason, in case Bowman was re-injured or Gerald Hodges or Michael Wilhoite could not hold it down at linebacker.
The irony is Minnesota traded Hodges to the 49ers to make room for Kendricks, likely because they saw he was going to be a star player.
Baalke has made some nice picks as well. But of the team's 61 picks since 2011, there have been just two Pro Bowl appearances with all those selections.
With the team's continued struggles at positions everyone knew they needed to address in the offseason, Baalke is sitting on a very warm seat right now. And if the team continues to struggle, he may no longer have a seat at the 49ers table come this offseason.
All statistics, records and accolades courtesy of Pro-Football-Reference.com, Sports-Reference.com and ESPN.com unless otherwise indicated.
This article originally appeared on