49ers Fans Should Still Be Thankful Despite Rough 2016 Season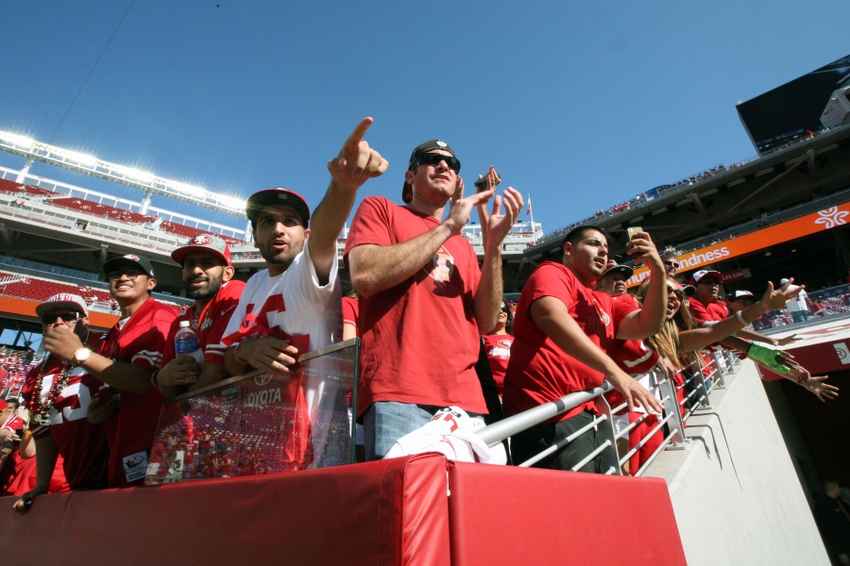 Few things have gone right for the San Francisco 49ers this season. A 1-9 record proves just how bad it is in Santa Clara. But on this Thanksgiving, let's take a look at why Niners fans should be thankful.
Yes, the San Francisco 49ers are 1-9, in the bottom of the NFC West and are considered among the laughingstock of the NFL.
So why should fans be thankful for anything this Thanksgiving?
OK, we can cite being thankful for family, friends and good fortunes outside of football. And that's fine. But let's try to delve into some reasons why Niners fans can actually be thankful for their team right now.
Yes, there are a few.
Let's have a little bit of fun this Thanksgiving and point out some reasons why the 49ers Faithful can be thankful this holiday season.
You Can Enjoy Thanksgiving Day Football
Ugh, remember that ugly Thanksgiving Thursday Night Football loss to the Seattle Seahawks back in 2014?
I don't know about you, but that put a halt to my holiday enjoyment right there. Forget about watching Russell Wilson and Richard Sherman eating turkey on the Niners logo at midfield. An embarrassment. Right, Jed York?
The 49ers wouldn't beat anybody if they were to play on Thursday night this year, so fans can actually sit back and enjoy some meaningful, competitive (hopefully) games.
Hey, at Least We're Not the Browns!
As bad as things are for the 49ers, it could be worse. This could be a case of the winless Cleveland Browns.
Cleveland is destined for the No. 1 overall pick in the 2017 NFL Draft, and it's hard to see the Browns winning a game at all this season. OK, things might be bad for San Francisco too. They are.
But the Browns are in a perpetual state of purgatory. Their last winning season? 2007. Their last playoff appearance? 2002. And the last time Cleveland had back-to-back .500-or-better seasons? 1989.
Yes, things could be much, much worse.
This Isn't the 2004 49ers
San Francisco might be on pace to match the 2-14 record the lowly 2004 Niners had under former head coach Dennis Erickson. But that team was truly awful.
Marred by poor salary-cap decisions years prior, the 2004 squad boasted almost zero talent. Who were the primary playmakers? Tight end Eric Johnson and wide receiver Brandon Lloyd, maybe. But a good chunk of that roster was comprised of guys who likely wouldn't have made it to other teams' practice squads at the time.
Yeah, it was that bad.
While 2016 is already in the tank, at least the current 49ers can boast of a few pieces around which to build moving forward.
Rookie defensive end DeForest Buckner is ascending. So is rookie guard Joshua Garnett. There are some good pieces in the secondary, like Jimmie Ward, Rashard Robinson and others.
It's been worse, Faithful. It really has.
And while none of this provides an excuse for the organization, nor does it answer the questions why things got this way, at least Niners fans can point out a few things for which to be thankful.
When all else fails, we can at least be thankful we don't have to drown our Thursday night sorrows of another 49ers loss in turkey, stuffing and a stiff cocktail or two.
This article originally appeared on