49ers Fans Should Cherish Colin Kaepernick While They Still Can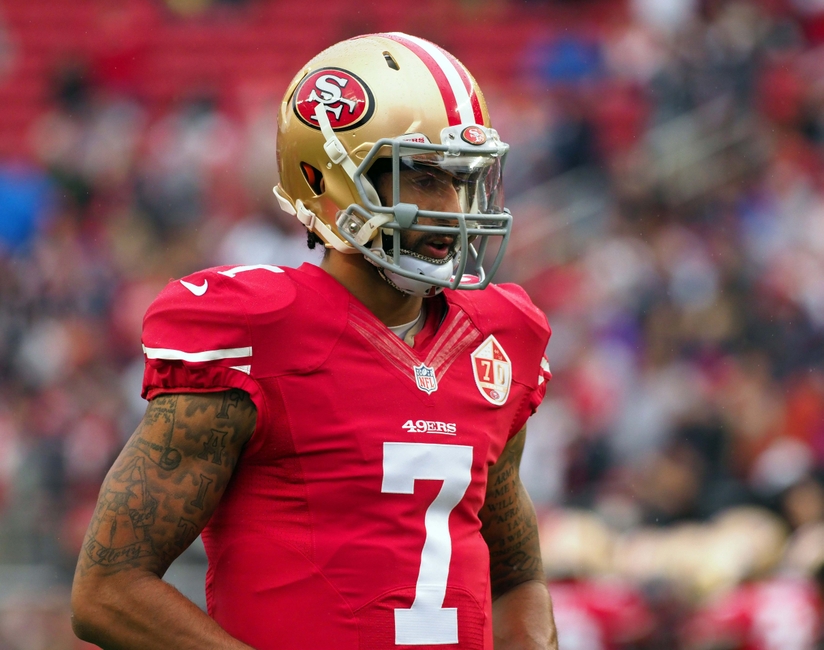 It remains to be seen whether Colin Kaepernick will stay beyond this season, but 49ers fans should cherish him while they still can.
Colin Kaepernick has divided opinion for almost all of his career with the 49ers.
Whether it be his politics, his assumption of the starting role from Alex Smith or the depressing debate over whether he is better than Blaine Gabbert, Kaepernick has consistently provoked discussion.
He may only have five starts this season, but Kaepernick has already definitely proved that he remains far superior to Gabbert as a quarterback.
Indeed, as Pro Football Focus' Jeff Deeney points out, Kaepernick has a higher overall QB rating, has performed better with a clean pocket and under pressure, is significantly better on throws over 20 yards and is averaging over a yard more per attempt than Gabbert.
Kaepernick may have won the argument over Gabbert and is enjoying a revival of sorts under Chip Kelly but in fitting fashion the next phase of his career will be defined by the resolution of another debate, whether he needs a fresh start away from San Francisco.
For his part Kaepernick provided some encouragement that he is planning on staying with the Niners, talking about 'next year' in a recent session with the media, per Chris Biderman of USA Today's Niners Wire.
"There is that feeling out there that we're not going to be in the playoffs but we still have an opportunity to do some good things and build on for next year." – Colin Kaepernick
But Kaepernick has the option to void the final year of his restructured contract and become a free agent this offseason, and his low opinion of those in the front office is well documented.
Every game Kaepernick plays this season will be seen as an audition and scrupulously analysed by those looking to decipher whether it is worth the 49ers trying to convince him to stick around for another year.
But, in a lost season that has provided plenty of frustration, 49ers fans need to find enjoyment where they can, which is why they should forget about the narrative and just marvel at the physical phenomenon that is Colin Kaepernick.
Kaepernick is not in the same shape in which he took the league by storm in the 2012 season and led the 49ers to the Super Bowl but, even after a lengthy lay-off, he remains a dangerous dual-threat quarterback.
He is still extremely good at making plays on the ground, consistently turning scrambles into significant gains.
This is nothing new for Kaepernick, but what is most impressive about his rushing ability is the way in which he is able to shrug off defenders, despite losing a significant amount of weight following his series of surgeries, and also evade them in space, proving he has not lost the elusiveness that helped make him such a dynamic threat.
Kaepernick showed off his ability to shake off defenders in his first start of the year against the Buffalo Bills, avoiding what looked a sure safety and moving the chains with a remarkable run.
His athleticism and elusiveness came to the fore again last week versus the New England Patriots, pump faking while on the run for a 17-yard gain.
In addition to his surprising strength and ability to make people miss, Kaepernick has not lost all of his speed and proved that to be the case when he beat Deone Bucannon to the corner for a touchdown in the Week 10 loss to the Cardinals.
In the midst of a lost season, these are the plays that help keep games interesting for fans of a team with a 1-9 record, and Kaepernick still has a penchant for the spectacular with his arm.
Kaepernick has been taking much better care of the ball and, though his deep accuracy is considerably superior to that of Gabbert, he has relied largely on short-to-medium throws where receivers make yards after the catch.
But the 49ers are a much better downfield offense with Kaepernick at the controls and, while he is not throwing perfect balls on the run, he has a marked flair for the ridiculous, as he demonstrated with this extremely risky but ultimately successful throw to Chris Harper against New England.
Kaepernick is playing well and brings a degree of excitement and unpredictability to an offense severely lacking in interesting players.
Though his career has gone off the rails since 2014, Kaepernick – regardless of what happens in the offseason – will forever be remembered for spearheading that surge to the Super Bowl in which the Niners came a few yards from a sixth Lombardi Trophy.
That should make him an easy player for Niners fans to root for and, for the last six games of the year, the best policy is to disregard the narrative and cherish watching a player with a unique skill set who played a significant part in a memorable period in the history of the franchise.
This article originally appeared on