49ers Failures: What Boomer Esiason would do as GM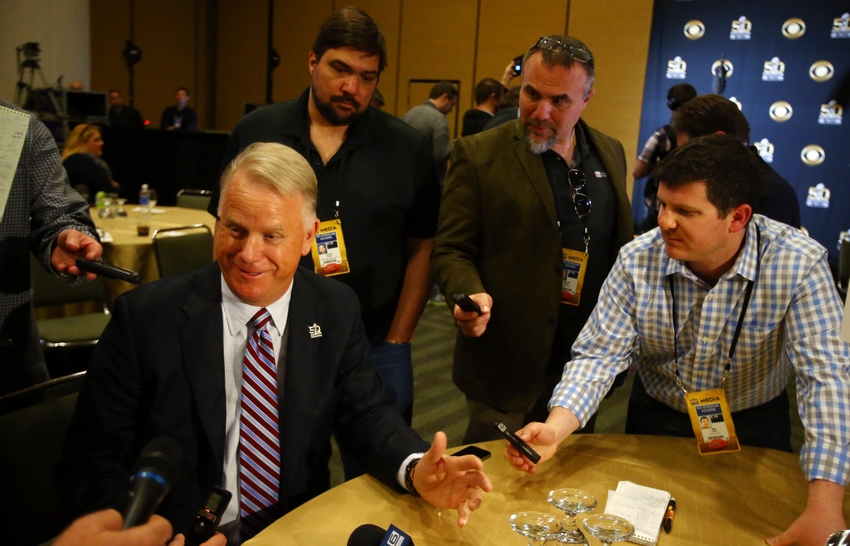 Boomer Esiason has strong words for Trent Baalke. The former Bengals quarterback and current NFL analyst minced no words about what he would do if he were the 49ers general manager.
In a visit to KNBR on Friday, Boomer Esiason — the former Cincinnati Bengals quarterback who lost to the San Francisco 49ers in Super Bowl XXIII — discussed the current state of the 49ers.
Just in case you haven't been paying attention over the last two years, it's not good.
When asked about current 49ers head coach Chip Kelly, Esiason told listeners that he didn't see Kelly staying in the NFL for very long. In large part, this is due to the abysmal state of the 49ers. Without a defense, an offensive-minded coach like Kelly will have a hard time achieving and maintaining success.
Perhaps the most revealing comment by Esiason, however, came in response to the question "What would you do if you were the GM of the 49ers today?"
His answer was simple:
"You know what I'd do? I'd fire myself and hire Jim Harbaugh."
More from Niner Noise
Boomer was also asked about whether Steve Young should come back to the 49ers organization as the new General Manager, should Trent Baalke get fired. His response, in short, was that the general manager position is a difficult and time-consuming one and much harder than Young's current job as an ESPN analyst. It remains to be seen if Young has any interest in the position.
This article originally appeared on