49ers at Panthers: 5 best fantasy options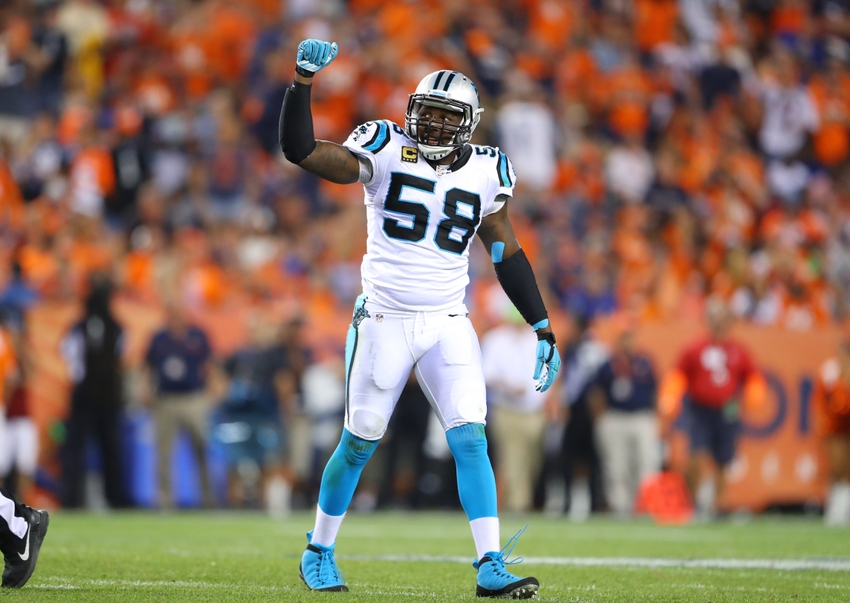 The Carolina Panthers will host the San Francisco 49ers on Sunday afternoon. Here are the five best fantasy football plays for this Week 2 matchup.
The Carolina Panthers (0-1) are going to play the San Francisco 49ers (1-0) on Sunday afternoon in what seems like the most lopsided contest on the young season. According to OddsShark.com, the Panthers a staggering 13.5-point home favorite on the 49ers.
Carolina went 15-1 in 2015 en route to an NFC Championship. San Francisco struggled to a 5-11 record and the No. 7 pick in the 2016 NFL Draft. The Panthers do have arguably a top-four roster in the NFC, while the 49ers seem to still be in the bottom tier.
However, Carolina that is staring at potentially an 0-2 start and not the 49ers. The Panthers lost a tough one in Denver, 21-20 last Thursday night. San Francisco shutout division rival Los Angeles, 28-0 on Monday night football.
With many interesting players on both teams, here are the five guys that make sense to play on your fantasy football team this weekend from this NFC game in Charlotte.
5. Phil Dawson
While NFL.com only has him projected to get 1.0 points and ESPN.com has him slightly better at 6.3 points, if you're going to play somebody on the 49ers this weekend, why not give it a roll with a great field goal kicker like Phil Dawson?
Dawson's low projected point totals stem from a belief that the Panthers are going to obliterate the 49ers on Sunday afternoon. Fantasy experts don't think the 49ers are going to put up points on a strong Carolina defense. That may be true, but Dawson has 50+ field goal range and his team's offense looks improved under new head coach Chip Kelly.
San Francisco looked very well-coached on Monday Night Football against the Los Angeles Rams. Though pitching a shutout against the Panthers on Sunday seems improbable, do expect the 49ers to do a better job of moving the chains than last year with Kelly now calling the shots.
This doesn't mean that the 49ers are going to get into the end zone often, or at all, against the Panthers on Sunday. It just means that Dawson will have more opportunities to kick long field goals to help your fantasy team win a tight ball game.
If the 49ers can convert first downs like they did against a good Rams defense last week, expect Dawson to be close to 10 fantasy points in this game against the Panthers. He is the better kicker to play than Graham Gano in this contest.
4. Carolina Panthers defense
Carolina has to still be angry about losing a heartbreaker in Denver last Thursday night. The Panthers do have playmakers on offense, but it will be the defense that will lead the team to an easy victory on Sunday afternoon versus the 49ers.
The Panthers defense is projected to garner 5.0 points on NFL. com and a whopping 10.7 points on ESPN.com. Carolina might give up yards in this game to Kelly's up-tempo offense, but should have plenty of sacks on 49ers quarterback Blaine Gabbert. Gabbert looked good on Monday night against the Rams, but has struggled under pressure in his underwhelming NFL career.
Carolina should be able to keep the 49ers out of the end zone better than the Rams defense did last week. San Francisco scored four touchdowns on the Rams. It feels like the Panthers will allow just one paydirt on Sunday to the 49ers.
Dawson field goals might knock the Panthers defense down a few points this week, but sacks and turnovers are the best things going for Carolina on defense this week. Kelly isn't going to put more on Gabbert's plate than he can handle, so he's not likely to throw a ton of interceptions. However, a strip sack of Gabbert and forced fumbles by the Panthers linebacker corps seem probable.
3. Carlos Hyde
If there is any player to start on your fantasy team from the 49ers this week, go with bell-cow back Carlos Hyde. While ESPN.com only has him at 6.2 projected points and NFL.com just slightly better at 7.50, Kelly is going to lean on Hyde in this game against the Panthers to move the chains.
San Francisco doesn't have the perimeter weapons to regularly get first downs. However, the 49ers will be a strong run-first team under Kelly this season. Hyde is a great first-string tailback when healthy. The ageless Shaun Draughn did a fine job of spelling Hyde in Week 1. Let's not forget that Gabbert is a poor man's Alex Smith: an accurate short-throw passer with great foot speed.
The 49ers are going to struggle getting into the end zone for most of Week 2 against the Panthers defense. However if the 49ers get into the red zone once, expect Hyde to get the touchdown for San Francisco in this game.
Fantasy experts believe that he will get 60 to 75 yards on the ground for the 49ers in Week 2. He might do a tad better than that, maybe even break the century mark if the Panthers defense struggles with Kelly's up-tempo style. With a rushing touchdown and 80 rushing yards, Hyde is looking at a 14 to 15-point fantasy day on Sunday against a tough Carolina defense.
2. Greg Olsen
It remains to be seen if the 49ers defense is vastly improved over a year ago. San Francisco is not going to shut out the Panthers in Charlotte on Sunday. No way! Somebody on Carolina is getting into the end zone and it might as well be Pro Bowl tight end Greg Olsen.
Olsen is a top-five tight end in the game today. Though he is only projected to have 8.5 fantasy points in ESPN leagues and 5.80 in NFL.com leagues, expect the Panthers star tight end to have a monster day on Sunday against the 49ers.
Carolina will wisely use the pass to open up the run to distance itself from San Francisco early in this game. After converting a few first downs on rushing attempts, quarterback Cam Newton is going to begin targeting his favorite receiver in safety valve Olsen.
Olsen may have as many as two touchdown receptions in this game. He might even have over 100 yards receiving if he becomes a bigger part of the passing game beyond third down and red zone situations. Olsen is looking at a 15+ point fantasy day on Sunday against San Francisco at home.
1. Cam Newton
If Cam Newton is on your fantasy team, you play him every week, especially against the 49ers on Sunday. San Francisco looks improved, but the Rams might actually be terrible. How the 49ers play on Sunday will be a better sign of what they are as a football team going forward.
The problem for the 49ers is that they'll going against last season's league MVP in Newton. Newton became a superstar NFL quarterback in year five out of Auburn University. His dynamic on-field leadership, his rocket arm, and his ability to make plays with his feet when needed set him apart from everybody else in this game.
Don't expect Newton to throw for a ton of yards in this game. He's probably not going to eclipse 300 against the 49ers, as Carolina will look to ground and pound offensively. Newton should get at least one rushing touchdown in this game. He'll probably throw for two as well: one to Olsen and one to another Panthers receiver.
Should Newton throw for 250 yards, two touchdowns, and no interceptions, he'll have at least 18 points on his passing performance alone. Combine that total with 40 yards on the ground and a touchdown run, you'd be looking at well over 28 fantasy points on Sunday versus the 49ers defense.
This article originally appeared on