49ers at Cardinals: Highlights, score and recap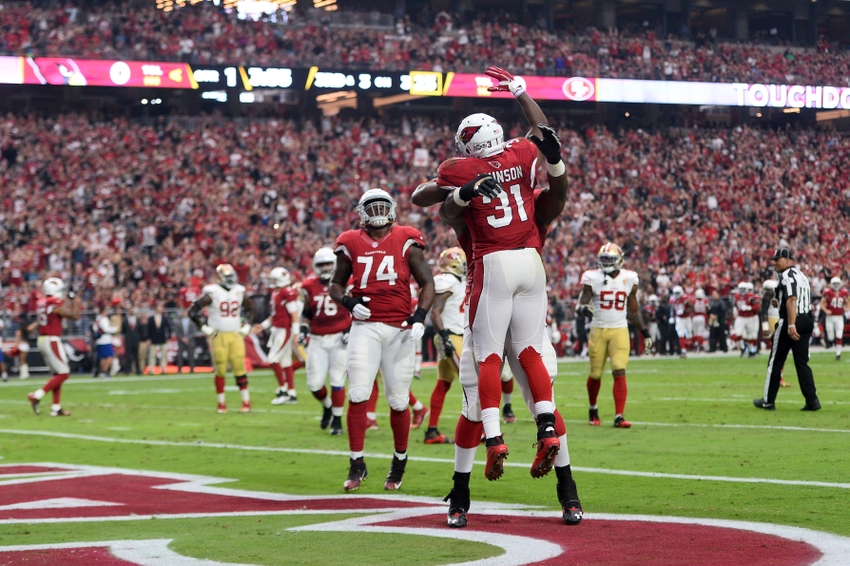 A look at what happened in Sunday's game between the 49ers and Cardinals.
After stopping the 49ers on the opening drive, the Cardinals took over and looked to drive the ball past the 50 yard line. Quarterback Carson Palmer threw a strike to JJ Nelson who then fumbled the ball. However, the 49ers wouldn't be able to do anything with the opportunity and had to punt.
On the following drive, the Cardinals drove down the field, which led to a three-yard touchdown pass to David Johnson. This put the score at 7-0 to give them an advantage over a sluggish San Francisco offense.
There would be a second fumble, but from the 49ers. As Jeremy Kerley returned the punt, he dove to the ground, but lost the ball in the process. The Cardinals would recover and end the first quarter with the ball.
After a 38-yard penalty, Johnson would run into the end zone for his second score of the day. This would be for 18 yards to put Arizona up, 14-0.
The 49ers would finally do something on offense in the second quarter. Colin Kaepernick led a drive into Cardinal territory with his legs and a pass to Vance McDonald. Then, there would be a wide open Kerley in the end zone, who Kaepernick hit for a touchdown to make it 14-7.
At halftime, the game would be 20-10, Cardinals.
The third quarter would see Larry Fitzgerald continue to rack up catches. Midway through, he had eight receptions for 89 yards. Palmer also had 270 yards while the lead stayed a 20-13.
On a drive toward the end of the third, Palmer threw a pass to Nelson which got tipped off his hands. The ball would go directly into Eric Reid's arms for the 49er interception.
Late in the fourth quarter, the 49ers would successfully drive inside the 10 yard line. This led to a Kaepernick rushing touchdown to tie the game, 20-20.
So, with 1:55 remaining, the Cardinals had to go about 85 yards to the end zone. Palmer threw a pass to Michael Floyd, who made a terrific catch. However, Floyd banged his head on the ground and got taken out of the game for a few plays. The drive then continued into San Francisco territory. Chandler Catanzaro would get the chance to kick the game-winning field goal, and hit it through the uprights to win the game, 23-20.
Three Stars
Carson Palmer, Cardinals – Palmer had 376 yards and one touchdown in the win.
Larry Fitzgerald, Cardinals – Fitzgerald had one of his best games with 12 catches for 133 yards.
David Johnson, Cardinals – Johnson finished the game with 101 total yards from scrimmage and two touchdowns.
Highlights
What's Next?
Next Sunday, the 49ers will host the New England Patriots. The Cardinals are also set to go on the road to face the struggling Minnesota Vikings.
This article originally appeared on