49ers at Cardinals: 3 things we learned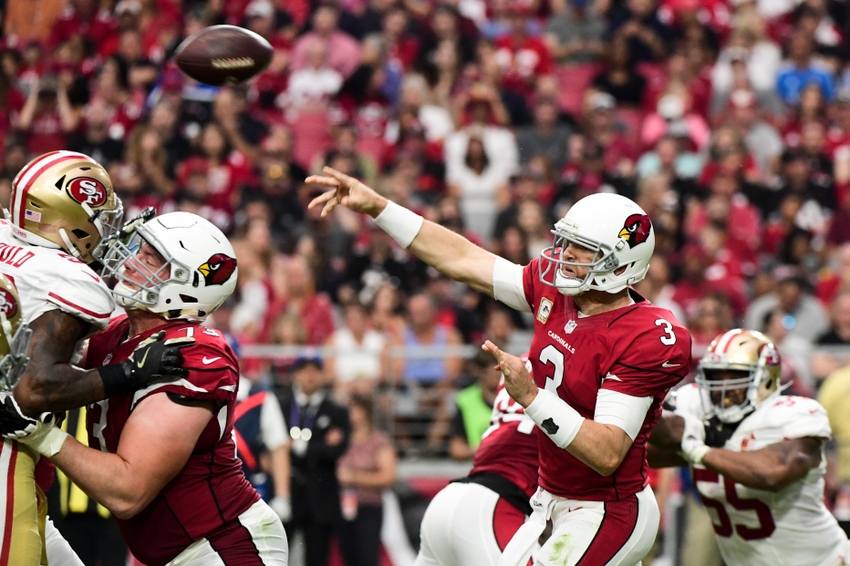 What were some of the main takeaways from Sunday's game between the San Francisco 49ers and Arizona Cardinals?
On Sunday afternoon, the San Francisco 49ers and Arizona Cardinals battled in one of the three games with NFC West teams taking place. This saw the Cardinals control most of the game, but the 49ers tied it up with minutes to go. Then, Arizona kicker Chandler Catanzaro stepped up and kicked a game-winning 34-yard field goal to give them the 23-20 win.
There would be plenty to take away from this game, so what stood out in Arizona's victory?
Catanzaro redeems himself
Chandler Catanzaro had about a rough of a day as any kicker this season in the infamous tie game with the Seahawks. This saw him miss a chip shot field goal which would have won the Cardinals the game. He missed another one as well and made it one that would be hard to forget.
However, to win the Cardinals the game over the 49ers, Catanzaro would be needed. Granted, this field goal was 34 yards, but after the pressure situation weeks earlier, this was no guarantee to be made.
Well, Catanzaro would redeem himself with this game-winning kick to give the Cardinals a much-needed fourth win. It gives him confidence for future games, especially with Arizona's season likely coming down to the final weeks where he'll be needed.
Cardinals are far from out of it in the NFC West
The Cardinals had high expectations coming into the 2016 season, but have fallen short of them so far. However, at 4-4-1, they are certainly still not out of the NFC West race.
All that sits above Arizona is the Seahawks, who are going to play the New England Patriots on Sunday Night Football. With how dominant the Patriots have looked since Tom Brady returned, it will be tough for Seattle to knock them off. A loss would close the gap to about one game and could mean plenty more when they face off later this season. It might be for the NFC West crown, which may also leave the other out of the playoffs.
The 49ers remain lifeless
This game may have been just a seven-point loss for the 49ers, but there is still not much to look forward to with this team. It's mostly due to their offense being anemic and not having anyone who's going to be around past this season or probably won't have big future roles. This includes Colin Kaepernick, Carlos Hyde, and a receiving group that's led by Jeremy Kerley.
At 1-8, the 49ers haven't really found a way to trend up under first-year head coach Chip Kelly. The team is at its lowest point since the Mike Singletary days, and probably needs a rebuild this offseason.
This article originally appeared on