3 worries for New England Patriots fans in Week 3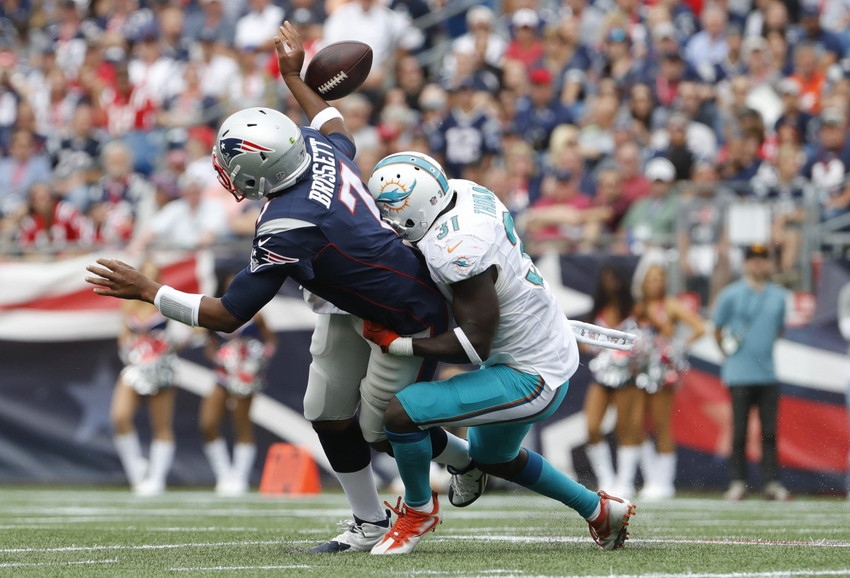 As we prepare for Thursday night's AFC showdown between the New England Patriots and Houston Texans, we need to acknowledge some worries all Patriots fans have right now.
3. The quarterback situation
Unless they sign a quarterback in the next three minutes, it looks like Julian Edelman is going to be the backup quarterback on Thursday night. Considering that Jacoby Brissett is just as inexperienced as Jimmy Garoppolo when it comes to being aware of his surroundings in the pocket, that is pretty worrying.
In other words, what is more worrying than Brissett starting on Thursday night is the thought of Brissett getting hurt. Especially since the Patriots have no plans to add a veteran quarterback to the roster, per Adam Schefter.
While we Patriots fans trust the coaching staff's decision, it doesn't keep us from worrying a bit about the whole thing. At least Brissett looks like a steady passer; it could be worse.
2. Texans pass rush
Without a doubt, a major worry for the Patriots entering Week 3 is the Houston pass rush, a unit that currently leads the NFL with nine sacks. To illustrate it another way, the Texans are on pace for 72 sacks on the season.
J.J. Watt leads the group, of course, and then Whitney Mercilus, Jadaveon Clowney and John Simon have been making noise through the first two games. Benardrick McKinney and A.J. Bouye have also contributed sacks.
Players to watch in Week 3 who could put this worry to rest include Nate Solder and Marcus Cannon, who will have their hands full on the edge. On the inside, Joe Thuney needs to pick up his game after committing two holding penalties in Week 2.
1. The pass defense
Yesterday, Devin McCourty opened up to Mike Reiss about the defense's poor mental strength in the second half in Week 2; hopefully, those words get put into action.
The fact of the matter is the Patriots surrendered 389 passing yards to Ryan Tannehill and the Dolphins, a number that nearly lost the Patriots the game. That simply cannot happen on Thursday night against a dangerous Texans team featuring superstar wideout DeAndre Hopkins and promising rookie Will Fuller, who ranks fourth in the NFL with 211 receiving yards through two games.
If this game becomes a shooting match, it could be bad news for the Pats. Although he's not much more experienced than Brissett, Osweiler would probably win in a quarterback duel, so it is paramount that the Patriots' secondary keeps the Texans' pass catchers in check.
This article originally appeared on