3 Reasons to fire Philadelphia Eagles head coach Doug Pederson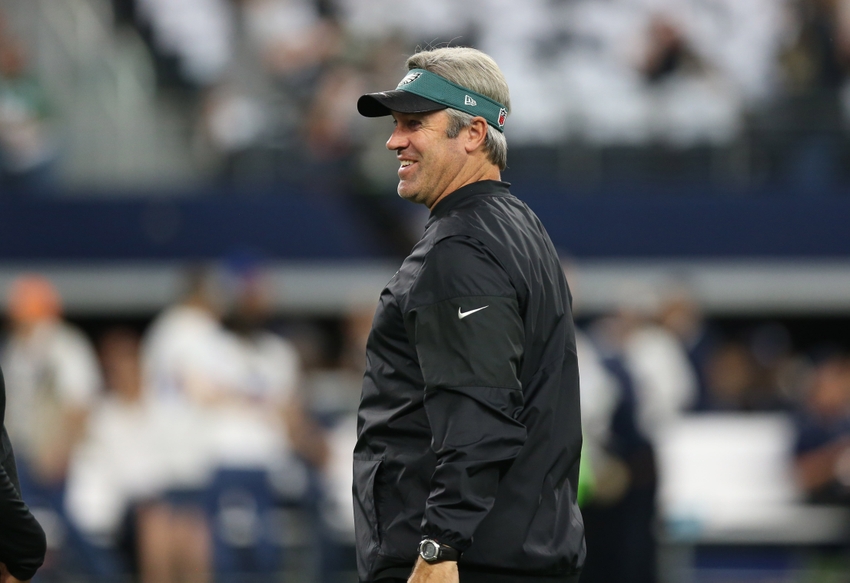 Another week passes, and there's another loss to talk about for the Philadelphia Eagles.
Much has been said about what to make of the Philadelphia Eagles' first season under head coach Doug Pederson. He was hired on January 18th, 2016 following the Eagles' decision to move on from former head coach Chip Kelly. Kelly's era was one in which he attempted to lead the team with an iron fist. The Eagles brass decided, at that point, they wanted to go with a guy that related to players better. Enter Pederson.
All seemed well in the beginning. Following a 3-0 start, Pederson was the toast of Philadelphia. Then, there was an early season bye. That was followed by a 2-7 showing over the team's last nine games. Losing happens in the NFL, but there's a bigger issue with this Eagles team. The way they've been losing is a cause for concern. Whether fair or unfair, the blame for that will normally fall on the head coach. We at Inside The Iggles will examine reasons to keep and reasons to fire the first year head coach. We start with why he should go.
Click to continue.
1. He's too lenient.
Let's be clear about something. Chip Kelly's way of leading the Eagles probably won't work most places in the NFL. Itdefinitely wasn't the answer for the guys he had. Kelly's history shows that he obviously struggles with outspoken players that have strong opinions, so his answer to the problem was to get rid of all of those guys. Unfortunately, he got rid of locker room leaders that could help this team win.
This time around, the Eagles did a complete 180 with their coaching hire. They went with the nice guy. Pederson is not the guy who's going to get in guys' faces, scream and call players out. That's Andy Reid's way. That's what we'd expect from Bill Parcells. Pederson is the definition of the players' coach. He wears that title proudly, and he may wear that title to a fault.
This year several players have been in legal trouble, including Josh Huff, Nigel Bradham (twice) and Nelson Agholor. With the exception of Huff, it appears that players aren't being held accountable. How can a team be led if they don't even appear to respect the man that's leading them? Truthfully, if we hear Pederson say he's going to keep "loving on guys" one more time, we're going to scream.
2. The overall team attitude
Defensive lineman Vinny Curry was recently asked to justify his healthy off-season contract by explaining his 1.5 sack total for the 2016 season. His response was he was "only doing what he was coached to do". He accepted no responsibility, and his answer was a slap in the face to his coaches. What happened? Nothing. Has Curry been held accountable for his lack of on-field results? It sure doesn't look like it does it?
On Sunday, rookie quarterback Carson Wentz had his worst performance of the season in a year where he's clearly regressed over the span of the last nine games. He threw the ball over 60 times, including over 30 pass attempts in the fourth quarter. That's way too many. He also threw three second-half interceptions. You could argue he could argue that he could have been picked off three times in the first half. Now, the rookie and coach can't even get on the same page about what the issue is. Wentz says "when you throw the ball 60 times, they're going to be some bad ones in there". Pederson says it's mechanics. If they can't even agree on what the issues are, there's a serious problem.
To make matters worse, questions are starting to pop up about whether or not Pederson has already lost his signal caller's confidence. Wentz has been asked to do way too much in an offense that hasn't put anything around him. Add in the fact that the Eagles have lost three straight and have looked like they've given up in the last two and a half games, and it could be argued the players have given up on the season and their coach.
We've seen coaches lose teams. We've rarely seen coaches win teams back over. Maybe former New York Giants head coach Tom Coughlin is the last most recent example.
3. The collapse
The Eagles didn't just decline it the latter part of the 2016 season. They fell off of a cliff. If style points were given out for losses, this would be a team that probably could have hit in every single category. They've turned the ball over. They've had long touchdowns called back because of penalties. There were defensive penalties that continued drives and eventually led to touchdowns (some on the next play or so). They've blown fourth quarter leads, and they've been blown out. We'll say it again. What's truly the most annoying part about the losing isn't even the actual losses. It's the way the team has lost each game.
The most recent game showed us a team that has played arguably as bad as any bad team in this franchise's history. If guys aren't going to throw blocks (Zach Ertz) , make an attempt to make a tackle (Rodney McLeod) or aren't earning their paychecks (Leodis McKelvin and several others), they don't deserve to wear the green, black, white and silver. If Pederson's not going to do anything except continue to "love on them" then he may need to look at another role with another team.
Any NFL team would expect more from their head coach.
This article originally appeared on