3 Reasons the Philadelphia Eagles can't fire head coach Doug Pederson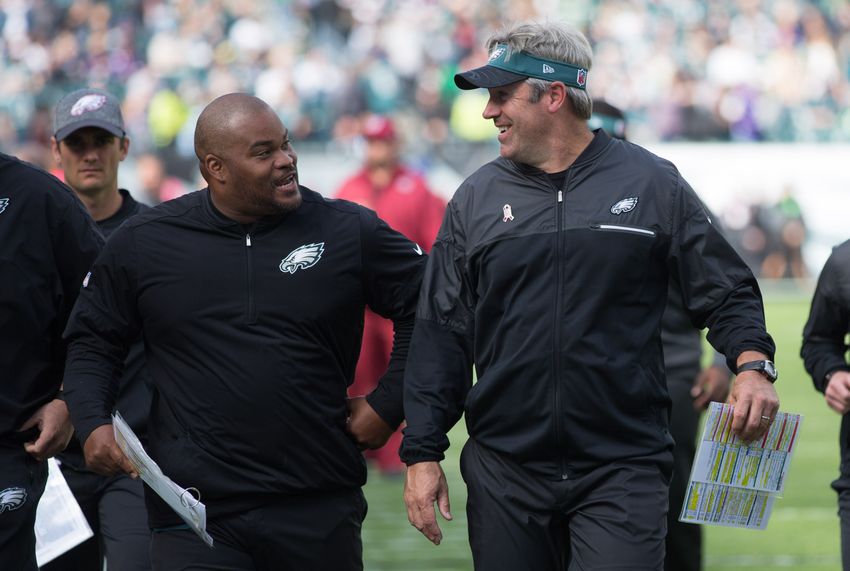 Whether you're on the side of firing head coach Doug Pederson or keeping him, you have to understand they're reasons to do both.
You have to admit as a Philadelphia Eagles fan that the first year of the Doug Pederson era hasn't gone all that bad. Well, then again, you'd absolutely have to say that, but you can't say that things are any worse than you thought they'd be at the beginning of the season. Well, on second thought, you can't say that's totally true either. Here's what we know definitely. The Eagles began the year with a 3-0 record. They had an early bye, and it's mostly been downhill ever since.
Fans are frustrated. We get that. Andy Reid's era ended on a sour note, Chip Kelly did everything he could to ruin this franchise in three years and it's been a long time since this team won a playoff game. Anyone coming in would have had tremendous pressure to craft a winner. To see this team continue to lose, sometimes in dramatic fashion, is tough to take. Seeing this team barely even put up a fight is inexcusable.
Still there are several reasons to give Coach Pederson some time. Honestly, there are quite a few, but we at Inside The Iggles will take some time and examine three.
Click to continue
1. The team's performance isn't totally Pederson's fault.
We tried everything we could not to bring up Pederson's play-calling as that's been talked about enough. Unfortunately, we'll have to do it one more time for the sake of argument. The final fade thrown in the game against the New York Giants is a reminder to all of us how bad the decision making has been, and that play has been etched in our minds forever. Still, as often as you can discuss the unfortunate outcome of so many bad decisions, you can also argue that there have been times that Pederson's play calling put the Eagles in position yo succeed and the team didn't execute.
Pederson can't be blamed for all of the penalties. He can't be blamed for the dropped passes, or the fumbles in Dallas and Detroit or the fact that big plays have been called back because of penalties caused by a lack of concentration. He can't be blamed for penalties on defense that have continued drives. The players have to share some of the blame.
2. His contract
There are two things that have to be understood about contracts in the NFL. One, getting rid of someone typically means that you have to fork over a bit of cash. Two, the Eagles originally believed in Pederson enough to give him a five-year deal. It seems irrational to now move on from Pederson after the first year.
More from Inside the Iggles
In the off-season, the Eagles handed out cash like they were playing with Monopoly money. Several high dollar free agent acquisitions and several bad draft-day decisions have now placed this team in a position where getting rid of those same players, Nelson Agholor for example, would cost the team more money than it would cost to keep them. With another off-season looming and the need to juggle the salary cap again, we may be faced with a very real possibility. Whether fair or unfair, the Eagles are stuck with with some of these guys for a while. That includes their head coach.
On another note, we knew the team was in bad shape and would need time to rebuild. That led to tragedy with Chip Kelly, but this is also the team that turned to Andy Reid to lead them for 14 years. That stability is now missing and needs to be recaptured again. Fans need to be patient.
3. Howie Roseman may be more to blame than Pederson is.
The Eagles gave up on cornerback Eric Rowe after one season. He's now with the New England Patriots who love him to death. Rowe is also a former second-round draft choice who's arguably better than any cornerback the Eagles have playing the position. That followed a season where the Eagles may have given up on Brandon Boykin too early. The decision to move Boykin wasn't Roseman's, but he is responsible for the Eagles current roster. Pederson didn't have much to work with in his first year, and the question is how much power does he truly have to make personnel decisions? The only player on the roster we can give him full credit for bringing in is backup quarterback Chase Daniel.
Looking back on things now, Roseman re-signed a bunch of core players. We're uncertain as to whether or not some of those decisions were the right ones. Who knows if Zach Ertz, Vinny Curry and Leodis McKelvin can bounce back. All three have had disappointing seasons, and the Eagles continue to lose. Before you get excited about the possibility of a high draft pick, keep in mind ther's not a ton to be excited about there because their first round pick will belong to the Cleveland Browns.
Roseman did do some good things though. He negotiated the Eagles into the second pick of last year's draft. That pick ultimately became Carson Wentz. As a result, the Eagles may have found their quarterback of the future. That and the re-signing of defensive tackle Fletcher Cox are ultimately the highlights of the most recent off-season. On another positive note, they worked their way back into the first round by trading quarterback Sam Bradford, and if the Minnesota Vikings continue to go into the tank, the Eagles may get a pretty high pick there.
Pederson's stunk it up. There's no doubt about it, but Roseman deserves just as much of the blame. It's hard to say you can get rid of one and not question whether or not you should get rid of the other. Still, both should be back in Philadelphia for another year.
This article originally appeared on