2nd-Half Preview: 4-4 Lions still alive in average NFC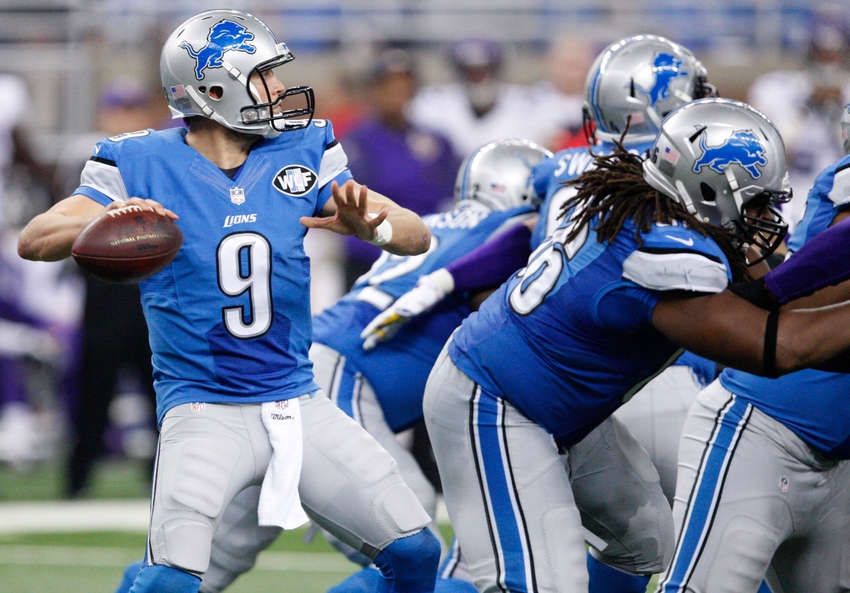 With the Bears shocking the Vikings on Monday Night Football, Detroit has more life left than it seems. So we decided to examine the final 8 games.
The Lions are 4-4. While it is not ideal, in a somewhat unimpressive NFC, their season has more life left than it feels. An impressive three-game winning streak was ended after their 20-13 loss to the Texans on Sunday. What fans seem to be forgetting, though, is that this team started 1-3, with very little evidence to think they'd win more than 4-5 games total on the year. Wins against the Eagles, Rams and Redskins saved the season. So, since a road loss to a likely Playoff team in Houston makes fans want to give up, let's look at the final 8 games to see just how realistic Detroit's Playoff chances are.
Week 9: @ Minnesota Vikings – (5-2)
The Vikings are coming off of a humbling loss to the Chicago Bears on MNF. After looking nearly invincible during their 5-0 start, they've lost two straight games, and a loss to the Lions would put Detroit just a half-game behind them in the standings. Now, those two losses were on the road and they're undefeated in their new stadium, so let's be realistic about this one. Minnesota has one of the worst offenses in the league, ranking near the bottom of the league in rushing, passing and total offensive statistics. Norv Turner, their offensive coordinator resigned this morning. Their offensive line can be exposed and Detroit's front four has performed better over the past few weeks. It's a game that doesn't look as daunting as it did a few weeks ago.
Week 11: Jacksonville Jaguars – (2-5)
The Jaguars are one of this season's biggest disappointments. Quarterback Blake Bortles hasn't taken the step forward many analysts predicted before the season. The Lions have been pretty good at home and the Jaguars haven't been good anywhere. They can still throw the ball, though, so this game is more dangerous than it looks. Bortles – despite failing to play like a top-10 quarterback like he did last season – is plenty talented and Jacksonville has the requisite weapons to give Detroit's secondary headaches. Darius Slay will likely be back and possibly even DeAndre Levy (if you believe he still exists out there in the wilderness somewhere).
Week 12: Minnesota Vikings – (5-2)
This matchup with the Vikings is at Ford Field and the Lions will likely be in must-win mode if they've split the previous two games. I think it is unrealistic to think Detroit could sweep Minnesota, but I do think they'll win one of these two matchups. This one is on Thanksgiving and Detroit has played well on Thanksgiving under Coach Caldwell. Last season, Matthew Stafford threw 5 touchdowns at Ford Field on Turkey Day. The Vikings defense has consistently put pressure on Stafford since Mike Zimmer has taken over as head coach. Stafford, like with Aaron Rodgers, hasn't been able to put his normal yardage totals against Zimmer's defenses. He will have to be extra careful with the ball and make Minnesota's offense beat them. This one should be a great Thanksgiving matchup.
Week 13: @New Orleans Saints – (3-4)
The Saints are still explosive but haven't been able to put it all together on both sides of the ball this season. The Lions could be in serious trouble with a suspect secondary. They did add Johnthan Banks, former corner for Tampa Bay in a trade on Tuesday. Drew Brees is playing out of his mind yet again this season. It's the Saints' defense that has been hurting them all season. This one is sure to be a shootout, like last year's 35-27 Lions win on Monday Night Football. Stafford lit up that Saints defense – going 22-25, for 254 yards and 3 TDs. I expect more of the same down in New Orleans. While they haven't been quite as dominant in the Superdome, Drew Brees is one of the best in the league. Just hope Detroit's defense can get a stop or two.
Week 14: Chicago Bears – (2-6)
The Bears got the best of Detroit earlier this season at Soldier Field. They shocked Minnesota on Monday Night Football earlier this week and are playing great defense. Running back Jordan Howard, who torched Detroit, has proven to be the real deal by running all over Minnesota. Cutler played well, but I still think Detroit has more firepower and momentum at home. As their earlier season matchup proved, you cannot underestimate the Bears. John Fox is doing a good job this season, despite not having Playoff caliber talent. Regardless of their record, Chicago is playing tough and this is not a game to be taken lightly.
Week 15: @New York Giants – (4-3)
The Giants are a rather unpredictable franchise. Even when they have a winning record, it is hard to really trust them. They have an elite passing game and one of the best wide receivers in the NFL, in Odell Beckham Jr. New York gave Dallas their only loss of the season in week one, but haven't looked all that impressive, going 3-3 since. Despite a free agency spending frenzy on defense, Matt Stafford should be able to expose some things. Oliver Vernon and Janoris Jenkins are unquestionably improvements over last season's talent. Detroit has the horses to play with New York, but it will be tough playing on the road in Eli's house. I can't confidently predict this game one way or the other.
Week 16: @Dallas Cowboys – (6-1)
The Cowboys have shocked the NFL with just about every aspect of their success. Their running game, led by star rookie Ezekiel Elliott hasn't surprised anyone. But having one of the best defenses in the NFC, as well as being led by 4th-round rookie QB in Dak Prescott are the things that nobody could have predicted. It seems like everybody has been waiting for the Cowboys to come back to earth, but it's time to accept they may be the best team in the NFC. The Lions have a bad taste in their mouth from their 2014 Playoff non-call, that may or may not have cost Detroit its first Playoff win since the 1990's. Few will give Detroit a shot in this one, so expect the opposite.
Week 17: Green Bay Packers – (4-3)
The Packers beat Detroit in week three after Aaron Rodgers threw 4 first half TDs. The Lions made a 2nd half run to get back in the game, but couldn't get the ball to try and score the tying touchdown. Green Bay hasn't looked as dominant as we are all accustomed to them being this season. Rodgers, after a slow start, has started to look like his old self over the past two weeks.  Detroit has split their divisional games with the Packers over the past three seasons. They lost last year's home-field matchup on a walk-off hail mary from Rodgers. If Detroit has somehow only managed to lose 2 of these previous seven games, this could be a matchup with Playoff implications. It could all come down to this NFC North game in the final week of the season.
More from SideLion Report
This article originally appeared on