2017 Quarterback Mock Draft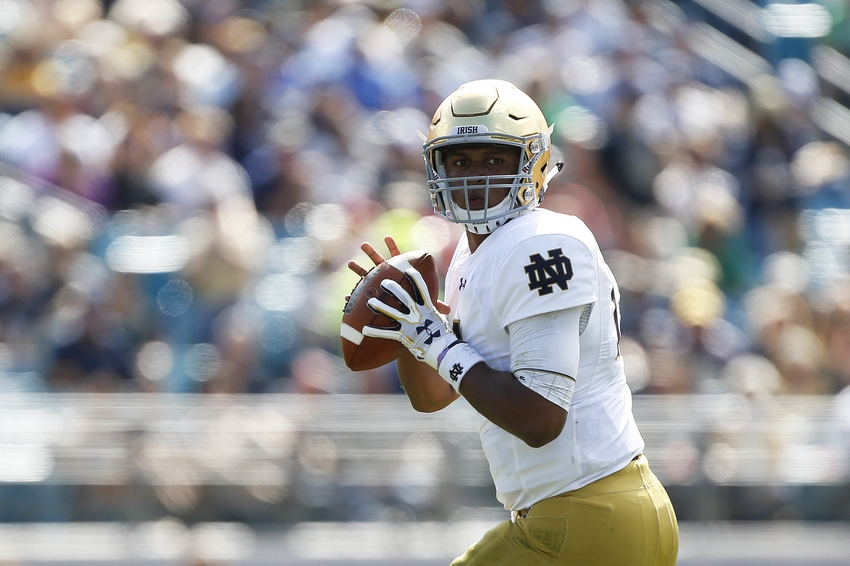 This position is so important that it deserves a 2017 Quarterback Mock Draft.
So instead of a mock draft, this is a change up: a 2017 Quarterback Mock Draft. As always, this is premised on what the author would do. Not what the teams will do.
DeShone Kizer, Notre Dame
Projection: #3 to Chicago. Kizer is rawer than most of the prospects available in this draft but the tools are clearly there. He's big, thick and has a great arm.
His mechanics need work. And the scouts/film guys need to dig through Kizer's play and if it was the reason Notre Dame struggled so badly.
That said, the sky is the limit for him. If he isn't rushed into a bad situation, he's a guy who can anchor an offense much like Prescott has. He's clearly smart and makes good decisions.
Chicago doesn't have much talent at quarterback right now and Jay Cutler is just overpaid. It would make far more sense for them to draft someone like Kizer and then team him with a functional veteran.
Kizer also played locally, so the hometown effect could encourage them to make this move.
Davis Webb, California
Projection: 1st round to the New York Jets. His draft stock is going to be pegged to the performance of Jared Goff. Webb reminds the scouts of Goff and comes from the same system.
The Jets just can't roll into 2017 with Fitzpatrick, Smith and Hackenberg as their quarterback options. It's not going to work and will get Bowles fired.
Unless Webb is a total bust, he'll buy everyone some time in NYC. If he thrives, then they look like geniuses.
Mitch Trubisky, UNC.
Projection: 1st round to Cleveland. He could be an Andy Dalton clone, and Hue Jackson would be fine with that. He's smart, tough and makes good decisions. He doesn't have Dalton's sheer arm strength but that's okay.
Cleveland would look to build a shorter passing offense around Trubisky. By mixing in a good running game and the tight end on play action this could work for the Browns.
The rub is that no matter who's at quarterback for them in 2017 and beyond they need to build a good offensive line or it's pointless. Any young quarterback is going to fail if they're constantly running for their lives.
Brad Kaaya, Miami(FL):
Projection: 1st round to the Baltimore Ravens. Flacco was never that good except for his Super Bowl run. Now they're stuck with him until 2018. This does give them time to groom his replacement while they wait for his contract to become tradable.
Kaaya has some issues as a prospect. He struggles with a blitz and doesn't seem to have production which matches his talent level.
The Ravens can afford to have him sit and learn tho. And Flacco has over 20 million reasons not to complain about the move.
Luke Falk, Wash St.
Projection: 2nd round to Arizona. Falk is an enigma. He makes some real NFL caliber throws. Then he makes a number of bone headed throws that he should have stopped himself from doing.
NFL teams will also be concerned about stat inflation. That Leach system is fantastic for piling up stats and having a great offense. It's not so great in preparing prospects for the NFL.
This is because Leach does a lot of short passes and 4-5 wideout sets to take advantage of the talent disparity in college secondaries. Falk could be a product of this. He also could be a talented passer.
Teams are going look for Falk to prove them wrong, rather than assume that he's pro level and ready.
Want your voice heard? Join the With the First Pick team!
Mason Rudolph, OK St.
Projection: 3rd round to Jacksonville. Rudolph has some interesting tools to work with, but he's got some major flaws. Namely that he stares down his target so much that he might as well yell where he's throwing the ball.
Against defenders playing the man, this can work. And college teams play a lot of man coverage. Against zones, it won't. But there's enough there that the Jags could take him on Day 2 as a potential replacement for Bortles.
Rudolph is another prospect who needs time. Who knows if the Jags would give it to him.
Chad Kelly, Ole Miss
Projection: 3rd round to Washington. He has far and away the best arm talent in the draft. He also has far and away the most risk on and off the field.
And tearing his ACL could knock him into day 3: fair or not. He could easily improve his standing in the draft by being open and honest about his off the field issues.
And teams are going to want to see why he thrived so well against the Alabama defense but struggled against far inferior teams.
The Redskins are in a bind: they don't want to appear to pay Kirk Cousins. But Colt McCoy probably isn't the answer.
Kelly's knee injury gives them time to go with a vet like McCoy while they consider their options and keep their O-line intact.
Get the FanSided App
Deshaun Watson, Clemson.
Projection: 3rd round to Pittsburgh. There's times Watson looks like a great NFL passer. And then he makes a number of bone headed throws which are unexplainable.
This combined with the offense he plays in at Clemson is going to make him a rather big draft enigma. He needs to go a team where he can sit and learn how to be a better pocket passer.
Pittsburgh might the best possible place for him. He can learn from one of the greatest pocket ninjas of all time in Roethlisberger. And they have an array of talent for him to work with.
Watson just can't be expected to come in and be ready to start. He's not ready for the NFL. He could be ready but only if he doesn't need to play quickly.
CJ Beathard, Iowa
Projection: 3rd round to the New York Giants. Beathard hasn't had the season he's needed to have to become a 1st round prospect. His stats have suffered and his tools aren't as impressive as they were in August.
That said, he still has good arm talent, mobility and football IQ. Right now, he's a day 2 pick. Especially after beating Michigan.
Baker Mayfield, Oklahoma
Projection: 4th round to Kansas City. Andy Reid loves him some short(er) passers with mobility and no arm strength. Reid also has a mess at the quarterback spot. Alex Smith is making a ton but he can be traded anytime after 2016.
Nick Foles is still Nick Foles. Mayfield could be that developmental guy who determines if Smith is walking or they have to actually expend a decent amount of resources replacing him in 2019.
More from With the First Pick
Mayfield does a lot of things well, but he struggles with a pass rush and doesn't have a big arm.
Pat Mahomes III, Texas Tech.
Projection: 6th round to Green Bay. Ted Thompson and the Pack have done well grabbing gunslingers and developing them. Mahomes is certainly a gunslinger, but that's all he really is as a passer.
He makes some dazzling throws. And then he makes some amazingly bone headed ones. He's very inconsistent and the mechanics just aren't there. Furthermore, the offense is plays in is very quarterback friendly: he doesn't have to make a lot of tough throws or decisions.
He's a project. Perhaps one that will pay off but no team can think that he's ready before year 3.
This article originally appeared on