2017 Oakland Raiders Mock Draft: Speed and Depth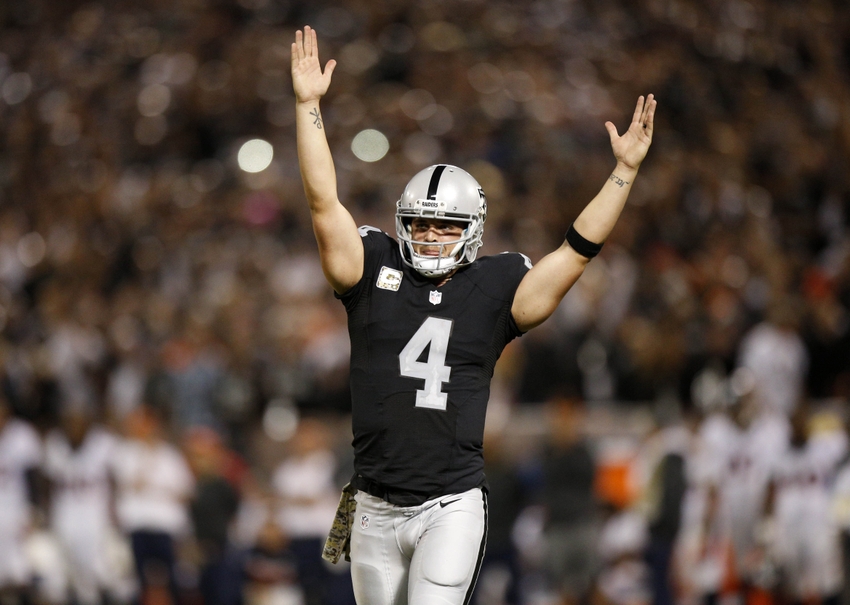 The Oakland Raiders have done a good job of building their team from the line of scrimmage out. Now, it's time to get faster and continue to build depth.
Oakland Raiders GM Reggie McKenzie has earned his contract extension with what he has built. The Raiders now have an offensive line that can protect the QB and open running lanes. The defensive line and get after opposing QBs and clog running lanes.
And both units have suffered multiple injuries but here Oakland still his at 7-2. The Raiders just beat the Denver Broncos of all teams using five right tackles in the game. They didn't have their two best D-lineman either, one of which hasn't played at all this year.
So you can see there is plenty of depth at the line of scrimmage and they need to keep it. The Raiders just need to get a little faster now as they have been beat with speed at times. Obviously, they need to be good football players first.
There is a fear factor defensive fronts have with the Raiders' O-line and QBs have with their D-line. They need more of that in opposing secondaries then with just Amari Cooper. The Raiders also need the ability to defend speed with speed while continuing to build depth.
Turn the pages to see how that plays out in the Raiders mock draft.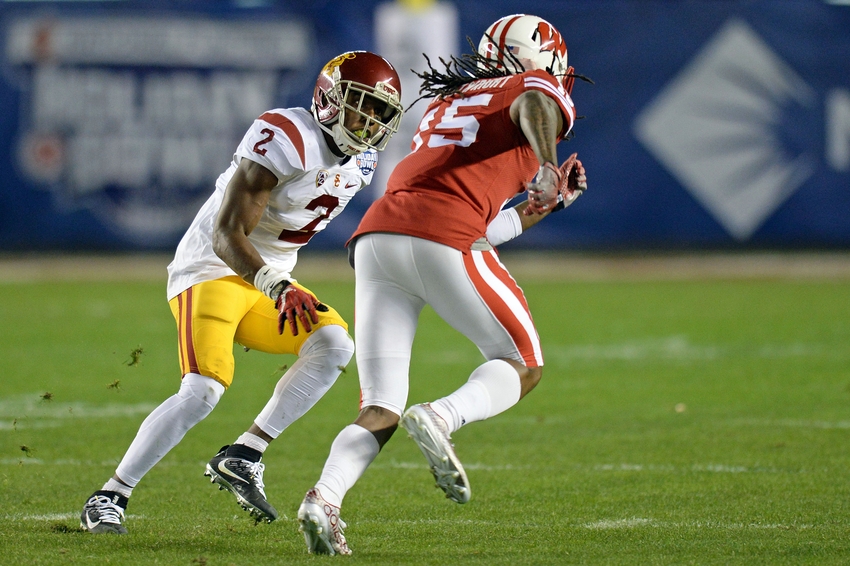 1
Adoree'
Jackson
CB,

USC
The Raiders have the biggest and best O-line in football and as previously mentioned, it is deep. Also previously mentioned is the depth of their big, nasty, deep, D-line. With Aldon Smith and Mario Edwards Jr. coming back soon, they're deep in edge-rushers and interior rushers.
And now that Perry Riley is in Oakland, the Raiders are deep at the linebacker position too. But one area that couldn't handle a rash of injuries to it right now is the secondary. Nickel cornerback D.J. Hayden is officially a bust as the Raiders didn't pick up the option on his rookie contract.
Plus they can use some speed as starter Sean Smith doesn't matchup well will smaller, faster receivers. So the Raiders take Adoree Jackson at No. 24 overall, where I have them picking this week. Jackson is the fastest cornerback in college football as has the skills to play the position as well.
This is just his first year focusing mainly on cornerback, and has come a long way from last year. Secondary coaches like Marcus Robertson and Rod Woodson can bring him the rest of the way. Then the Raiders have a lock-down No. 3 corner that can matchup with the smaller, faster guys.
After getting his franchise QB in 2014, McKenzie has gambled in the second round the last two years. It paid off right away with DL Mario Edwards Jr. and hasn't so far with fellow DL Jihad Ward. So he hits the crap table again in Round 2 for potential superstar RB.
I love Latavius Murray as he has improved every year and now looks like he can be the guy. But this is a contract year for him and he will have a lot of suitors in free agency this offseason. And the Raiders have to do something about QB Derek Carr and OLB Khalil Mack's contracts soon too.
So it is far from a sure thing that he'll be back like Raider Nation is hoping he will be. So here in the second round, the Raiders get a potential superstar RB in Nick Chubb. Chubb tore it up in college up until he had a knee injury in 2015 that had him miss much of the season.
At the beginning of this season, he looked like he was back then an ankle injury slowed him down. If the Raiders keep Murray, they'll have a backup bell-cow RB that can carry the ball 25 times. But if he's truly back in 2017 and he should be, the Raiders have a superstar RB period.
Donald Penn is still a great left tackle but he's 33 now so he doesn't have forever more to play. Older players get injured more often and don't heal as fast when they do. So someone needs to be there to back him up or replace when he rides off into the Sunset time.
Kelechi Osemele is too good of a guard for the Raiders to have to use as the left tackle. Chad Wheeler is the perfect pick for the Raiders to make for that here in the third round. At 6'7″, 310 pounds he has the length and athleticism to be a top-tier left tackle in the NFL.
He just needs time to put on some more bulk and get stronger to handle the rigors of the NFL. Wheeler has been injured a lot recently so it would benefit him to let his body heal. And of course, he would get a chance to learn from one of the best in the NFL right now.
So when Penn finally hangs them up, the Raiders there won't be a big hole the Raiders struggle to fill. There will still be ample pass protection for the franchise QB and open holes for Raiders RBs. This would be the ideal situation for the Raiders, Carr, Penn and Wheeler.
4
Obi
Melifonwu
SS,

Connecticut
It would have been nice if Taylor Mays worked out with the Raiders, he covered TEs well. SS Karl Joseph is a good player already but he needs to play FS because he's to short to cover TEs. And Reggie Nelson's time is up as he lost too much for the money he's making.
And as I mentioned before, Carr and Mack are up for their new contracts in the near future. So a big SS that can take Joseph's place while he moves to FS is in order for the Raiders here. SS Obi Melifonwu is probably the best upside pick in the entire 2017 NFL Draft.
At 6'3″, 220 pounds, he'll probably run a 4.4 40 and turn in a 40-inch vertical at the combine. He's a fluid athlete that can change directions and he uses it to cover the slot pretty well. And at his height, weight and speed, he's just the guy you want to cover today's athletic TEs.
He doesn't jump out at you on tape the way Karl Joseph and Khalil Mack did when they came up. But can see from the way he hits and the way he moves, the talent is there. The Raiders would then have their guy to cover the Rob Gronkowski's of the NFL and play in the box.
5
Jehu
Chesson
WR,

Michigan
The Oakland Raiders have a solid group of receivers but more depth would be a good thing. Last year, Amari Cooper played with an injured foot as a decoy because no one else scared defenses. Crabtree is good but he doesn't have the speed to scare opposing defenses.
It is Cooper's big-play speed and ability that opens things up for Crabtree and Seth Roberts. So when Cooper was gimpy last year, he didn't scare teams so there wasn't much open for the other two. But another deep threat would keep things open if there's an injury to Cooper.
As a matter of fact another deep threat could open up some things for Cooper underneath. Chesson is that guy as he is No. 3 on ESPN's Top-25 fastest college football players that came out this spring. He's also 6'3″ with hops, making him more of a deep threat and red-zone threat.
The Andre Holmes is the tallest receiver with the Raiders right now at 6'4″ but doesn't do much. I actually believe Chesson is a 1st-round talent but he doesn't have the production because of his offense. This pick would deepen the Raiders' receiver corps and give it another deep threat they could use.
6
K.D.
Cannon
WR/KR,

Baylor
When you have a QB like Carr, you can't have too much speed available to him on offense. The Raiders are supposed to be the masters of that but the Pittsburgh Steelers are doing it now. They even have Darius Heyward-Bey, who was a bust with the Raiders, over there now.
But no problem, the Raiders can find more speed in the seventh round after finding it in the fifth. They've stalked up on size, another Raiders trademark, over the last four years. Now, they Raiders can draft speed to complete the old Raiders identity from back in the day.
Cannon is another guy that could run coverage off to scare defenses, opening things up underneath. It would also benefit the Raiders to have a KR that can take one to the house for a TD. So here in Round 6, the Raiders draft K.D. Cannon, who is another one of college football's fastest players.
Jalen Richard is doing a good job in the return game but he's not a threat to take one all the way. And Taiwan Jones, a speedster himself, hasn't worked out because he's always broke off (injured). Richard is also a good slot WR so he would give the Raiders depth in three areas.
7
Connor
Harris
ILB,

Lindenwood
We now know that ILB Ben Heeney is not the guy so the Raiders picked up Perry Riley. That was a great pickup and Bruce Irvin may be headed inside with him when Aldon Smith gets going. The Raiders need more depth inside now because we don't want to see Heeney in there.
So here in the seventh round, they give a small-school guy a chance to prove his worth. DC Ken Norton Jr. likes athletic LBs and Connor Harris of Lindenwood fits the mold here. At 5'11", 243 pounds he dropped jaws at Lindenwood's junior pro day with his speed and athleticism.
He was faster than DeDe Dorsey, who ran a 4.44 in his 40-yard dash before he played in the NFL. With that athleticism, Harris has versatility, averaging 8.4 yards on 37 carries on offense. But on defense, he is the 2015 MIAA Co-Defensive Player of the Year and a first-team All-American.
Harris went into this season just 22 tackles away from the NCAA Division II career tackles record. He's 55 stops away from breaking the career tackles record for every level of the NCAA. From that, you can see he's worth a look to see if he can at least provide depth at LB.
More from With the First Pick
This article originally appeared on