2017 NFL Predictions: Teams That Will Have New Starting QBs
Erik Lambert/FanSided via NFL Mocks

Fansided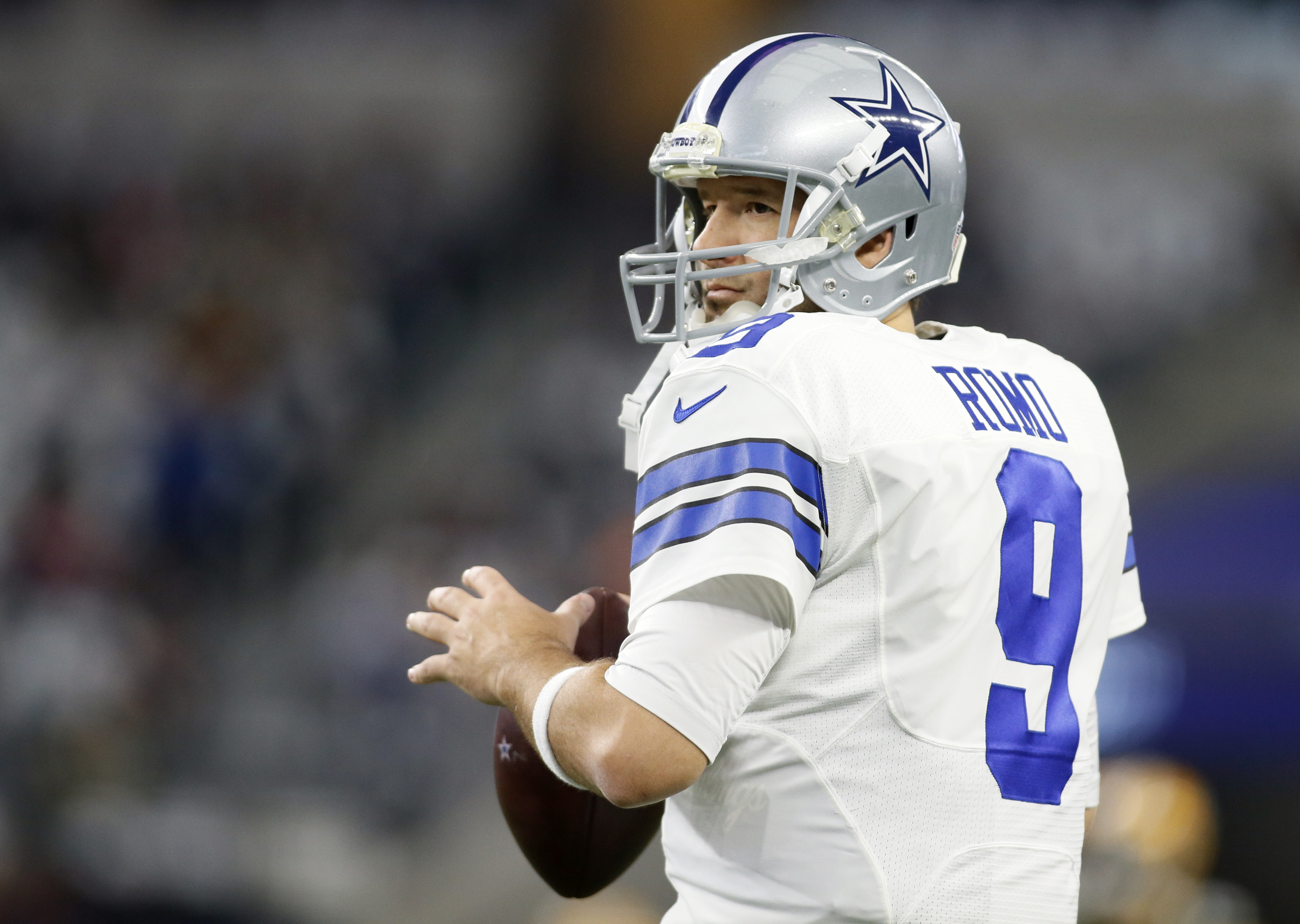 This round of 2017 NFL predictions will be focused on the mass turnover expected at the quarterback position this coming fall.
It's inevitable that at least a handful of starting jobs will shift from one QB to another but this year feels like the chance could be a bit larger than normal. Several teams have clear needs at the position while others may be in line to cut their current starters. It's the ideal conditions for a lot of change. Which begs the two-part question.
Which teams will have new quarterbacks and who will those quarterbacks be? Here is a rundown of the likeliest matches.
Denver Broncos: Tony Romo
No franchise has proven better at rescuing a quarterback career just in time to win an elusive championship than the Broncos. They did it for John Elway back in 1998 and then again in 2015 for Peyton Manning. Denver just seems to thrive on that. With Trevor Siemian and Paxton Lynch failing to get them back to the playoffs though, some feel the organization may look to go after a more proven option who can give this team at least one more shot at another title.
The popular name of late is Tony Romo. A longtime Pro Bowler for the Dallas Cowboys, his starting job was ripped from his grasp by the arrival of Dak Prescott. Jerry Jones still holds out hope that something will work out for him to stay in Dallas, but it doesn't look like Prescott is going anywhere. That means Romo, if he wishes to avoid ending his career on the bench, will look to leave town. Denver, being a contender, makes the most sense.
Cleveland Browns: Jimmy Garoppolo
Quarterback trades are a rarity in the NFL, but they do happen from time to time. Most often it involves one team trading for a talented backup from another team. That could be the case for Jimmy Garoppolo this year. The former Patriots 2nd round pick flashed his potential at the start of the season with two strong performances in Weeks 1 and 2. He's learned behind Tom Brady and under Bill Belichick. All signs point to him being ready for a starting job of his own.
If there is any team well-equipped to make a run at Garoppolo, it's the Cleveland Browns. They have the need at the position, but more importantly two 1st round picks. They could easily flip the lesser of them (#12) to the Patriots along with another late rounder to get their quarterback. This would then allow them to use the #1 overall selection on whichever player they deem best in the class. It's as good a plan as a team can have.
San Francisco 49ers: Jay Cutler
Understand something. The San Francisco 49ers are going to have a hard time attracting top quarterbacks to their starting job. It's not hard to see their roster needs work. The offensive line and wide receivers are thin in terms of quality players. Only the running game seems in good shape with Carlos Hyde. Kyle Shanahan, presuming he accepts the head coaching job, may have to get creative if he wishes to avoid starting a rookie quarterback immediately.
Jay Cutler would make for a fascinating connection. For those who don't remember, the veteran quarterback got his start in the NFL with the Denver Broncos. The coach of that team was Mike Shanahan, Kyle's father. Both have similar offensive philosophies. Last time Cutler played in a Shanahan offense, he went to the Pro Bowl. This could potentially be a crafty short-term solution to the 49ers problem. Especially if they can add a few weapons and blocking help.
New York Jets: Mike Glennon
Things are not going well for the New York Jets, and their quarterback situation isn't making it better. Ryan Fitzpatrick appears done. Bryce Petty failed in his audition for the starting job. Christian Hackenberg was their 2nd round pick in 2016 but everybody says he's nowhere near ready to play. In fact he might never be ready. That means the Jets have nobody on the roster who could step in and give them a reasonable chance to be effective on Sundays.
Mike Glennon isn't the first name on the radar of many, but he's certainly an intriguing one. A former 3rd round pick of Tampa Bay, he started 18 games for the Buccaneers. He had over 4,000 yards with 30 touchdowns and 15 interceptions. He's still just 27-years old and features a tall 6'7″ frame coupled with a live arm. He would give the Jets some experience under center, somebody who will take reasonable care of the football. At least until Hackenberg is ready or they find another.
Chicago Bears: Colin Kaepernick
John Fox and Ryan Pace are in a bind. They know a change is need at the quarterback position, but they also know their jobs are on the line. If they can produce at least an 8-8 record in 2017 to show improvement, there is a reasonable chance one or both of them could be fired. Their best hope in this case is not going to be a rookie. While drafting a QB remains a priority, the odds are strong they'll seek out a veteran who can be the bridge option for a year or two.
The idea of Colin Kaepernick isn't going to excite many people in Chicago. Not after his falling out in San Francisco and national anthem controversy. Even so he proved in 2016 that he can still make some plays. He threw 16 touchdowns to just four interceptions and also ran for 468 yards. When he's had a productive running game and solid blocking up front, he's done a lot of damage in the past. Chicago could give him that. It may not be a dream scenario, but it could work.
Buffalo Bills: Deshone Kizer
The odds say that at least one team will probably end up starting a rookie quarterback in 2017. This time it might end up being the Buffalo Bills. If they follow through on cutting Tyrod Taylor, then that just leaves them E.J. Manuel and Cardale Jones as options. Manuel is a 1st round bust and Jones couldn't sniff the the starting job despite his impressive physical skill. Odds are new head coach Sean McDermott will want a fresh start.
If there is any quarterback in the 2017 class that is close to being a Day 1 starter, it Deshone Kizer out of Notre Dame. He understands pro schemes, can audible at the line of scrimmage and features the kind of skill set that can help make up for his inevitable mistakes with big plays. He's tough, talented and smart. Give him a reliable ground game with LeSean McCoy and an improved defense, things should go fine for them.
Houston Texans: Philip Rivers
Here's a shocker. It's no secret that the rumor is rampant that Philip Rivers isn't happy with the Chargers picking up and moving from San Diego to Los Angeles. Sides have battled back and forth. Some think he's trying to force a trade elsewhere. Others say he's fine with the move. What's clear is at age 35 Rivers is running out of prime years. Odds are the Chargers know this and have one of two choices: deal him while his value is still high or take one last run at competing in the AFC with him.
The Houston Texans are definitely in the market for help at quarterback. Brock Osweiler has fallen flat, fast becoming one of the worst QB investments in recent memory. Head coach Bill O'Brien knows his team might have a shot at the Super Bowl if they can get that position settled. Trading for a five-time Pro Bowl veteran like Rivers would be a risky but the potential reward is huge. Suddenly the offense becomes far more of a factor, complimenting their already dominant defense.
San Diego Chargers: Tyrod Taylor
Of course the question becomes if the Chargers part ways with Rivers, what will they do to fill the void? No doubt the draft will enter into the discussion, but the franchise will want to make a try at competing right away when they get to Los Angeles. New head coach Anthony Lynn may have the answer in his back pocket. Don't forget that he was offensive coordinator for most of 2016 in Buffalo. He is said to have a strong connection with Tyrod Taylor.
So a reunion in L.A. makes plenty of sense. Taylor takes over on offense, which is a good thing considering their offensive line has a number of question marks regarding pass protection. He understands how to make due with underwhelming pass targets. Above all he'll be a huge help to Melvin Gordon in the run game thanks to his outstanding mobility. Defenses won't be able to focus on just one runner anymore. If the Chargers defense plays up to its potential, that team will win games.
This article originally appeared on