2017 NFL Mock Draft: Where did all the Quarterbacks Go?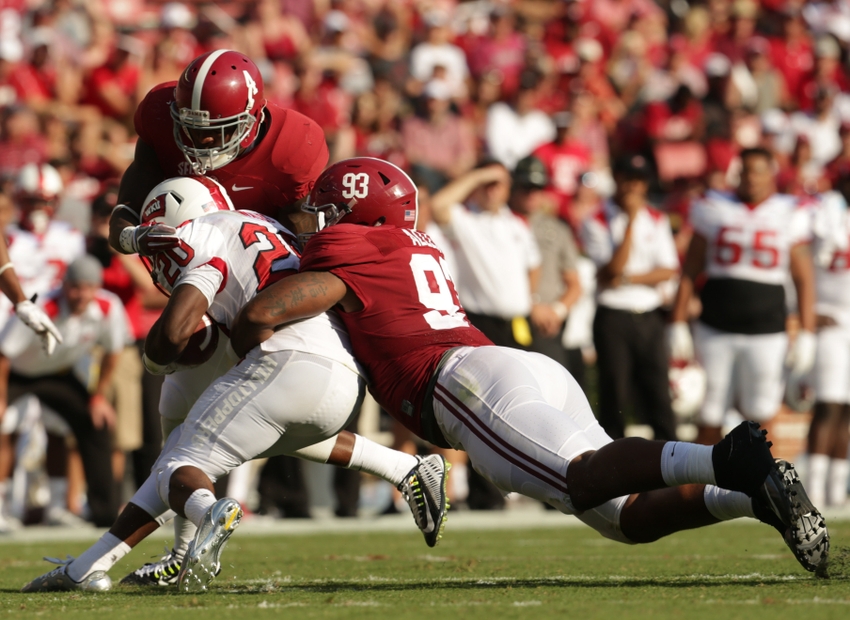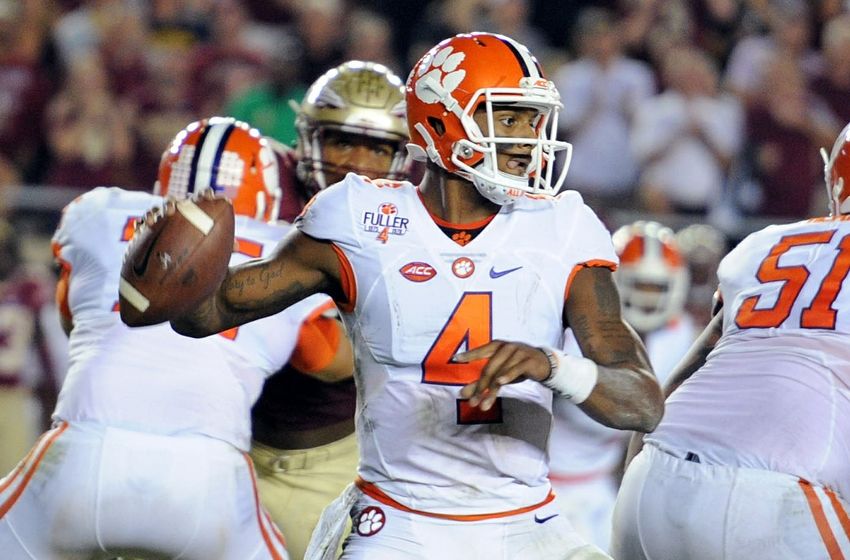 This updated version of my 2017 NFL Mock Draft shows some of the issues facing teams in the early part of the 1st round.
The look of most 2017 NFL Mock Draft has changed due to the lack of development from the quarterback class. None of the quarterback prospects who entered the season as top-pick contenders has done enough to earn the spot.
This is a major problem because as many as 4 teams within the top-10 picks are in need of help at the position. The San Francisco 49ers, Cleveland Browns and Chicago Bears all need quarterback help and have a legitimate shot at landing the No. 1 pick.
All of those teams will likely need to go in a different direction and hope to strike gold in the later rounds. Clemson's Deshaun Watson appears to be the best bet to be the first quarterback off the board. However, the situation is extremely fluid and changes each week.
Defensive prospects like Texas A&M's Myles Garrett, Alabama's Jonathan Allen, Michigan's Jabrill Peppers and Alabama's Tim Williams are some of the names you'll hear mentioned as top-3 picks.
The draft order for the 2017 NFL Mock draft was developed using power rankings and a playoff scenario. This article breakdowns down the process a little better.
1. San Francisco 49ers- Myles Garrett, Edge, Texas A&M
The 49ers have plenty of holes on the roster and really need to just target the best player available. Unfortunately, that means they won't be able to address their need at the quarterback position. With Garrett, they still get lucky because he has a chance to be a dominant pass rusher.
2. Cleveland Browns- Jonathan Allen, DL, Alabama
Cleveland is another team in need of quarterback help but are better served going in a different direction. Jonathan Allen is a physical presence along the defensive line who can shut down the run game. However, it's his potential as a pass rusher that makes him worthy of a top-5 pick.
3. Jacksonville Jaguars- Jabrill Peppers, DB, Michigan
The Jaguars are a mess right now, but still have a lot of talent on the roster. They'll have another shot in the 2017 NFL Draft to grab an elite player. Jabrill Peppers would fit as a safety/linebacker  hybrid in Jacksonville. The combination of Peppers and Jalen Ramsey would give the Jaguars two elite defensive backs.
4. Chicago Bears- Mike Williams, WR, Clemson
Chicago would rather one of the top-3 defensive prospects but they are already off the board. Instead, they can find a replacement for Alshon Jeffery and some insurance if Kevin White fails to develop. Mike Williams is a long and fluid receiver who knows how to make plays down the field.
5. Tennessee Titans- Tim Williams, Edge, Alabama
Tennessee has back to back picks in this mock draft thanks to last year's trade with the Los Angeles Rams. Here they grab an explosive edge rusher in Alabama's Tim Williams. His quickness off the edge makes him a nightmare for opposing quarterbacks.
6. Tennessee Titans (via LA)- Reuben Foster, LB, Alabama
The second pick gives the Titans a defensive leader and playmaker in Reuben Foster. This is a 4-down linebacker who makes plays from sideline to sideline. He's a dynamic defender because of his ability to hold up in pass coverage, take on blocks and protect the edge.
More from With the First Pick
7. Tampa Bay Buccaneers- Malik McDowell, DL, Michigan State
Tampa Bay has to improve the overall talent on the defensive side of the ball. A physical presence like Malik McDowell would help take some pressure off of Gerald McCoy and beef up the interior of the line. However, their ideal pick might be Michigan's Jabrill Peppers.
8. New York Jets- Christian McCaffrey, RB, Stanford
The Jets will head into next season with a new quarterback under center. It would be a good idea to surround that quarterback with a wide array of playmakers. Stanford's Christian McCaffrey would be a great fit in Chan Gailey's offensive attack.
9. Indianapolis Colts- Leonard Fournette, RB, LSU
Indianapolis has spent a lot of recourses of the past few years to beef up the offensive line. Those decisions have been met with mixed results, but some of the players need time to develop. They can still help protect Andrew Luck by providing him with a running game. Leonard Fournette would provide Luck with someone he can lean on to move the chains.
10. San Diego Chargers- Jamal Adams, S, LSU
The Chargers defense is slowly headed in the right direction. They should continue to build on that side of the ball and make life easier on Philip Rivers. Jamal Adams is a versatile and playmaking safety who knows how to attack the football.
Get the FanSided App
11. Carolina Panthers- Jalen Tabor, CB, Florida
Carolina gambled this past offseason by letting Josh Norman leave via free agency and it didn't pay off. Their secondary has been torched all year long and more talent needs to be added. Jalen Tabor is an instinctive defender who possesses elite ball skills.
12. New Orleans Saints- Sidney Jones, CB, Washington
It doesn't appear as if Drew Brees is slowing down which means the Saints have a few more years to make a Super Bowl run. The key will be how quickly they can fix the defense. That starts in the secondary where Sidney Jones would represent an immediate upgrade.
13. Cincinnati Bengals- Jake Butt, TE, Michigan
Tyler Eifert is an elite talent who has proven his playmaking ability. However, his inability to stay healthy makes him unreliable. Michigan's Jake Butt would is a similar prospect in that he can be a difference maker in the passing game. He'd represent a replacement for Eifert, but the two could also be on the field at the same time.
14. Pittsburgh Steelers- Carl Lawson, Edge, Auburn
The Steelers are struggling to get production out of early draft picks Jarvis Jones and Bud Dupree (injury). This has hurt the team's ability to generate a strong pass rush off the edge. Auburn's Carl Lawson has the speed and awareness to fill that need.
15. Miami Dolphins- Marlon Humphrey, CB, Alabama
Miami thought they'd be able to get some solid production out of Byron Maxwell, but he has failed to live up to his big contract. His struggles have created a major hole at the cornerback position. Alabama's Marlon Humphrey is a raw but highly talented player. He'd represent a high-upside addition to the roster.
16. Green Bay Packers- JuJu Smith-Schuster, WR, USC
There's something wrong with the Green Bay Packers offense which has sent the team into a tailspin. Some of the issues can be pushed on the receiving corps that have struggled with drops and creating space. JuJu Smith-Schuster would add someone with good size and playmaking to the unit.
17. Arizona Cardinals- Cam Robinson, OT, Alabama
Arizona either needs to move on from Carson Palmer or improve the offensive line. This offense has really struggled to find a rhythm and it's due to Palmer's mistakes and lack of protection. Cam Robinson is someone capable of playing both tackle spots and potentially guard.
18. Cleveland Browns (via Phi)- DeShaun Watson, QB, Clemson
Deshaun Watson's stock has taken a big hit this year. He just hasn't been overly accurate, but more importantly hasn't taken a step forward in his development. However, he still has elite physical tools and would represent a perfect piece of clay for Hue Jackson to mold.
More from With the First Pick
19. Buffalo Bills- Mike McGlinchey, OT, Notre Dame
With or without Rex Ryan, the Buffalo Bills are a team built to run the football. They play in some harsh weather conditions which at times make it difficult to air it out. It also helps that they have LeSean McCoy in the backfield. Mike McGlinchey would represent a major upgrade at the right tackle position.
20. Detroit Lions- Dawuane Smoot, DE, Illinois
Pairing Dawuane Smoot with Ezekiel Ansah would give the Detroit Lions devastating pass rush. Improving the pass rush would help protect the secondary and other parts of the defense. Both Smoot and Ansah are also strong run defenders.
21. Baltimore Ravens- Quenton Nelson, G, Notre Dame
The Baltimore Ravens want and need to be able to run the football. It's how they get the most out of Joe Flacco's success in play action. Notre Dame's Quenton Nelson is a road-grader who dominates at the point of attack. He'd give the Ravens someone capable of generating a push off the line.
22. Washington Redskins- Zach Cunningham, LB, Vanderbilt
Zach Cunningham is an underrated prospect who is just now starting to turn heads. He's an elite athlete with excellent length. Cunningham plays with a tenacity which helps him make plays from sideline to sideline. He'd be a great addition to the middle of the Washington Redskins defense.
Want your voice heard? Join the With the First Pick team!
23. Houston Texans- Malik Hooker, S, Ohio State
Houston's secondary is banged up at the moment, but even when fully healthy they have had issues at safety. Ohio State's Malik Hooker is a raw but highly athletic defender. His ball skills make him a major turnover threat.
24. New York Giants- Derek Barnett, Edge, Tennessee
The Giants could target a running back with this pick, but they may need to find a replacement for Jason Pierre-Paul. Derek Barnett has the skill set that Steve Spagnuolo looks for in an edge rusher. He'd be a great fit playing opposite Olivier Vernon.
25. Philadelphia Eagles (via Min)- Pat Elflein, C/G, Ohio State
The Philadelphia Eagles need to fix their offensive line if they want Carson Wentz to live up to expectations. They could use help at all three offensive line spots which only increases the value of Pat Elflein. He has experience playing both guard and center at Ohio State.
26. Seattle Seahawks- Ethan Pocic, C, LSU
Over the past two years, the Seattle Seahawks has had its share of issues thanks to problems along the offensive line. It's time for Seattle to fully commit to fixing the unit so they can continue to push for Super Bowl titles.
27. Denver Broncos- Jarrad Davis, LB, Florida
Denver experienced firsthand that an elite defense can be the main part of a championship team. They'll need to keep this strategy going over the next few years due to the lack of experience at the quarterback position. Jarrad Davis is a linebacker prospect who could help them overcome the loss of Danny Trevathan.
28. Oakland Raiders- Gareon Conley, CB, Ohio State
The Oakland Raiders are right in the thick of the playoff hunt despite some major defensive problems. One area they could address is the secondary where Sean Smith has struggled to live up to expectations. Ohio State's Gareon Conley is an underclassman who has shown a ton of ability.
29. Kansas City Chiefs- Corey Davis, WR, Western Michigan
The Chiefs do things differently than a lot of teams in the NFL in that they feature a highly conservative offense. However, they know when to pick their spots and attack the deep part of the field. Their attack would be more effective if they added someone like Corey Davis to draw coverage away from Jeremy Maclin.
30. Atlanta Falcons- Tre'Davious White, CB, LSU
Atlanta is one of the bigger surprises of the season and are in prime position to make a playoff run. However, they have some issues in the secondary that could derail their Super Bowl hopes. Tre'Davious White would be someone they could target during the 2017 NFL Draft.
More from With the First Pick
31. Dallas Cowboys- Jalen Reeves-Maybin, LB, Tennessee
The Cowboys offense has enough firepower in place to lead this team to a Super Bowl. However, the defense still lacks top-end talent at all levels. They could use another playmaking linebacker like Jalen Reeves-Maybin to work alongside Sean Lee.
32. New England Patriots- DeMarcus Walker, Edge, Florida State
DeMarcus Walker is an elite athlete who has flashed big-time potential as a pass rusher. The New England Patriots need help in the pass-rushing department after trading several veterans. Walker is a work in progress, but New England is the perfect place for him to land.
This article originally appeared on