2017 NFL Mock Draft: Updated Top 10 Outlook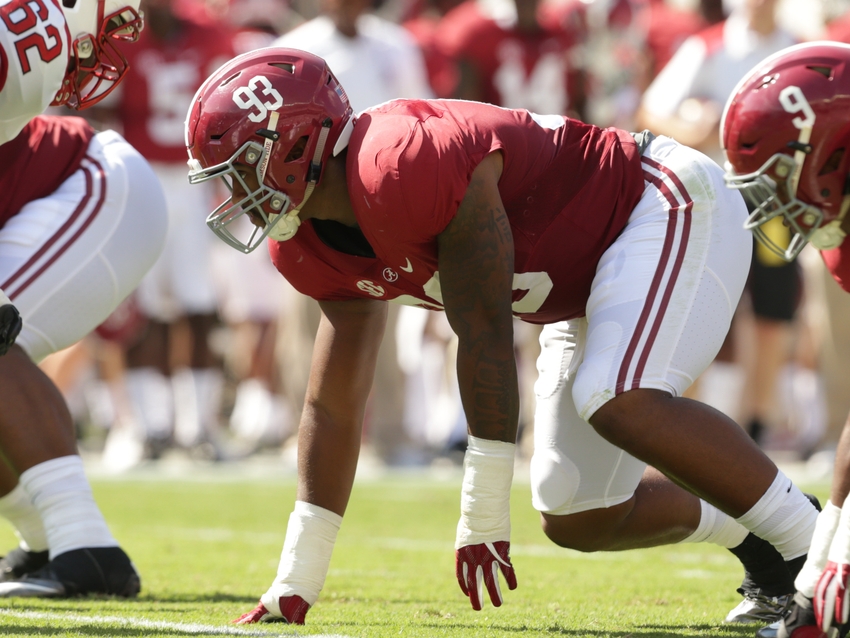 Moving forward there will be a weekly update of 2017 NFL mock draft picks dictating a new top 10 and where things stand looking forward.
Larger mock drafts will of course come around but until the picture becomes clearer by midseason, projecting the top 10 alone can be quite interesting given how many changes could still happen. So heading into week three, here is how things stand.
1. Cleveland Browns
1
DeShone Kizer
QB,

Notre Dame
It's almost unanimous regarding the #1 overall pick at this point. Everybody agrees the Cleveland Browns are the worst team in the NFL, so they should be holding that slot. They also agree the quarterback situation on that team is laughable. Robert Griffin III was a nice experiment but just endured another injury and Josh McCown is far too old. They need somebody to build around. Somebody who can survive a few difficult years ahead until the roster is able to recover.
DeShone Kizer is the perfect choice. Not only does he exhibit the arm strength, accuracy and mental makeup of a pro quarterback, he's also highly athletic. Kizer can gash defenses with his legs at any given time. He'll remind many of a Colin Kaepernick type. Just without the off-the-field baggage. This is the kind of rare talent that franchise quarterbacks are made of. Head coach Hue Jackson will just have to help him learn how to play the position like a pro.
2. Chicago Bears
2
Myles Garrett
OLB,

Texas A&M
It wouldn't be surprising for a lot of Chicago Bears fans to be pushing for a quarterback with this pick. The team has not select a player at that position in the 1st round since 2003 (Rex Grossman) and haven't selected one in the top five since 1982 (Jim McMahon). With the Jay Cutler era all but over, the pressure will be very real for them to find the next quarterback this team can build around. However, GM Ryan Pace has stuck to his credo that it's his responsibility to get the best player available.
If that remains the case then Myles Garrett would have to be the pick. He's arguably going to be the best overall prospect in the draft. A blue chip pass rusher with the size and strength to play defensive end but also the speed and explosion for outside linebacker. There are many different ways he could beat a blocker to the quarterback. After losing Pernell McPhee and Lamarr Houston to troubling knee injuries, putting Garrett across from Leonard Floyd could get them a rush tandem to build their future on defense around.
3. Jacksonville Jaguars
3
Jonathan Allen
DE,

Alabama
There is something still wrong with the Jacksonville Jaguars. Despite ongoing assurances that they've made fine additions to their roster on offense and defense, they still can't win games. The defense is especially confusing. It's the area of expertise for head coach Gus Bradley but remains the teams' Achilles heel. They allowed 55 points in just their first two games. A major culprit for their struggles was a lack of pass rush. Dante Fowler returning and the arrival of Malik Jackson haven't had the desired impact.
Rather than get down about it though, the Jaguars are obligated to keep trying to add help. A good way to do that is adding proven rushers from top conferences. Jonathan Allen is about as close to a sure thing as a team can hope for. He may not be flashy like some defensive lineman, but he does his job. Allen has the body type to where he can play both inside and outside, giving blockers fits with his mix of quickness and strength. His finish also stands out, which is why his numbers are always good.
4. New Orleans Saints
4
Brad Kaaya
QB,

Miami (Fl.)
This pick will shock a lot of people, not just because of the player taken but also the team taking him. The New Orleans Saints finally see the end of the road with Drew Brees. He's fast approaching his 40th birthday. His physical capabilities are declining, albeit slowly. They can't expect to lean on him much longer. Already the team has entertained the idea of finding an heir apparent to groom behind him. It's only now when they have the best opportunity that they take advantage.
The shocking twist is that Brad Kaaya is the pick. Most draft boards have him ranked behind Clemson star Deshaun Watson. So why him? For starters his upside might be higher. He's taller than Watson with a stronger arm. Maybe not quite the same athlete but mobile enough to extend plays. Then there is the fact he's got an understanding of pro-style offenses. He gets how to read defenses and play from inside the pocket. That will appeal to a coach like Sean Payton.
5. Indianapolis Colts
5
Cam Robinson
OT,

Alabama
At last. The Indianapolis Colts are finally coming to the realization that their hopes and dreams for an extended Super Bowl window with Andrew Luck cannot hope to come true until they can secure his safety. The offensive line play has been putrid for them the past few years and he's taken a beating because of it. Drafting Ryan Kelly in 2015 was a step in the right direction but their blocking on the edges is a big reason they continue to lose tight games. Von Miller proved that.
So they take a page out of the Cowboys' textbook and just go right back to the offensive line again. This time they grab the best tackle on the board. It's a light class so it's better if they do it early. Cam Robinson is down on some boards lately because of his off-the-field issues prior to the season. Even so he's a big, burly young man with plenty of power in the run game. He has good feet, moves well and enough length. Coming from Alabama one won't have to worry about his coaching.
6. Buffalo Bills
6
Tim Williams
OLB,

Alabama
If there is one area that has killed the Buffalo Bills defense to start the season, it's their inconsistent pass rush. Roster losses play a big part in that. Marcel Dareus is out with suspension. Mario Williams left in free agency and current 1st round pick Shaq Lawson arrived nursing a shoulder injury. He is still an unknown quantity. Nobody can begrudge the Bills trying again to fix this problem. Until they do the Rex Ryan defense, assuming he's still head coach, can't function.
If there is any player in the draft that looks like a classic 3-4 outside linebacker it's Tim Williams. He has become the most electric of the pass rushers Alabama has. He's sleek, athletic and explosion. There is a certain animalistic quality to the way he rushes. Like a hunter seeking pray. Such qualities would be most welcome on the edge of that Bills front, especially if Lawson can return healthy and lives up to his billing.
7. Washington Redskins
7
Jalen Tabor
CB,

Florida
If there is one undeniable reality about the Washington Redskins defense, it's that opponents have figured out how to beat them. It's overly simplistic. Just avoid whichever side of the field Josh Norman is on and go after Bashaud Breeland. The young corner has been abused frequently in the first two weeks of the season. It's becoming apparent that he might not be suited for the duties of locking down any side of the field, forcing the team to adopt a method of moving Norman around.
Perhaps the best thing for Washington to do then is find a cornerback who can fulfill that job. Somebody who can survive on an island in single coverage, permitting the Redskins to get creative with their pass rush. Jalen Tabor is one such type of player. Another of those quick, athletic corners out of Florida like Joe Haden and Vernon Hargreaves. He has the fluid hips and recovery speed to stick with receivers down the field and solid ball skills. Teams have learned not to test him too often.
8. Miami Dolphins
8
Leonard Fournette
RB,

LSU
By now Miami Dolphins head coach Adam Gase is saying, "My kingdom for a running back!" Perhaps not as grandiose as that but the message is clear enough. The team has an almost non-existent ground attack, forcing Ryan Tannehill to shoulder more of the burden. Arian Foster is hurt again. Jay Ajayi isn't doing any better. Until Gase is able to somehow balance the offense, opponents will find it easy to slow them down due to predictability. Something must be done, even if it's in the 1st round.
If it turns out to be Leonard Fournette they end up getting, a celebration should be held in South Beach. He is the answer to their prayer. A legitimate workhorse running back with the power, toughness, vision, quick feet and speed to carry an offense on his back. He's done it at LSU ever since he became the starter. Don't give him too much room or he's liable to leave defensive backs trampled in his wake. Put him on the field with Jarvis Landry and Kenny Still on the outside? The possibilities are endless.
9. Tennessee Titans (via LA)
9
Mike Williams
WR,

Clemson
Trading Dorial Green-Beckham was an odd decision for the Tennessee Titans. While his personality offered some red flags, his potential was off the charts. He offered the kind of ability that made a go-to receiver. Now he's making plays in Philadelphia and the Titans passing attack is struggling to find playmakers. At present tight end Delanie Walker leads the team in receiving yards. That alone pretty much says how weak the team is at wide receiver and how urgent they must be to fix it.
They could a lot worse than Mike Williams. Don't be fooled by his long absence due to injury last year. This 6'3″ receiver has all the trappings of a playmaker. He has enough speed to pressure a defense deep but also the ability to track and high point the football in the air. That makes him a nasty red zone target as well. Pair him with precise slot man Tajae Sharpe and the Titans could really start to build some momentum in complimenting their formidable ground attack.
10. San Francisco 49ers
10
Deshaun Watson
QB,

Clemson
This would undoubtedly be one of the shockers of the draft. From the perspective of the San Francisco 49ers, they still have plenty of questions at quarterback. Blaine Gabbert hasn't done much to solidify himself as a long-term solution. Colin Kaepernick looks nothing like the player he was three years ago and has become more of distraction than a help to his teams. Odds are he's on borrowed time. So Chip Kelly could be on the lookout for a fresh start at the position.
To think Deshaun Watson would actually still be on the board? It's not entirely crazy. Remember teams focus heavily on all-around game when considering a quarterback that high. Watson is a supreme athlete who throws with great accuracy. At the same time he's a little undersized (6'2″), doesn't exhibit the strongest arm and runs a classic college offense. Those are obstacles teams take seriously that might just be enough to drop him down the board. At the same time he could be a perfect fit for Kelly's offensive style.
This article originally appeared on