2017 NFL mock draft: Quarterback or bust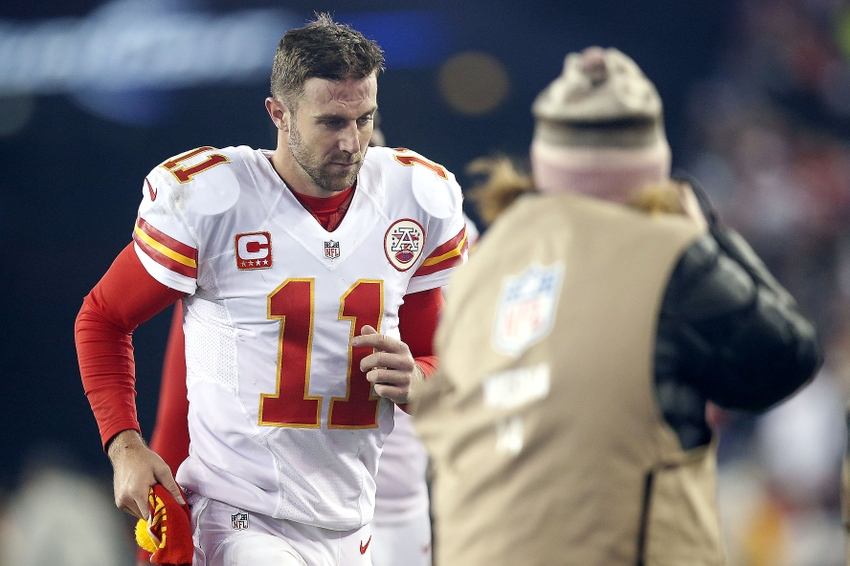 The 2017 NFL Draft is going to produce some quarterbacks, and the Kansas City Chiefs should be going all-out to land one.
Regardless of what happens for the rest of the season, this next statement has never been more true in years. The greatest need, greatest priority the Chiefs have this offseason, and namely in the upcoming 2017 NFL Draft is the position of quarterback. No position appears on the radar as a close second. What this organization does addressing the position this offseason will have ramifications for years to come.
Thankfully, the Chiefs are in a position with few if any true immediate needs. As was mentioned last week, the two big free agents, safety Eric Berry and defensive tackle Dontari Poe, play positions the Chiefs have at least added depth at in the previous draft and have depth across the board. Truly, quarterback is perhaps the only position on the team that's future is so unknown and so vital.
Why and how are we here? After this season, the organization will have to make a decision to either keep Alex Smith or to keep Nick Foles. It's rather difficult to imagine the Chiefs keeping Foles, releasing him to create cap room for 2017. Depth chart would read the names of Alex Smith and Tyler Bray. Obviously, that isn't a good situation.
Next, while Alex Smith will still have two years remaining on his contract after this season with a total of $37.5 million to be paid. However, and this is where things get tricky, is that Smith only has $7.2 million in total guarantees left. To stop or dissuade the Chiefs from addressing the quarterback position and thus placing Smith's job in jeopardy, Smith's representatives will seek a new contract.
With the future of the most important single position in sports in question, Smith's agents can 'sell' the organization that  new deal will secure the position for years to come, eliminating the need to use valuable draft resources at the position. In addition, with the Chiefs facing a numbers crunch with the 2017 salary cap, a new contract could greatly reduce Smith's cap number for 2017 (currently is $16.9 million) and help the Chiefs possibly keep their core together to make a run.
What would a new Smith contract look like? We'll take a quick look.
Based on the current market values provided by Spotrac, if Smith were available on the market, and thus a 'in the ballpark' valuation would look something like this.  A likely contract value is $20.34M million a season, with $10.47M per season of the contract in guaranteed money. The signing bonus would likely compute to just under $5 million per season of the contract. Or another way
4 years / 81.36 million /  41.9 million guaranteed /  19.7 million signing bonus
5 years / 101.7 million /  52.35 million guaranteed / 24.75 million signing bonus
That's a lot, nay, a ton of money. However, if the Chiefs decide/are forced into doing a new contract with Alex Smith, this is ballpark what he statistically values out at. Obviously, there are different ways to value a contract for Smith. When we discuss the need for the quarterback position to be addressed, this is a big reason why.
Understand, I'm not saying a new contract would look like this. By using and showing these numbers, we can all get an understanding of what Smith's value is or could be. Obviously, depending on what the Chiefs and Smith are looking for. The most important number is the guaranteed money, and roughly what that equates to per season (just over $10 million). That is likely what Smith and his camp will be most interested in, and what would be the most interesting and telling.
The reason I believe that the Chiefs must find a quarterback in this draft, and thus prepare them for the starting job in 2018, is simply this. Dorsey and company must avoid the same pitfalls that teams with veteran quarterbacks face.
An old axiom of truth exists in quarterbacks and in life. When you fail to plan (in this case, failing to plan for the future) you plan to fail. To many times, Chiefs fans have been force-fed guys like Tyler Palko.
If the Chiefs go into the 2017 offseason with addressing the future of the quarterback position, especially in the draft, they would be able to allow a rookie to be the understudy to Smith, learn the playbook,  how to watch film, read defenses, what it takes to be a  quarterback at the professional level. After the 2017 season, KC would be able to move on from/ trade Alex Smith and free up a large amount of cap room. Should the Chiefs find a quarterback in round 1 in the late 20s/early 30s where they appear likely to land, a quarterback would likely command a number in year two ballpark at $2.3 million.
Also, and this is important, but is not represented below, there is great value in drafting a quarterback, maybe even over drafting a quarterback at the end of the first round. All first round draft picks come with a 5th year option on their contracts that other rounds simply don't get. That means a team would be able to enjoy the reduced salary cap number for an entire extra season before they have to either work out an extension or decide if the quarterback is the guy to go forward with.
I acknowledge, especially in the first round, the Chiefs should not make a selection in the late 20's. Either make a move up to get a quarterback, or move back and add assets, preferably in 2018's draft as a deep roster doesn't really need additional late round selections. With that in mind, enjoy.
1) Corey Davis, WR, Western Michigan (6-foot-3/ 213 pounds)
Big physical wide receiver, is described by Bleacher Report's Matt Miller as the best route runner in the draft. Has good acceleration and the ability run through arm tackles. Good with the ball after the catch, and has experience running a fairly extensive route tree. Current receivers Chris Conley and Albert Wilson have not developed as hoped and Jeremy Maclin (whom I see some of in Corey Davis game) becomes more and more expensive as the years go by.
Matt Miller of Bleacher Report presented this information about Davis and just what exactly he can accomplish. Should be noted that Miller compares and sees Davis as a young Michael Crabtree.
2) Luke Falk, QB, Washington State (6-foot-4/210 pounds) Former walk on at Washington State is now perhaps the most accurate passer in the NCAA. He certainly must put on weight to survive in the NFL, Falk has experience in the spread passing attack throwing multiple routes, going sideline to side and multiple depths. Falk's biggest issue perhaps is that he isn't much of a scrambler out of the pocket and his arm strength is not as good as other prospects, especially compared to Notre Dame's DeShone Kizer. When I watch Falk, I see some Trent Green.
3) Jeremy Sprinkle, TE, Arkansas (6-foot-6/256 pounds) 
Somewhat underutilized and having played backup to Hunter Henry last year, Sprinkle has been to prominent tight end this year. While Sprinkle is a decent to good blocker, and has good athleticism, but has not been asked to do much receiving at this point, and is somewhat limited in that experience.
However, the position, at one point thought to be a strength has become an issue with Demetrius Harris inexplicable inability to catch and the lack of development from other tight ends.
4) Jon Heck, OT, North Carolina (6-foot-6/300 pounds ) 
We will start with fact he's the son of current Chiefs offensive line coach Andy Heck. After red shirting his first season in Chapel Hill, Heck has started at right tackle for the past four seasons. The Chiefs certainly could benefit from finding a replacement at swing/backup tackle. Heck is a far more natural run blocker and right tackle then he is a left tackle.
On film, he's a prospect that possibly could possibly slide inside to guard if he proves to not be to tall. If he played left tackle in college, he's not available here.
5) Jeremy Cutrer, CB/S, Middle Tennessee (6-foot-2/170 pounds) 
Athletic and big for the corner position, Cutrer is an interesting and athletic prospect that reminds me at least of an unrefined Ron Parker. A top prospect coming out of high school in Louisiana, grades prevented him from fulfilling his commitment to LSU, and he ended up at Middle Tennessee. He will need to put on weight obviously, and will remain to be seen if he ends at safety or can stay at corner.
However, he's a willing run defender and displays a knack for getting to the ball in the air. Cutrer also has experience playing special teams. The Chiefs have depth at defensive back, so it's not a huge need, but this is the type of project that, if he pans out, really works
6) Austin Rehkow, P, Idaho (6-foot-3/ 208 pounds)
I've long speculated that this is the last season of Dustin Colquitt. He's due close to $5 million next season, and with the cap issues the Chiefs are facing, hard to imagine keeping the most expensive punter in football. Johnston is putting up solid numbers as both the punter and kicker at Idaho.
Rehkow, according to CBS Sports, is the top-rated punter in this years draft. On top of a solid punter, the fact that Rehkow has experience kicking field goals gives the Chiefs, in essence, a backup kicker should something happen to Cairo Santos.
More from Arrowhead Addict
This article originally appeared on