2017 NFL Mock Draft: Jonathan Allen Falls to Buccaneers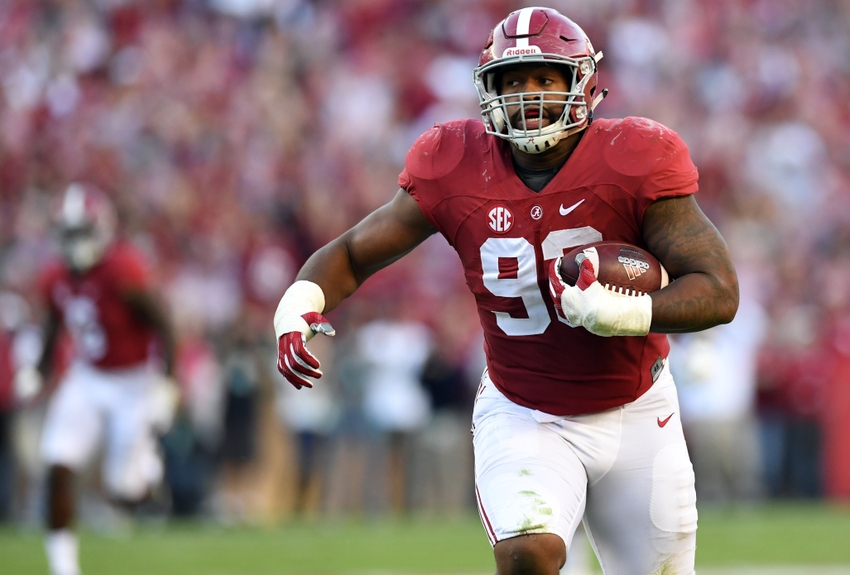 A 2017 NFL Mock Draft of all 32 first-round picks, including defensive lineman Jonathan Allen slipping to the Tampa Bay Buccaneers.
Another week of college football is in the books and now there are few remaining before bowl season. That means there's very little in-game action left for players to prove their worth at the next level and to see if anyone can sneak into the first round. In that light, it's prime time for another 2017 NFL Mock Draft of the entire first round.
One of the biggest risers over the 2016 college season has been Alabama Crimson Tide defensive end/lineman Jonathan Allen. For some draft pundits, he's their No. 1 rated prospect. That title still belongs to Myles Garrett in my eyes, but Allen has clearly done enough to earn that consideration. That said, he slips in this latest mock draft. Don't take that as a condemnation of his talent, though, but see it rather as just how the draft order fell in terms of team needs.
The draft order for this latest 2017 NFL Mock Draft was decided by our Week 11 Power Rankings. Obviously these don't reflect the actual draft order. However, they give an indication of where it looks teams may end up rather than where they currently sit.
What's more, there are no trades in this mock, though the places where there could be moves should be at least somewhat apparent. And finally, much of this is based off of team needs and draft stock of these prospects. This is all fluid and will remain so with events like the Senior Bowl, NFL Combine, and so on still to come.
Now that we're past semantics, the Cleveland Browns are on the clock in our 2017 NFL Mock Draft.
As stated in the intro, Myles Garrett out of Texas A&M remains my No. 1 rated prospect that will be available in the 2017 NFL Draft. Even if that's not the case, I still believe that he should be the player that goes No. 1 overall to the Cleveland Browns. Once again (as I've done in recent mocks), I have the still-winless Browns not taking a quarterback first-overall or in the first round at all. Considering what the Browns have been building, Garrett is the far more sensible pick.
In relation to Allen, what makes Garrett stand out is his freakish athleticism in relation to his size. Though they may be on-par with one another in terms of straight-up pass-rushing, Garrett is the far more unique talent and athlete. As the Browns showed in trading for linebacker Jamie Collins and their intentions to lock him up long-term in the offseason, that's something that this current front office values.
Garrett has continued to be a force for the Aggies whenever he's on the field. Especially at the college level, offensive tackles simply don't have either the power, the speed, or both to keep up with Garrett when he comes off the edge to get after the quarterback. He can beat you face to face, but has tremendous quickness, an array of pass-rushing moves, and shocking agility that all allow him to wreak havoc on an every-down basis. With Collins already in-tow and (as the Browns hope) potentially in for the long-haul, Garrett provides a wonderful complement as a building block to a young, hyper-athletic defensive unit.
Deshaun Watson has seen his draft stock take a hit throughout his junior season with the Clemson Tigers. The quarterback was regarded as the top-overall prospect coming into the year by some, but is now not even widely considered to be the best quarterback prospect in the 2017 class. I'm among those who feel that way, as well. However, he's the first quarterback off the board, going to the San Francisco 49ers, simply because of the skill-set he provides and how that would work with the coaching regime in the Bay Area.
Though we haven't seen him use it as often as you might expect since naming Colin Kaepernick the starter in 2016, we're all aware of the value that Chip Kelly sees in mobility. And Watson provides plenty of that in addition to having tremendous tools as a passer. Kelly has to look at the Clemson product and salivate over the accuracy that Watson throws with and the arm strength that he brings to the table, once again in addition to being able to make plays with his legs.
One of the biggest reasons Watson's stock has taken a hit this season has been his turnover woes that weren't there when he was a sophomore. With one regular season game, the ACC Championship Game, and a bowl game still ahead, Watson has already thrown as many picks (13) as he did in all of 2015. He has displayed a terrible habit of locking on to a target and not looking the defense away. That's led to turnovers and ultimately his stock taking a hit. However, the tools are there and he's displayed the work ethic to potentially work past these issues. Given that and the fit in the San Francisco system, he's the No. 2-overall pick.
After Watson goes off of the board with the second-overall pick, the top quarterback in the draft is there ripe for the taking for the Chicago Bears at No. 3. There are some Bears fans that don't want a quarterback in the first round, even if Mitch Trubisky were to fall to them. That's a fair point considering the defensive needs this team has. However, quarterback appears to still be the most pressing need—especially if they indeed let Jay Cutler go this offseason.
Heading up the North Carolina Tar Heels offense, Trubisky has enjoyed a phenomenal season in his first year as the starter. Save for a loss to Virginia Tech in a game played during hurricane conditions and a slip-up against rival Duke, Trubisky has been consistent and impressive each time out. The junior quarterback has thrown for over 3,100 yards in 11 games this season with the Tar Heels. More impressively, Trubisky has only four interceptions on the year to his 25 touchdown passes.
The Tar Heels signal-caller possesses an accurate and strong arm, while also being a great athlete capable of extending plays or even taking off on occasion. What's more, Trubisky has the prototypical frame of an NFL quarter back with a solid 6-3, 220-pound build. The biggest knock on the UNC product is his lack of experience as he still hasn't played a full season as a starter. However, the traits he has shown to this point have left scouts nothing but impressed, hence is rapid ascension up draft boards. Subsequently, Trubisky could very well be the quarterback of the future in the Windy City.
Alabama Crimson Tide offensive tackle Cam Robinson is not the fourth best prospect in the 2017 draft class. However, he's far and away the best tackle of the class. And despite having previously used draft capital to address the tackle position and other spots on the offensive line, the Jacksonville Jaguars are sill left needing help on their offensive front. Therefore, the sensible move here is for them to reach a bit to get the best player at their biggest position of need.
Robinson has shown tremendous proficiency as a run-blocker throughout his time in Tuscaloosa as Lane Kiffin's offense is known for relentlessly pounding defenses with the ground game. The success of that rushing attack is in large part due to the effectiveness of Robinson. On the edge, Robinson has a quick first move and step off of the snap to get engaged and in control of defenders. There, he has the strength to be able to control his assignment, dispatch them out of the way of the play-design, and then graduate to the next level to continue his blocking.
What's been impressive with Robinson in 2016, though, has been his protection of Alabama's freshman quarterback. At least from his left tackle spot, Robinson has done a great job of limiting the pressure that the young signal-caller gets in his face. In making the next step, Robinson will still need to improve on his footwork and extension in pass-blocking, but he's already progressed in that area from 2015 to this season. For a team that desperately needs his type of talent on their line, the Jaguars would be foolish to pass up on Robinson.
Despite their reputation and the talent on the defensive side of the ball, the New York Jets need help in bolstering that unit. Between the decline of Darrelle Revis at cornerback, a thin linebacker corps, and the general disappointment of their front four at times this season, they have serious needs on defense. However, the first step in progression of this defense is going to be aiding Revis at this stage in his career and moving him back to safety. In doing so, though, the Jets open up a big hole at corner. That's why they ultimately select Marlon Humphrey out of Alabama to fill that void.
Between his time on the Crimson Tide defense last season and his showing throughout this year, Humphrey's value in coverage is evident. You have to love his size and length on the outside at 6-1, 196 pounds, but he also brings desirable athleticism to the table to allow him to go up and make plays in coverage. Perhaps his most impressive moment of the 2016 season, though, came against LSU when he notched eight total tackles on the day. With the Tigers pounding the run, Humphrey stepped up on the outside to prevent big plays. Considering that many scouts would diagnose him as needing to put on more muscle, showing that ability was huge for Humphrey's stock.
In Humphrey, the Jets would be getting a proven playmaker with the size and physical tools to develop into a true shutdown cornerback. While he may not be at the level of Revis at any point in his career, he can still be well above-average if he continues to develop his instincts in coverage in addition to adding muscle. And if he can continue to show value in stopping the run on the outside, that makes him all the more valuable for this New York defense.
Pick via Los Angeles Rams
When the Tennessee Titans have fallen short in 2016, there have been two prevailing issues. One, of course, has been costly turnovers by Marcus Mariota at quarterback. When he's been on, Mariota has been a treat to watch. However, his bad moments have been costly for the Titans this season. Even more costly, though, has been the lack of quality depth at cornerback. Yes, Jason McCourty is a great talent. Perrish Cox, Valentino Blake, and others, however, are not. Subsequently, that should be their first area they address in the 2017 draft.
Thanks to owning the Rams' pick that they acquired as LA traded up to get Jared Goff, the Titans have the chance to land one of the best cornerbacks in a class loaded with talent at the position. That player is Teez Tabor of the Florida Gators. The 6-0, 201-pound defensive back has been a star for most of his time with the Gators and that trend has continued in 2016. There isn't a corner in the draft with more natural ability than Tabor.
Tabor has the size, speed, athleticism, and instincts to one day potentially be mentioned among the best corners in the NFL. That will take some time, though, as Tabor does still need to be refined a bit. He has a tendency to rely on his instincts to carry him rather than simply reacting to what's in front of him. Moreover, this sometimes causes his technique and hip positioning to be sloppy. However, these are all coachable habits that he can be rid of. And if the Titans coaches can accomplish that, he'll be a massive asset in Tennessee to help the defense progress.
The most glaring need for the Carolina Panthers currently has to be on their offensive line. While you can talk about a weak secondary all you want, the biggest issue with that unit is youth and inexperience. Meanwhile, the offensive line's biggest issue is the lack of quality depth and even quality at the top of the depth chart. However, with Cam Robinson off the board and a steep drop-off at offensive tackle, the Panthers must look to fill another void in their roster.
Though it's not currently a void with Jonathan Stewart on the roster, it's about time that Carolina breathed new life into their offense. And Leonard Fournette out of LSU would bring this team more than enough. Fournette is one of the most unique running backs we've seen entering the draft in quite some time. At 6-1, 230 pounds, the Tigers star boast a frame that's big even for those considered power backs. And while he can lower a shoulder to bust through tackles, Fournette is more than just that. He also has shocking top-end speed and incredible elusiveness for a player his size.
Obviously drafting a running back further necessitates the Panthers addressing the issues on their O-line. That said, Fournette is a talented enough player that he can still improve the offense even with just adequate offensive line play. He's that special of a prospect at the position. Adding a player of his talents to the Cam Newton led offense could truly make Carolina one of the best offenses in the league—once again, as soon as they make some moves on the line.
Finally we get to Jonathan Allen and have him going off of the board to the Tampa Bay Buccaneers. Like I said in the intro (but want to reiterate), this has almost nothing to do with Allen's talent. The Crimson Tide product looks like he has the tools to succeed in the NFL with the same level of consistency that he has in college. However, the teams picking at Nos. 2-7 really didn't have a dire need for a player like Allen—or they had a more pressing need in my mind. However, the Bucs desperately need a player like Allen to put on their defensive front.
When healthy, the Bucs have at least one consistent playmaker in Gerald McCoy in their front-four. Moreover, Robert Ayers has shown flashes at time. However, both of those players and the bulk of their defensive line has been plagued with injuries seemingly more often than not. What's more, Tampa Bay needs to add a playmaker on the line that can consistently disrupt opposing quarterbacks and also contribute against the run.
While Allen may not be the same caliber of athlete as Myles Garrett, his versatility makes him extremely valuable. Alabama lines Allen up essentially all the way across the line depending on matchup, situation, and other factors. What's more impressive is that Allen's impact isn't limited by this moving around. He's still a constant factor in the pass-rush and still a playmaker that can wrap up and tackle in the trenches against the run. Put simply, Allen is the playmaker and versatile performer that the Buccaneers need to start fully shoring up their defense.
In previous mocks, I've talked about my love for Jabrill Peppers as a prospect. However, I'm not one to let my love completely blind me to things that are a bit problematic. Subsequently, I have Peppers falling a bit from where he's previously been going in the first five selections. Because of that, though, the Michigan Wolverines product now lands on a Cincinnati Bengals team that could not only use him, but should be great for his development.
Though they don't have a 100 percent success rate, the Bengals have been quite good at helping young players grow and develop in addition to putting younger players in positions where they can succeed. When it comes to the uber-versatile Peppers, that could be a real key for him as he heads into the NFL. The Michigan product has the ability to play numerous positions on the defensive side of the ball (and offensively as well, but that's not important here).
When you look at the likes of Karlos Dansby, Vontaze Burfict and Ray Malaluga as the starting trio of linebackers in Cincinnati, one thing that jumps out is the lack of elite athleticism in that group. Yes, they are all fine players and not necessarily playing to a detriment of the Bengals. However, they don't have the versatility at the position that Peppers could bring because of their limitations as athletes. What's more Peppers could also drop back to play safety in Cincinnati as well, if need be. Either way, he's a great fit for what this defense needs and will help the Bengals become more flexible in what their defense can do and throw at opposing offenses.
If you've watched the San Diego Chargers in recent weeks, it's difficult to not feel at least a little sorry for quarterback Philip Rivers. The quarterback has consistently been one of the best in football, putting his team in good positions consistently (save for his four fourth-quarter interceptions in Week 10). However, when he's throwing to the likes of Tyrell Williams and Travis Benjamin as his top receivers, that seems almost too cruel to ask that much of a player with Rivers' talent.
Though Keenan Allen is still on the roster, he's proven to be a consistent injury-risk at this point. Therefore, the Chargers are left needing another receiver that can lead their cast of weapons. With the 10th-overall pick, San Diego has the opportunity to get the best player at the position in Mike Williams out Clemson.
Williams is a true No. 1 receiver that has everything you'd want in a potential superstar wideout. Standing at 6-3 and weighing in at 225 pounds, the Clemson product has the big, strong frame that allows him to simply make plays over and through defensive backs to make catches for big plays. What's more, he's also shown notable speed for a player his size and is a great athlete on top of his size. He can be a playmaker that truly allows Rivers to utilize his many talents and not have them (somewhat) squandered by not having a deep group of weapons around him.
Looking at what the Buffalo Bills have been able to defensively this season, it might seem odd that they'd look to add someone up front. After all, Rex Ryan's group has been the best unit in the league in regards to generating pressure and getting after the quarterback. However, that's a bit misleading as much of that is by design rather than being a product of the talent. They could desperately use a playmaker on the line that can be both a pass-rusher and run-stopper. That's why I turn to Derek Barnett out of Tennessee.
Now I already know what you're thinking and I'm fully aware that Barnett is a 4-3 defensive end coming out of college and doesn't necessarily fit into Ryan's 3-4 scheme. I get that. However, Barnett has proven to be exceptionally versatile throughout his career in college with the Volunteers. While he lines up typically on the edge, he's spent his share of time at defensive tackle as well. He has tremendous functional strength in his frame and the explosion and timing off of the snap to still be effective when moving more inside.
Subsequently, this pick to me is the Bills looking for talent that they can ultimately use to their advantage. With a bit of added bulk and work in the system, Barnett has the baseline tools to be able to effectively transition to being a 3-4 defensive lineman that operates as a pass-rusher. Some may argue that isn't the best use of his talents, but he's such a versatile player that it's simply a different use of his talent. It may take a year for him to develop and adjust, but as I said, the Bills are fine at generating pressure as is. And that year of development could ultimately lead to Buffalo having the exact type of balanced pass-rusher, run-stuffer that they need to add.
Coming into the 2016 season, many would have argued that the Arizona Cardinals had one of the most fearsome defenses in the NFL. As the year has played out, though, that's proven to be more perception than reality. There is definite talent, but there are also noticeable deficiencies when it comes to that side of the ball. One of those glaring weaknesses is in the middle of the field. Sure, they have a unique playmaker in Deone Bucannon and a young player in Kevin Minter. However, the Cardinals don't have the big playmaker in the middle of the field.
Vanderbilt Commodores star Zach Cunningham could 100 percent be that player. If you've watched Vandy play this season, their defense has been their biggest strength when they play well. That all comes back to what Cunningham does as he's the leader and almost the entirety of that unit in Nashville. For evidence of that, you need only to look at their upset of Georgia when Cunningham registered an absurd 19 tackles on the day, including 2.5 for a loss. What's more, he also made the game sealing stop on fourth-down by making a fantastic play to break on the edge and stop the ball-carrier in his track.
Cunningham's size at 6-3, 230 pounds in addition to his jaw-dropping athletic abilities make him simply an uncommon prospect. He's quick enough and has a high enough football IQ to stifle runs before they ever get rolling. However, he's also a beast when asked to cover the middle of the field or opposing tight ends against the past. He has the quickness and speed to go along with his large stature that make him near impossible to complete a pass against when he's at home. Cunningham may need to add a bit more muscle at the NFL level, but that's trivial in the grand scheme of things. He's the exact type of player that the Cardinals need to insert into the middle of the field as the central anchor of the unit.
Putting pieces around Andrew Luck has long been the issue for the Indianapolis Colts. That's not to say he needs more receivers or running backs, though. What that means is that general manager Ryan Grigson has continually failed to address obvious weaknesses on the offensive line and throughout the defense. Now they're left with a franchise quarterback and roughly 21 question marks. However, adding a playmaker would surely help them a great deal and Tim Williams out of Alabama has proven to be that and more.
If you watch film of Williams and then watch a highlight reel of the outside linebacker, there are obviously differences. However, it's not out of the question to call a lot of his film a highlight-reel. For the Crimson Tide, Williams has consistently been disruptive in ever phase of the game. He'll get after quarterbacks in an instant with tremendous speed and agility as a rusher, but can use those same traits to maneuver and stop runs in their tracks. And when Williams gets moving and lays a hit, the opposing player isn't going any further.
Much like other defensive players out of Alabama, Williams will need to be guided a bit by NFL coaching in not trying to overdo things. Because of the talent at the college level for Bama, players like Williams essentially have free reign to pursue the big play. That's not going to work agains pro-level talent that is more physically capable of handling him. Moreover, it's not going to work on the Colts right away given the lackluster depth chart around him. However, he could be an elite 3-4 outside linebacker with proper development and also become the playmaker Indy so desperately needs.
When trying to pinpoint the reason for the Green Bay Packers' shortcomings in the 2016 season, at least one finger always ends up facing the disappearance of their rushing attack. With Eddie Lacy again looking overweight prior to getting injured, it's been a struggle to do much of anything consistently on the ground in Green Bay. Subsequently, too much is put on the shoulders of Aaron Rodgers and the offense suffers. Subsequently, it's time for the Packers to move on from Lacy and upgrade.
Florida State Seminoles running back Dalvin Cook certainly qualifies as an upgrade. In recent mocks where the Packers have been picking in the later rounds, I've had Green Bay looking at Stanford's Christian McCaffrey—but that's because Cook is off the board by that point. At No. 14, the Packers have the chance to select the second best back in the 2017 class and get a truly dynamic weapon in their backfield.
Cook has truly proven that he can do it all in the offense at Florida State. He's been prolific as a runner, a pass-catcher, and even solid/developing as a pass-blocker. What the FSU running back brings is simply tremendous versatility in terms of both his skill-set and how he can be used. He's unafraid of contact when he needs to try and bust through a tackle, but also has breakaway speed, fantastic vision, and lightning-quick cuts to make room to run. Dalvin Cook would almost immediately make Rodgers and this Green Bay offense better.
Ben Roethlisberger, Le'Veon Bell, Antonio Brown and the rest of the Pittsburgh Steelers offense are clearly the heartbeat of the current iteration of this team. Meanwhile, their defense has been lacking in a number of areas, particularly when it comes to depth. So with Lawrence Timmons and Jarvis Jones both potentially being gone after this season, the Steelers will desperately need to add quality replacements at linebacker.
The value of middle linebackers who can both stuff the run and drop back in coverage in today's NFL can't be overstated. Thus, that's where the Steelers should look at No. 15 by selecting Reuben Foster out of Alabama. Foster has been a monster and a key cog in arguably the best defense in the country this season. He's literally been asked to do it all in the middle of the field and has succeeded with flying colors.
At 6-1, 236 pounds, Foster has both the size and athleticism to do whatever's asked. His ability to close space quickly to stop the run is fantastic, but he also has the lateral quickness to man his area when in zone coverage. Moreover, he's a sure tackler when he hits his mark. The Steelers will need him to scale back trying to do too much, as he's accustomed to doing for Bama. However, he has all the makings of a star if properly developed.
Without question, the hallmark of the Baltimore Ravens over the past decade and even in 2016 has been their defense. They thrive off of what they're able to do and contain on that side of the ball. However, they're also currently a team whose defense has a few weak points and areas that desperately need an influx of high-quality depth. One such area is at safety. So with LSU Tigers product Jamal Adams slipping a bit, the Ravens would be foolish not to select him at No. 16.
Adams has garnered high praise for the majority of his career in Baton Rouge. Some have compared him to a larger version of the Honey Badger, Tyrann Mathieu. Adams does have superior size to the fellow LSU product, but his playmaking and instincts are reminiscent of Mathieu's. Whether it's dropping back in coverage, coming up to make plays on short throws and against the run, or simply reading plays to break on the ball, Adams excels.
While I'm quite high on his prospects, Adams isn't without his flaws. As was the case with Mathieu, Adams has a tendency to get caught when he tries to make reads. It's not frequent, but him breaking when he misreads a play sometimes leads to big plays being allowed. However, John Harbaugh and the Ravens have the coaching staff to help rein in those skills to where those mistakes are far more limited. If that's the case, Adams could have legit Pro Bowler potential in Baltimore.
Spin around on a baseball bat and point at the New Orleans Saints defense; there's a good chance that wherever you're pointing is an are where they need to improve. Though they've gotten better from the disaster they were early in 2016, the Saints still have tremendous issues on that side of the ball. After hoping they addressed the interior with Sheldon Rankins in the 2016 draft, the Saints should now turn their attention to the outside.
Though Cameron Jordan has had a nice past few weeks, the pass-rush off of the edge in New Orleans has been mostly flaccid on a consistent basis in the 2016 NFL season. Carl Lawson out of Auburn at defensive end would certainly be able to breathe new life into the unit upon arriving in New Orleans.
Lawson has had his injury troubles throughout his college career, but hasn't shown any signs of being slowed down over a healthy 2016 season. The Tigers defensive end has been a driving force for this team all season. He presents a unique blend of compact strength and explosion to go with a bit of shocking flexibility. Lawson can blow through opposing tackles, but also duck them as well. He could be a fantastic asset for a Saints defense that desperately needs more of those.
The rapidly improving Titans are seeing their own pick fall down later in the first round with each explosive offensive play. What's good for them is that there are quality options throughout the first round in regards to the position they need to fill most. Having already addressed the desperate need at cornerback, they can now look for a receiver. While Mike Williams is more the ilk of wideout that they'd like, JuJu Smith-Schuster out of USC is one hell of a consolation prize.
At 6-2, 220 pounds, Smith-Schuster brings just about anything you can want to the table. He's crisp in his routes for the most part, though he'd be served well to expand his route-tree. Moreover, he obviously has the size and strength to go up and be the big target and playmaker and traffic as a receiver. What's more, he also has solid speed at his size and can take the top off of defenses.
Though the Titans have speed and potentially solid players currently in their receiver core, they don't have the true No. 1 that can be relied on to make the highlight-reel plays, but also the important catches in big moments. JuJu has shown that time and again throughout his time with the Trojans—even when playing with subpar quarterbacks. That won't be a worry with Marcus Mariota who will love his new weapon.
Pick via Minnesota Vikings
If you ask the majority of Philadelphia Eagles fans what they need to look for in the 2017 NFL Draft, the answer is normally either cornerback or wide receiver. Sitting at No. 19 with the pick that they acquired in the Sam Bradford trade, they have the opportunity to take one of either. However, the better look and value would be for them to look at their secondary in the first round. And I think Sidney Jones is the type of corner they need to add.
Playing for the Washington Huskies, there aren't many top-tier prospects tasked with the things that Jones is in the Pac-12. So many of the conference's offenses are ridiculous in their air-raid attacks every week. Thus, Jones is often tasked with being in coverage on almost every snap and having to cover their opponent's best receiver. What's most impressive, though, is that he's been able to do so with a high level of effectiveness, despite the high degree of difficulty.
Jones has nice size and length at the position at 6-0, but he does need to put on a bit of weight to improve his tackling. However, the Eagles' biggest concerns with the secondary currently are simply in coverage. Jones has proven throughout his time in Seattle that he's more than adept in that area and could easily develop into Philly's top corner within a couple of years.
From Week 1 to Week 10, the improvement of the offensive line of the Miami Dolphins has been absolutely astounding. Once everyone on the line got healthy, the unit really started to mesh quite well. And though Jay Ajayi has been fantastic since breaking out, he owes a lot to his offensive line. However, there are question marks about Branden Albert beyond this season in Miami. Subsequently, the Dolphins could be looking to move Laremy Tunsil to tackle and would thus need a quality guard.
Dan Feeney has been quality and more for the Indiana Hoosiers throughout his time there. The big fella on the interior has proven to be both an effective run and pass blocker on the interior of the line. He has tremendous footwork and instincts when trying to thwart opposing defensive tackles and has the strength and frame to then keep them at bay. Though the Indiana offense isn't a juggernaut by any stretch, that's of no fault of Feeney. He gets the job done.
Feeney is far and away the best guard prospect in the 2017 NFL Draft and you can bet that teams in need will be praying that he falls to them. Though the Dolphins could use help in the secondary, their offense has been quite good as of late. If they want to keep it that way beyond this season, especially if they lose Albert, they have to continue to pay attention to and address the offensive line and they do that with this pick.
Pick via Philadelphia Eagles
I can still hear the shouts from previous weeks, but I'm sticking to my guns when it comes to the Cleveland Browns. This team isn't a quarterback away from winning with holes virtually everywhere on their roster. What's more, there aren't any elite quarterback prospects coming out in the 2017 draft. Subsequently, I stand by my assertion that they need to address their many other areas of need, specifically by continuing to build the defense.
What's a bit unfortunate for the Browns currently is that the Eagles have been playing well. As a result, their pick continues to get later in the first round. However, they can still address a major need in their secondary by taking free safety Malik Hooker of the Ohio State Buckeyes. The Browns are incredibly thin and talent-deficient at the position right now and it's shown time and again this season.
Hooker has proven throughout his career in Columbus to be fantastic at reading plays and making plays as the last line of defense. He simply has a knack for finding the ball and, while that doesn't always result in interceptions, it rarely results in him getting beat over the top. Hooker, like many others, is another player that needs to add weight to help improve his tackling at the next level. However, his length and physical abilities all indicate he'll be a fantastic option and the Browns could surely use him to continue building a defense.
As the Detroit Lions entered Week 11 leading the NFC North, no one would make the mistake of saying that they are a team led by their defense. Matthew Stafford and the offense make this squad tick in 2016, which has obviously served them well. However, for success beyond competing in the division and potentially to become a contender, the Lions have to start adding both playmakers and depth on defense. What better way to start than with Malik McDowell out of Michigan State.
I'm sure some people are questioning why the Spartans star is dropping this far in the draft. First of all, I don't have him as highly rated as some boards would. At his best, he has top-10 potential coming out in 2017. However, McDowell has been riddled with injuries almost the entire 2016 season, though he's played through some. What's more is that his motor—which has been lauded by many—hasn't been nearly as consistent as expected this season. Maybe that's due to the injuries, but both stick out as mini red-flags to me.
When he's engaged and healthy, though, McDowell is a monster. At Michigan State, he can bust up any play that's thrown at him, whether it's a run or a pass, and make it look easy because he's so dominant. He's a masterful blend of size and speed in the middle of a defensive line. If Jim Caldwell could guarantee health, McDowell would be the perfect player. They need a player that can offer the presence McDowell can in the trenches and have since the departure of Ndamukong Suh. The Michigan State product can be that if healthy and coached up to remain engaged 100 percent of the time.
Frankly, the Houston Texans have a big need at offensive guard right now. The interior of their offensive line is mediocre on their best day and they don't have much depth there either. Subsequently, that's where they should look. However, with Dan Feeney having already gone off the board, there are no guards that I'd be willing to take at No. 23 if I'm Houston. So since we aren't trading down just yet in this mock, we'll instead look to address another need.
No disrespect to C.J. Fiedorowicz, but the Texans could use an upgrade at tight end. We've seen time and again how Bill O'Brien likes to use his tight ends in this Houston offense. What's more, the question mark named Brock Osweiler at quarterback needs reliable checkdown options that can make plays for him when getting the ball on short throws. Alabama Crimson Tide standout O.J. Howard is a player that brings that to the table.
Howard really is the complete package. Obviously from playing with the Tide, he's an adept run blocker, which will work nicely on the edge for the dangerous Lamar Miller. What's more, though, Howard has proven to be sure-handed when thrown to and able to get plenty of yardage after the catch. Whether it's his deceptive speed for a player his size or simply mowing through tackles because of his size, he can make plays when thrown to. He would be a welcomed addition to the Texans offense.
After spending a great deal of money to bring in cornerback Josh Norman in free agency, the Washington Redskins defense has progressed throughout 2016. However, it's not been the secondary leading the way. Instead, it's been their pass-rush coming off of the edge with Ryan Kerrigan and upstart Preston Smith. However, Washington has still been susceptible to being gashed by the run. Subsequently, they should look to remedy that in the draft and Lowell Lotulelei can help a great deal.
Measuring in at 6-2, 310 pounds, you have to love the frame that the Utah Utes standout can bring to the interior of a defensive line in Washington. He has the low center of gravity to gain leverage and thus control of the interior of the line. Moreover, he has the mass and strength to also dictate the action in the trenches, something he's done well consistently in his college career.
Lotulelei unfortunately isn't going to be a defensive tackle that helps in the pass-rush too terribly much. He's not a tremendous athlete, which his frame is a dead giveaway for, and doesn't possess the natural instincts to break through pressure. However, the Redskins should be more concerned about stopping the run moving forward and the Utah product will help in that regard right away. Though they just missed out on McDowell, Lotulelei fits their need just as well.
The prevailing narrative concerning the New York Giants and their defense in the 2016 season is the money they spent to improve it coming into the year. New York's front office dished out roughly $200 million in contracts to help improve what was one of the worst units in the league a year ago. With Olivier Vernon and company in tow, they've made tremendous progress. However, they need to ensure that stays that way for the future. And with Jason Pierre-Paul potentially leaving this offseason, that should mean targeting a pass-rushing defensive end.
Missouri Tigers star Charles Harris is the man that can answer the call in that regard for the Giants. At 6-3, 255 pounds, Harris is an absolute wrecking-ball when it comes to what he's capable of on the edge. Given his frame, you can surmise without even watching his film that he has tremendous quickness and agility off of the edge—and you'd be right. However, he also has compact strength in his frame to where he can gain leverage and move tackles in the right matchup from underneath.
With the Giants obviously putting a tremendous focus on the defense moving forward, Harris is a player that will help them do just that moving forward. He has the tools that, with preseason and NFL coaching, he should be able to slot in for a departing JPP immediately at the start of the 2017 campaign and be effective in doing so.
There's a pattern around the NFL right now in the sense that there are so many teams that could either use a tremendous upgrade or depth at cornerback. Lucky for those teams (as you've seen), there are a plethora of high-end prospects in the 2017 draft. One player who has been as solid as they come throughout his career with the Iowa Hawkeyes is Desmond Kings. And the Atlanta Falcons can't pass him up in this position.
While King is an odd pick for Dan Quinn's team, a coach who famously loves his big cornerbacks, his talent and what he shows on film should be too much for the Falcons to pass up here. King has been the anchor of the Iowa secondary for the past two years and has been phenomenal in doing so. He has tremendous instincts when the ball is in the air coming his way and can shadow opposing receivers off of almost any spot. He needs to get bigger to help with his tackling, but he's a tremendous asset—especially considering his punt return abilities as well.
Despite Atlanta's fantastic season thus far, you're a fool to deny their shortcomings on the defensive side of the ball. They still have a tremendous amount of work to do before that area matches what the offense can put forth. Pairing King opposite of Desmond Trufant to upgrade the secondary would be a fantastic leap forward for that defense.
In a weak class for offensive tackles, it's unfortunate for a couple of teams that will likely be picking late in the first round desperately need help on the offensive line. One such team is the Denver Broncos. Yes, perhaps the biggest problem with their offense in 2016 is the simple fact that Trevor Siemian probably isn't an NFL-caliber starting quarterback. However, neither Siemian nor the running game is helped by a poor O-line.
That's why I have them taking Ryan Ramczyk with the No. 27 overall pick here. Ramczyk is a player whose stock has been on the rise all season as he's performed well time and again for the Wisconsin Badgers. Despite Wiscy not exactly being known for their passing offense, the Badgers tackle is the best pass-blocking tackle in this draft running way. He has tremendous length and solid technique to know how to use it. What's more, he's not hapless in run-blocking either.
With reports that the Broncos could be one of the teams that pursues a trade for Tony Romo in the offseason, they'll need to beef up their offensive line drastically to protect him—or even to protect Siemian or Paxton Lynch. Ramczyk would be a great building block to start that process with. He has all of the tools and size to succeed as a pro and, with the right coaching, could become one of the league's better tackles.
Even I feel dirty selecting an offensive player for the Kansas City Chiefs in the first round. This is a team that has consistently focused on their defense and could very well look to add depth on that side of the ball moving forward with the 2017 draft. That said, when John Ross was still on the board when Kansas City came up with the No. 28 pick, the fit, player, and value seemed just too good to pass up.
When it comes to speed, having a full route-tree, and being able to make plays on the ball (despite a smaller stature at 5-11), there may not be a better receiver in this draft than Ross. The Washington Huskies wideout boasts legit 4.3-speed and can lose his man with fantastic agility and routes before ever needing to use that speed. Every time the ball is thrown his way or is in his hands, it's a big play waiting to be broken open.
Beyond Jeremy Maclin, the Chiefs don't have much at receiver. Maybe Tyreek Hill winds up being something special, but that's still a gamble at this point. Ross would be much more of a sure thing and a huge weapon for Alex Smith. Yes, Smith isn't going to be able to utilize Ross' ability to get behind a defense too often. However, he can get free in the intermediate areas of the field and then break open a big play with that speed. He's a weapon Kansas City's offense could use. So maybe it's not that crazy to have him going to the Chiefs.
Just like in the last mock draft, this is a tremendous reach for the Seattle Seahawks. Of course, as Russell Wilson and company keep on reeling off wins, it becomes less of a reach as they move further back in the first round. But the fact remains that the Seahawks have to come out of the 2017 NFL Draft with help on the way for their offensive line. They've been putting together a makeshift unit all season, but need to get things shored up moving forward.
Roderick Johnson out of Florida State began the 2016 season as one of the top-two prospects at offensive tackle and a surefire first-rounder. That shine has faded greatly, due in great part to the inconsistency he's shown throughout the season in college for the Seminoles. That said, Johnson boasts a great frame on the edge at 6-6, 308 pounds and has the physical tools to be effective at blocking on the edge in both run and pass situations.
What the Seahawks will have to work with Johnson on is to get him more consistent with his technique. Far too often, you see Johnson either getting lazy with his footwork or simply standing up and allowing an edge-rusher to get leverage. Granted, this isn't an every-down occurrence, but it happens more than you'd like to see. Considering that Seattle has the group they have now at least playing passable, though, they could coach Johnson into being quite a talent at the NFL level.
For the Oakland Raiders looking at the 2017 NFL Draft, the ideal scenario would be the Silver and Black landing a top-tier inside linebacker prospect. They desperately need a playmaker in the middle of the defense capable of stuffing gaps and the run while also being able to drop back in coverage. However, there is a steep drop-off at the position behind Zach Cunningham and Reuben Foster. Thus, it'd be a severe reach here for the Raiders to look there. Instead, they look to add depth at cornerback with Jourdan Lewis.
The 2017 class of cornerbacks is deep and seems to be a carousel in terms of draft value fluctuating. That said, Lewis jumps off on tape to me every time I watch him. In the Michigan Wolverines defense, the cornerback is put out in one-on-one man coverage far more often than you see many defensive backs in college. What's great is that Lewis has the size, instincts, and speed on the outside to succeed with so much responsibility placed upon him.
Like most draft prospects, Lewis is far from perfect. You'd like to see him be a bit more assertive and effective as a tackler going forward. Moreover, the Michigan product could stand to have some development outside of his man coverage abilities on the outside. That said, the Raiders severely need depth in their secondary. Lewis gives them a player who should immediately be able to fill that void and aid the cause.
Hey look; the New England Patriots aren't being scapegoated this year for something and get to pick in the first round. And as they do so, the Pats find themselves in an interesting position. For most of the season, their offense has been their driving force—as it should be. However, their defense has been overlooked as that side of the ball has been a bit problematic. Throw in the fact that they traded away Jamie Collins and there's a hole at linebacker for this team.
Jarrad Davis is the type of player who could step into that role and help shore up things for the Patriots, though. The Florida Gators stands at 6-1, 238 pounds and is an absolute terror in every facet of the game. While he may not put up the insane combine testing numbers that Collins did once upon a time, he's the type of athlete who's able to change his role on down-by-down basis. He can come off the outside rushing, but can also drop back into coverage a bit if need be. He's been asked to do both at Florida and has excelled.
At the NFL level, you'd obviously like for Davis to put on a little extra weight in the form of muscle to help with the physicality in the pro game. However, he has the frame to support that without sacrificing too much of his agility, speed, and athletic gifts. The Pats need more than just Davis surely in this draft to help things progress on the defense. However, selecting him in the first would be a great place to start.
If the Dallas Cowboys don't look to address their defense with their first-round pick, then something has gone terribly awry. Either that or a lottery was created where you suddenly get top-end defensive players out of the blue and they won it. Since that's not actually a thing, the two biggest areas of concern for the Dallas defense are in terms of their rush off of the edge and in the secondary.
With a bit of a drop-off in my opinion after Lewis at cornerback, I'm looking instead at defensive end and Solomon Thomas out of Stanford seems to be a fantastic option for the Cowboys. Thomas presents a unique style of defensive end, far from the likes of Myles Garrett or even Derek Barnett. Instead, Thomas' game is predicated on his compact frame and the technique he uses to effectively get a rush despite not having length or elite athleticism.
At 6-2, 275 pounds, Thomas is built like a boulder. And when he gets up under a tackle off of the snap, it's goodnight, Irene for that side of the offensive line. He has a tremendous ability to use his strength to simply dispose of tackles once gaining leverage. When he stands up, he is far less effective. However, Rod Marinelli has proven to be fantastic in regards to playing to the strengths of his defensive personnel and Thomas is a player who, if his technique is fine-tuned in Dallas, could really bolster a pass-rush that is left wanting in 2016.
This article originally appeared on