2017 NFL Mock Draft: First-Round Projections after Week 12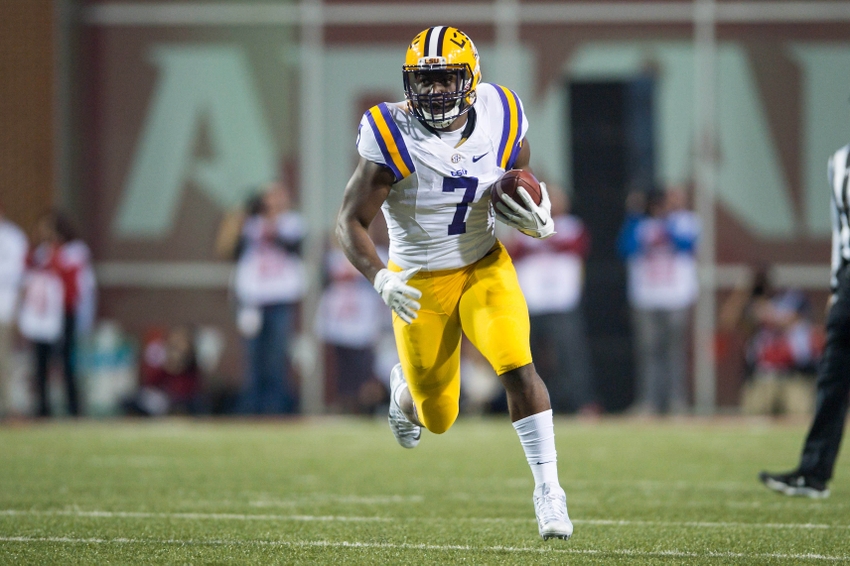 The college football regular season is coming to an end, and we're getting a better idea of what the first round of the 2017 NFL draft could look like.
As we near conference championship games in college football, NFL draft scouts are getting a much better idea of what to expect from the 2017 draft class. After Week 12, there are a number of players who continue to stand out as potential first-round picks.
Of course, players will rise and fall throughout the postseason and offseason workouts, but if the NFL draft took place today, here's what the first round would look like.
Note: The draft order is based off of Super Bowl odds courtesy of ESPN as of November 15th.
As always, the Cleveland Browns are going to be tempted to draft a quarterback in the first round. However, this year's quarterback class isn't great, and there definitely isn't any prospect at the position worthy of being selected No. 1 overall.
Instead, the Browns can consider adding a key piece to their defense. They could go after the talented edge rusher out of Texas A&M, but Alabama's Jonathan Allen continues to stand out as the most dominant prospect in college football.
Allen has quickly drawn comparisons to the likes of Gerald McCoy, Ndamukong Suh and even J.J. Watt with his stellar play for the Crimson Tide. As crazy as it sounds, Allen might be able to live up to those comparisons because of his incredible physical and mental tools.
At 6'3" and 294 pounds, Allen uses his size and strength to drive blockers back while using his violent hands to rip and disengage to make plays in the backfield. With Allen, Carl Nassib and Danny Shelton on the defensive line, the Browns would have a great group in the trenches to start building around.
Again, I have a really hard time having a team picking this early take a quarterback. The San Francisco 49ers may very well reach for a QB if they pick this early, but considering they rank near the bottom of the league in sacks, I think that they'd be better off trying to address the pass rush.
If the 49ers don't take Texas A&M edge rusher Myles Garrett with the No. 2 pick, someone will shortly after, because he is one of the most impressive prospects in this class.
Garrett comes in at a frightening 6'5" and 270 pounds and uses that size to manhandle offensive linemen. He can either bull rush or bend the edge when rushing the passer, making him a dangerous weapon for a defense.
Although the Aggies edge rusher will need to develop his technique a bit more, Garrett's upside is through the roof. With Garrett on the 49ers defense, their pass rush would be getting a significant boost.
There are a number of directions that the Jacksonville Jaguars could go with this pick. Heck, you could even make the argument that they need to replace Blake Bortles. However, the Jaguars should consider adding more defensive players to try and create some more turnovers.
Michigan's Jabrill Peppers is easily the most versatile player in this entire draft class. Jim Harbaugh has bragged that he can play 13 different positions, but in the NFL he'll only really need to specialize in one or two.
Peppers likely projects best as a safety or even a hybrid safety/linebacker like we've seen Shaq Thompson play in Carolina. Wherever he plays, Peppers is an extraordinary athlete with the instincts and aggressiveness to make plays all over the field. Peppers could even be a solid return man for the Jaguars.
With Peppers, Jalen Ramsey and Dante Fowler on that defense, the Jaguars could quickly develop one of the better defensive units in the NFL.
We are now getting to that point where teams might get so antsy that they start reaching for quarterbacks, but the New York Jets would be wise to hold off here. I could picture them going after someone like Tony Romo or Jay Cutler in free agency and then use the draft to address some other areas of concern.
Darron Lee is developing into a promising inside linebacker for the Jets, but they could still use another player to pair him with in the middle of the defense. Alabama's Reuben Foster would be an excellent choice.
Foster is far and away the most impressive inside linebacker prospect in this draft class. At 6'1" and 245 pounds, Foster has the instincts and closing speed to level ball carriers at the line of scrimmage. His instincts also allow him to play well when dropping back into zone coverage.
There are few holes in Foster's game. With him and Lee running the offense at linebacker while having that dominant defensive line in front of them, the Jets could be awfully hard to run against in 2017.
The first quarterback is finally off of the board with the No. 5 overall pick. The Chicago Bears are almost certainly going to be parting ways with Jay Cutler and his massive contract this offseason, which is going to leave a huge hole at the position.
As of right now, I have Notre Dame's DeShone Kizer as my No. 1 quarterback in this draft class. That could change come April, but right now the QB out of Clemson simply hasn't done enough to prove he's the best quarterback.
The Fighting Irish aren't having a great season, but Kizer has shown flashes of greatness throughout the year. He has the ideal size of a pro-style QB at 6'4" and 230 pounds along with a great arm and the ability to make some beautiful throws.
Kizer is also mobile enough to escape the pocket and extend plays when needed. The biggest concern with Kizer is that he occasionally has lapses in judgement, but you have to wonder how much of that is on Brian Kelly considering how poorly the offense has been run this year.
He might not be a perfect prospect, but Kizer fits Chicago's offensive system and could develop into a franchise quarterback with the right coaching.
Tampa Bay Buccaneers fans are getting frustrated with the team's defense. They currently rank near the bottom of the league in opposing passer rating and yards per attempt allowed, which means that something needs to change.
Chris Conte and Brad McDougald aren't the answers at the safety position, so the Buccaneers should consider reaching ever so slightly for LSU's Jamal Adams.
Adams is an impact player who could play either free or strong safety in the NFL thanks to his combination of speed and size (6'1", 211 pounds). The LSU safety is comfortable playing near the line of scrimmage or in the defensive secondary and is capable of matching up against just about anyone.
There are questions about whether or not Adams can cover deep, but the LSU star is so versatile that he could be a nightmare for NFL offenses to plan around.
You have the give the Tennessee Titans some credit for making noise this season. The offense is starting to come together thanks to Marcus Mariota and DeMarco Murray, but their quarterback could use some more weapons in the passing game.
The competition for the No. 1 wide receiver in this draft class is tightening, but right now Clemson's Mike Williams is holding onto that top spot and could be an ideal No. 1 receiver for Mariota.
Williams has terrific size at 6'3" and 225 pounds, but is also fast enough to be a serious deep threat. What helps Williams stand out from the rest of the pack is his insane ability to make catches on 50-50 balls, attacking the ball at its high point and reeling the ball in with his soft hands.
With that kind of threat on offense, the Titans could quickly start turning into the best team in the AFC South. That may not be saying much, but it's definitely a start for a franchise that has struggled so much recently.
The Buffalo Bills have a tough decision to make this offseason regarding starting cornerback Stephon Gilmore. The 26-year-old is set to be a free agent this offseason, and given how he's played this year, there's no guarantee that he comes back.
Even if Gilmore does return, the Bills could stand to add another starting-caliber cornerback in this draft that is littered with talented defensive backs. Florida's Quincy Wilson could be a great option is the Bills are looking for someone to play on the outside.
Wilson has the potential to be a shutdown corner in the NFL given his size (6'1", 213 pounds) and aggressive mentality. The Florida corner thrives in press coverage, using his long arms to jam receivers and get them off of their routes.
Although Wilson doesn't have elite speed, he's a more than capable outside cornerback with the ball skills to make some big plays, and that's something Buffalo could definitely use.
Even when Keenan Allen and Stevie Johnson return in 2017, the San Diego Chargers should seriously consider adding another wide receiver to help out their passing game.
If you haven't been watching Washington Huskies receiver John Ross, then you're going to want to start doing that right away. Although he's just barely behind Mike Williams on my big board, Ross is definitely the more exciting player to watch.
Ross isn't the biggest guy at 5'11" and 190 pounds, but he is extremely explosive thanks to easily the best footwork in this entire class. When you watch Ross on film, it feels more like watching a point guard in basketball with the way he burns defenders. This play against USC's Adoree Jackson is the perfect example of that.
The Washington receiver is climbing up draft boards quickly, and with plays like that one, it's easy to see why. Having Ross play alongside Johnson and Allen could give the Chargers an extremely dangerous receiving corps next year.
Mario Williams hasn't been the player that the Miami Dolphins were hoping for this season, and he will likely be gone after this year. With that hole on the defense, the Dolphins would be wise to find someone else to replace him to help out Cameron Wake and Ndamukong Suh.
Tennessee's Derek Barnett could very well go off of the board before the No. 10 pick, but that should make this selection even easier for Miami. Barnett has been one of the brightest stars in the SEC this season, becoming the vocal leader for the Volunteers' defense.
Barnett is the complete package for a potential 4-3 defensive end. He's strong and aggressive with the ability to either bend the edge to get to the quarterback or manhandle an offensive linemen to plug up a rushing lane.
Williams may not be the guy Miami is looking for on their defensive line, but Barnett could be the perfect replacement.
The New Orleans Saints need as much help as they can get on defense. They've struggled on that side of the ball consistently for the past few years, and they're back at it again with one of the worst scoring defenses in the NFL.
New Orleans could definitely consider some secondary help with this pick, and even though they addressed their defensive line problems by taking Sheldon Rankins in the first round last year, they could afford to double dip with another first-round DL in April.
Michigan State's Malik McDowell has drawn a lot of comparisons to DeForest Buckner this season given his long 6'6", 276-pound frame. He's a strong pass rusher and can play all over the defensive line, making him a dangerous prospect.
McDowell will need to work on keep his pads as low as possible, but he could be a great player to pair with Rankins on the defensive line moving forward.
After taking a wide receiver with their first selection, the Titans can probably afford to look at the best player available with their second first-round pick. Looking at who is still on the board, Ohio State's Malik Hooker could be a welcome addition to Tennessee's defense.
Hooker might have the best ball skills of any defensive back in this draft class. As Ohio State's star safety, Hooker stays in the defensive backfield and reads the eyes of the quarterback before taking off and trying to jump the route.
Along with those elite ball skills, Hooker has the speed and fluid hips to cover the field sideline to sideline. Hooker can sometimes bite on the play fake, but if he can work on that, then he could become a key contributor to a defense like Tennessee's.
Do the Browns cave in and take a quarterback with their second first-round pick? Possibly, but this is a team that would be wise to hold off on drafting a QB for another year while they try to keep rebuilding.
Cleveland could seriously consider adding another cornerback to play on the opposite side of Joe Haden to take some pressure off of him. Iowa's Desmond King is talented enough that he continues to make a strong case as this year's No. 1 cornerback.
The main reason King stands out in this deep CB class is his incredible open-field tackling. King doesn't let guys get past him, and that's an underrated trait for a defensive back. Along with that, King also has great hips, speed and ball skills to prevent receivers from making big plays on him.
As if adding Allen wasn't exciting enough with the No. 1 pick, adding King along with the Alabama defensive lineman could help the Browns quickly turn this defense into something special.
There isn't a more glaring need for the Carolina Panthers than at cornerback. It looks like the decision to let Josh Norman walk in free agency was a costly one, and now the Panthers need to address the cornerback position in the draft.
With Wilson and King already drafted, Ohio State' Gareon Conley is the next best cornerback prospect. Conley is able to shadow receivers and stay tied at their hip thanks to his athleticism. The Ohio State corner also has the ball skills to create a big turnover at any time.
Conley could probably stand to add some muscle to his 6'1", 195-pound frame. If he can get a little stronger, then Conley has the potential to be a legitimate outside cornerback at the next level, and that's something that the Panthers desperately need.
The Cincinnati Bengals are going to have to figure out what they want to do with the offensive tackle position this offseason. Andrew Whitworth is set to be a free agent this offseason, and if they decide not to bring him back, they could consider finding a new left tackle in the draft.
This group of offensive tackles isn't great, but Wisconsin's Ryan Ramczyk has stood out as the most impressive prospect at the position. At 6'6" and 314 pounds, Ramczyk is an absoulte mauler in the trenches who has also rarely allowed any pressure in pass protection this season.
There are questions as to whether or not Ramczyk can step up against elite speed rushers in the NFL, but the Wisconsin offensive tackle is technically sound and could be a key piece to any team's offensive line.
The Baltimore Ravens could use help at a number of positions, including wide receiver. However, with LSU star running back Leonard Fournette still on the board this late, it'll be hard for the Ravens to pass up on him.
Fournette has been dealing with an ankle injury all year, and a recent report from injury expert Will Carroll claimed that he is dealing with a chronic ankle injury that could require surgery. That report could hurt Fournette's draft stock in April, but let's not forget just how talented he is.
Coming in at 6'1" and 235 pounds, Fournette is the complete package at running back with size, speed and aggressiveness. Fournette is a hard player to bring down and he can drive defenders into the ground with a brutal stiff arm.
His stock may fall, but a healthy Fournette could become one of the best running backs in the NFL, and the Ravens would be just fine with that if they took him at No. 16 overall.
As soon as Fournette comes off of the board, every other team that needs a running back is going to be looking at Florida State's Dalvin Cook. With the Washington Redskins picking right after Baltimore, they might have to go ahead and pull the trigger, because Matt Jones isn't exactly a franchise RB.
If it was any other season, Cook would be the No. 1 running back prospect. The Seminoles back showcases elite vision and acceleration to find a hole and explode through it for a huge gain. That home-run capability makes him a tough assignment for linebackers.
Cook reminds me a lot of Chris Johnson during his time with the Titans, and if that's the kind of level that the Florida State prospect can play at, Washington's offense would be awfully dangerous next year.
At the beginning of the season, everyone was assuming that the Detroit Lions would need to draft a wide receiver in 2017 with the retirement of Calvin Johnson. Instead, Marvin Jones and Golden Tate have done a great of replacing a future Hall of Famer, allowing the Lions to focus on other positions in the upcoming offseason.
Detroit should focus on defense in this draft, and an outside linebacker opposite of DeAndre Levy could be a position to fill. Alabama's Tim Williams may still be developing, but the Crimson Tide prospect could be a great fit.
Williams is an absolute monster when it comes to rushing the passer thanks to his incredible athleticism. He's also shown progress when it comes to stopping the run and playing back in coverage, but he's still raw.
The upside for Williams is impressive, and learning from a guy like Levy in Detroit could turn him into something special at the next level.
With a pick this late in the first round, the Houston Texans can afford to sit back and look at who is still on the board. That's not to say that they don't have weaknesses, but they can take some time to think about who would be the best fit.
Houston's secondary has been playing well this season, so they may decide to look elsewhere on the defense with their first-round pick. Even though J.J. Watt will be back next year, the Texans could try to find an edge rusher to make their front seven even more difficult to deal with.
Auburn's Carl Lawson had a lot of question marks regarding his health heading into this season. However, Lawson has been able to stay healthy and play at a remarkably high level in 2016, picking up nine sacks and 23 QB hurries heading into Saturday's game against Alabama A&M.
Lawson has long arms and a powerful 6'2", 260-pound frame that makes him so difficult to deal with. Having Watt, Jadeveon Clowney and Lawson all on the same defense would give offensive linemen nightmares.
Jason Pierre-Paul is a free agent after this season, and there is no guarantee that he returns to the New York Giants despite his solid level of play this season. However, even if he returns, the Giants could afford to add another defensive end to rotate into games in 2017.
Florida State's DeMarcus Walker feels too much like a natural fit for the Giants. He's been a versatile lineman for the Seminoles and has been a wrecking ball in the backfield, picking up 11 sacks prior to Saturday's game.
Walker does a great job of staying low and exploding out of his stance, making it almost impossible for offensive linemen to contain him. He's not the fastest guy out there, but he strength and discipline allow him to keep making plays.
He might not be the biggest guy at 6'3" and 273 pounds, but Walker could find a home on any NFL defensive line.
Considering how this season has gone, the Green Bay Packers could find themselves drafting much earlier in April. However, given their Super Bowl odds, they're picking in this mock draft at No. 21.
With this pick, the Packers should seriously consider adding some secondary help. Without Sam Shields and Damarious Randall, the Packers have gotten torched multiple times this season, showing their lack of depth at the position.
Florida Gators cornerback Jalen "Teez" Tabor could be a welcome addition to the Green Bay secondary. He's an instinctive cornerback with great size at 6'0" and 201 pounds along with the aggressiveness to frustrate receivers.
Tabor may struggle at times against the run, but he's a guy who is capable of making big plays to swing the momentum of a game, and that's something the Packers defense desperately needs.
The Indianapolis Colts are desperately missing Jerrell Freeman this season. Simply put, D'Qwell Jackson and Josh McNary aren't doing a whole lot to help their defense, and it might be time to look for another starting inside linebacker.
I'll admit that I wasn't as high on Vanderbilt's Zach Cunningham as others were earlier in the season. However, Cunningham continues to stand out on a weekly basis by continuing to get to the ball carrier, and that can't be ignored.
Cunningham does a great job of shedding blockers to get to the ball carrier. Although he needs to do a better job of cutting down his missed tackles, he's an impressive athlete with great instincts.
The Colts have a lot of work to do with their defensive unit, but adding a guy like Cunningham would be a great first step.
Despite a rough start to the season for the Arizona Cardinals, this is a team with few real needs. However, given the fact that Carson Palmer is already 36 years old, Bruce Arians and Arizona's front office might want to try and find their next quarterback.
North Carolina quarterback Mitch Trubisky is a much different QB than Palmer. He doesn't have the consistent arm strength that Palmer has, but there's still a lot to like about the UNC prospect.
When it comes to short and intermediate routes, Trubisky showcases some consistent ball placement and some good zip on the ball. He rarely makes mental errors, which has helped him limit his turnovers. While not the most athletic guy, Trubisky has the pocket awareness to avoid pressure and extend plays.
Arizona wouldn't be able to rely on the deep ball as much, but Trubisky could be in a great position to take over as the quarterback for a team ready to compete for a Super Bowl, whether that's right away or after Palmer retires.
The Philadelphia Eagles have found their franchise quarterback in Carson Wentz. Now they just need to add weapons around him to take this Eagles offense to the next level.
Even though Williams and Ross are off of the board, there's still another tremendous talent at wide receiver in Western Michigan's Corey Davis. At 6'3" and 213 pounds, Davis stands out from a physical standpoint.
Davis uses his size and excellent route running to create enough separation to catch passes in bunches. He does a great job of attacking 50-50 balls and is tough to bring down once the ball is in his hands.
The Eagles are missing that physical outside receiver, and adding someone like Davis should also help open up the field for Jordan Matthews.
The Denver Broncos don't have a lot of needs, but they definitely need some help at offensive tackle. Right tackle Donald Stephenson isn't exactly a dominant player at his position, and he could be easily replaced by a first-round pick.
Alabama's Cam Robinson probably projects best as a right tackle. He comes in at a solid 6'6" and 327 pounds, and uses that size to push back defenders and open up rushing lanes.
Robinson still struggles at times against talented edge rushers, which is why he probably projects best as a right tackle. Still, having him instead of Stephenson starting on the offensive line could help out Denver's offense a lot in 2017.
The Kansas City Chiefs are playing like one of the most complete teams in football. Although Marcus Peters is looking like a potential Defensive Player of the Year candidate, the Chiefs could always add some depth at the cornerback position.
Michigan Jourdan Lewis gets overlooked at time because of his 5'11", 186-pound frame. However, Lewis has the aggressive mindset and tools to play on the outside in the NFL if he needs to. Lewis has the speed and ball skills, but scouts will also love his ability to make tackles in the open field.
If Lewis wound up in Kansas City, he'd be able to come in and immediately be a starting-caliber nick corner. Considering some of the passing offenses in the AFC West, that's exactly what the Chiefs could use with their first-round pick.
The Pittsburgh Steelers may have all of the talent in the world on offense, but they desperately need to keep adding young talent to their aging defense. They could look at pretty much any position on that side of the ball, but the Steelers should probably get some help for their secondary.
Washington's Sidney Jones already looks like a guy who could shut down an entire half of the field with some of the his performances for the Huskies. He has rarely been thrown at this season, and when quarterbacks do throw his way they tend to regret it.
The fact Jones has rarely been tested may hurt him from a draft standpoint, but the talent is definitely still there. Pittsburgh needs a cornerback with lockdown potential, so Jones makes a lot of sense with this pick.
Under head coach Dan Quinn, the Atlanta Falcons defense is starting to show some flashes of legitimate potential. Still, the Falcons could probably still use some more key contributors on that defense, especially in the front seven.
Stanford defensive lineman Solomon Thomas might project best as a 3-4 defensive end, but something is telling me that Quinn would have no problem putting him into Atlanta's 4-3 scheme given his exceptional talent.
Thomas is only a redshirt sophomore, but he's been playing at an extremely high level since he took the field for the Cardinal. At just 6'3" and 273 pounds, Thomas is still a dominant defender because of his violent hands, low pad level and terrific technique.
As someone who can rush the passer or close rushing lanes, Thomas could become a valuable piece for Atlanta's defense.
The Oakland Raiders are quickly turning into one of the scariest teams in the NFL. Even though Latavius Murray has been playing well during his time with the Raiders, their offense could be even more deadly with a change-of-pace back behind him.
Stanford's Christian McCaffrey is a different kind of running back. He's a speedster with the vision and elusiveness to break off some huge plays. He's also more than capable of making plays in the passing game, making him even more of a threat.
Although McCaffrey probably isn't going to be an every-down back in the NFL, his skill set is so unique that he could get plenty of snaps as a third-down back or even a slot receiver in Oakland's offense, adding yet another weapon for defenses to plan against.
The Legion of Boom is still one of the most intimidating secondaries in the NFL. However, the Seattle Seahawks could still use some more depth at the cornerback position outside of Richard Sherman and Jeremy Lane.
Clemson's Cordrea Tankersley looks like a future Legion of Boom member just waiting for his chance to hear his name called in April. At 6'1" and 200 pounds, Tankersley has excellent size and length that allows him to jam receivers at the line of scrimmage. When playing off man coverage, the Clemson prospect still moves well enough to mirror his receiver.
If the Seahawks drafted Tankersley, they could move Lane into the slot and allow him to develop into a dangerous corner. Just imagine how much he could learn from a guy like Sherman during his rookie season.
The Dallas Cowboys could probably use some defensive prospect with this pick, or even a wide receiver to pair with Dez Bryant. However, considering Jason Witten is 34 years old and could be close to hanging up the cleats, a replacement tight end could be a great choice hear given how deep this class is at the position.
Alabama's O.J. Howard currently looks like the best tight end prospect in the class. The Crimson Tide don't throw his way often, but when they do he's shown that he's capable of making big plays.
Howard is a huge mismatch at 6'6" and 242 pounds. He's still working on his route running, but he's as dangerous as anyone with the ball in his hands. He may not be the best all-around tight end, but his upside is through the roof and he could be a more than serviceable replacement for Witten down the road.
The New England Patriots obviously don't have a lot of needs, so they can afford to go with the best player available with the final pick of the first round. Missouri's Charles Harris might not be the best scheme fit, but something tells me he could still play as a 4-3 defensive end.
Harris has been a disruptive force in the backfield on a consistent basis this season despite the rest of his Tigers team struggling. Heading into Saturday's game against the Volunteers, Harris had already picked up eight sacks and six QB hurries.
The Missouri prospect comes in at a solid 6'3" and 255 pounds with room to grow. He's a polished pass rusher with a number of moves at his disposal, including a nasty spin move. Some may argue that Harris has limited upside because his technique is already so solid, but he could continue to hit the weight room and get even stronger.
Harris probably fits best as a 3-4 edge rusher, but he could at least come in on obvious passing situations and make an impact for the Patriots.
This article originally appeared on